Geog 3907 celebrates end of semester with a potluck
Apr 4th, 2013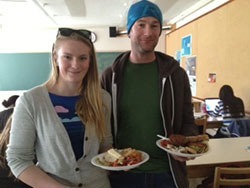 Geog 3907 celebrates end of semester with a potluck
Students in Geography 3907: Globalizing Food Systems finished the semester with a class potluck featuring foods from near and far. From toutons and molasses to guacamole, the students each contributed a dish to share. Some of the recipes were taken from the class cookbook put together earlier in the term as part of a project about food and culture.
The course, which focuses on the geography of food, is being taught by PhD candidateKristen Lowitt this semester. Students were introduced to a range of issues related to a global food system, as well as several alternative approaches such as local food, fair trade, community food security, and organic agriculture. Many students commented that the course made them think about food in ways they hadn't before, such as considering where the food they purchase at the supermarket comes from, what a fair trade label means, or what contributes to inequities in access to food.
The idea for a potluck on the last day of class came from the students, excited to eat at the end of a course spent learning about food. One student said, "it's like a meal and a show," as the group enjoyed their potluck items and finished up end-of-term presentations.
Photo: Leah Tomblin and Bradley Laite