Charting the Canadian North: Seabed mapping along the coast of Baffin Island, NU
Nov 14th, 2012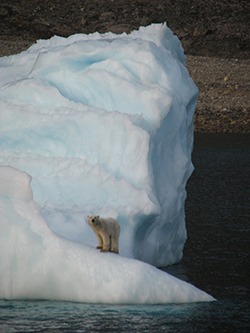 Charting the Canadian North: Seabed mapping along the coast of Baffin Island, NU
In October Beth Cowan spent two weeks in the coastal waters of Nunavut completing fieldwork for her Master's thesis. "My experience was a little different from most, in that I was aboard a Government of Nunavut fishing research and training vessel, the MV Nuliajuk" recounted Beth, a new graduate student in the Department of Geography. Onboard the vessel were five crewmembers and four research staff in confined living space. They set sail from Qikiqtarjuaq, a hamlet located on Broughton Island off the east coast of Baffin Island, Nunavut, and began their two weeks of seabed mapping within the fjords and inlets along the coastline of the Cumberland Peninsula, Baffin Island.
"My goal was to map submerged sea-level indicators from a past sea-level lowstand. In this case we were exploring for submerged beach terraces and deltas that would provide evidence of the lowest depth of sea level since the Last Glacial Maximum. This was an exciting adventure, with many unknowns. However, within the first five days of mapping we were feeling a little more relaxed once we had found at least five noteworthy features," noted Beth. Along the way they traversed fjords that had textbook examples of glacial features amidst alpine scenery.
"I was able to witness the first snowfall of the season, in the first week of October. I was able to try traditional Nunavut cuisine, including raw frozen Narwhal blubber, which I would suggest cooking before you try it for the first time." Although at first it didn't seem like they would see any wildlife, within two days they counted eleven polar bears along the shoreline cliffs in Exeter Sound. According to Beth, "the most awe-inspiring moment was watching a curious polar bear jump off an iceberg and swim out to the ship. As well, I finally saw the Northern Lights, on the second last night of the trip, which presented a spectacular show, completing my trip to the North."
"My fieldwork provided me with many once-in-a-lifetime experiences, as well as remarkable seabed bathymetric imagery to kick off my research," explained Beth. "I met many friendly people and learned as much about the Arctic and Newfoundland (3 of the crew, including the captain, were from NF) culture as I did about the seabed. Much of this was gleaned from the crewmembers, who willingly shared their knowledge of fishing and exploring the uncharted waters of the North." Beth is co-supervised by Drs. Trevor Bell and Don Forbes, Geography Department, and ArcticNet funds her MSc research.