Award winners at the Atlantic Division of the Canadian Association of Geographers
Oct 20th, 2014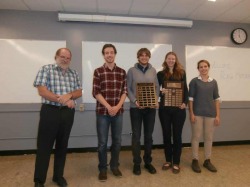 Award winners at the Atlantic Division of the Canadian Association of Geographers
The joint meeting of the Atlantic Canadian Association of Geographers – Canadian Remote Sensing Society, Atlantic region, held in St. John's NL on 17-18 October, featured numerous outstanding presentations by our students. We're pleased to acknowledge the awards for the best student presentations!
Ben Bagnall, Geography, Memorial: Composite hazard mapping in a changing environment, Arviat, Nunavut;
Rudy Riedlsperger, Geography, Memorial: 'Sustainability' in an Inuit context: An example from Nunatsiavut, northern Labrador;
Lara Miles, Geography, Memorial: Influence of surficial geology on cold-water coral distribution on the Flemish Cap;
Kristie Duncan, Environmental Science, Memorial: Petroleum vulnerability analysis of Newfoundland coastal systems.
Congratulations to all our presenters, and we hope to see you at next year's meeting!
From left: Professor Norm Catto, Ben Bagnall, Rudy Riedlsperger, Lara Miles and Kristie Duncan.