Petro-Canada Hall Official Opening Ceremonies
The Petro-Canada Hall at Memorial's School of Music, will open on Mar

ch 17, 2005, kicking off four days of musical celebration.
Petro-Canada, operator of the Terra Nova offshore oil development and participant in the White Rose project, has provided $1.2 million to Memorial University to construct a new music rehearsal and performance hall.
The new 195 sq.m. (2,100 sq. ft) facility adjoins the M.O. Morgan Music Building near the D. F. Cook Recital Hall, on the east side of the building.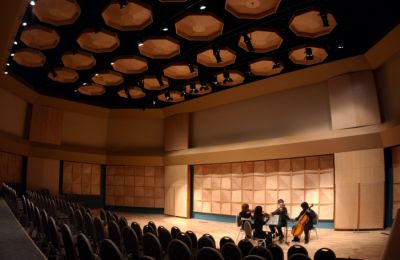 With a performance area of approximately 56 sq.m. (600 sq. ft.) and an audience capacity of 124 people, the new Petro-Canada Hall will position the School of Music to expand its performance and conference capabilities to meet the needs of the community.
The grand opening takes place on the evening of Thursday, March 17, 2005 and special concerts will be held at the Petro-Canada Hall on March 18, 19 and 20.