West White Rose Employment Diversity Research Fund

This fund is currently closed.
PLEASE NOTE: Your application will need to be registered through the ROMEO portal within the office of Research Initiative Services - CLICK HERE
Click here for advice on how to use our application portal, Survey Apply.
Overview
Natural resource developments are drivers of economic activity and employment in communities and in Newfoundland and Labrador as a whole. Projects, both small and large in scale, require skilled and knowledgeable workers from a broad range of occupations. However, experience in the resource development sector has demonstrated that segments of the population continue to be under-represented in these developments, and proponents of natural resource projects are challenged to develop programs and initiatives to improve the participation of traditionally under-represented groups. Recruitment efforts targeted at under-represented groups have achieved modest results, and research is needed to better understand how to improve participation and how to grow the pool of diverse candidates for employment.
To better understand this issue and help build capacity to address it, Memorial University's Harris Centre, will fund research projects related to growing the pool of available qualified workers from under-represented groups in the natural resources sector in Newfoundland and Labrador.
The West White Rose Project Diversity Research Fund is made possible through funding from the West White Rose Partner co-venturers, specifically operator Husky Energy (a wholly owned subsidiary of Cenovus Energy), Suncor Energy and OilCo.
Objectives
1. To conduct applied research relating to growing the pool of diverse candidates for employment in medium-sized and large resource-based enterprises. Eligible sectors may include upstream petroleum, mining and metallurgy, renewable energy, forestry, agriculture, aquaculture and the capture fishery.
2. To build research capacity and knowledge in the community sector specifically in the area of employment for under-represented groups. Consistent with the Atlantic Accord, the under-represented groups are women, members of aboriginal groups, persons with disabilities and visible minorities. Priority will be given to projects that have implications and benefit to a broad group or multiple groups.
3. To encourage community groups to work collaboratively with each other and with representatives of the academic community to identify evidence-based solutions to diversity challenges.
Eligibility
Eligible applicants are faculty members who hold a research account with the Research Grants and Contracts Services office, or students, faculty or staff who are supervised by or act as a co-applicant with a faculty member in possession of a research account.
To be eligible, a research project must have a community organization based in Newfoundland and Labrador as an equal partner. An equitable partnership requires sharing power, resources, credit, results, and knowledge, as well as having a reciprocal appreciation of each partner's knowledge and skills at each stage of the project, including problem definition/issue selection, research design, conducting research, interpreting the results, and determining how the results should be used for action.
Individual grants will not exceed $20,000, except in exceptional cases, where we will consider up to $40,000 in funding. Researchers will have one year from awarding of funding to submit their final report.
Researchers in receipt of a grant under this program are not eligible to re-apply to the program until their original research is complete and a draft final report submitted. Applicants may be eligible for funding in a subsequent year, at the discretion of the Program Committee, however, no applicant will receive successive funding for more than three (3) years.
Selection Process
Applications will be reviewed by the Program Committee according to the weighted evaluation criteria. The Program Committee is comprised of representatives from community and academia and chaired by an academic and community co-chair. Community is defined broadly as a group of people with common interest and may include communities, NGOs, industry and others.
For more information, or for help connecting with a potential co-applicant, please contact:
Bojan Furst, Manager, Knowledge Mobilization
bfurst@mun.ca
How to Use Our Application Portal: Survey Apply
After clicking "Apply Here," above, you will be taken to the homepage of our application portal: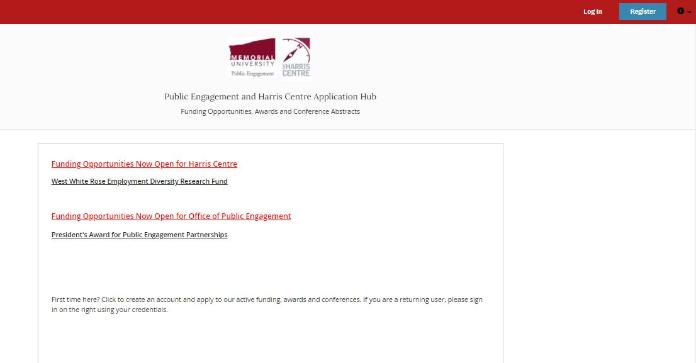 If you have used this site before, click on "Log in" in the upper righthand corner; if it is your first time using the site, click on "Register" to make an account.
Note: You will see a link to "West White Rose Employment Diversity Research Fund" on the middle of this webpage--this will take you back here, to this information page.
Once you are logged in, you will be brought to your homepage (which is where you will see any applications that are currently underway). In the top righthand corner, you will see the word "Programs." Click on this.

The Programs page will show you a number of different projects, organized in cubes--look for the one titled "Diversity Fund" and click on this: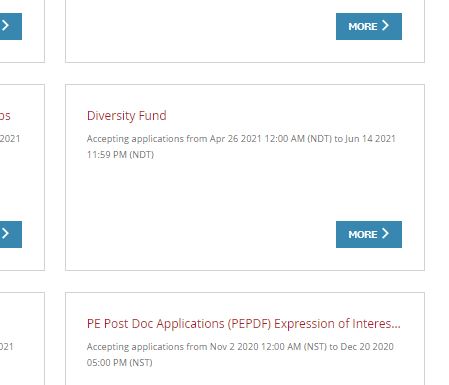 Once in here, click "Apply" and click on the first link, "Diversity Fund Application Form."