Mary Miller
Office: SN 1027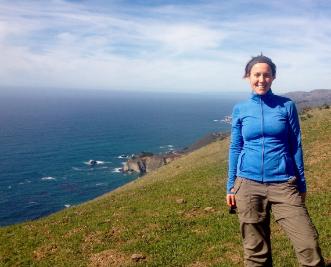 Email: mcmiller[at]mun[dot]ca

Supervisors
Dr. Rodolphe Devillers and Dr. Natalie Ban (U Vic)

Research Groups
Canadian Healthy Oceans Network (CHONe II)

Awards and Distinctions
• Center for Blue Economy fellowship
• Middlebury Institute of International Studies' Deans Scholarship
• Middlebury Institute of International Studies' Merit Scholarship
• David and Betty Jones Language Scholarship
• Leadership Excellence award – IM Systems Group
• ASLO Early Career Travel Grant for Presentation ASLO Niece 2009
• Nelson Award for academic excellence
• University of South Alabama M.S. Fellowship

Previous Education
M.A. 2015 Middlebury Institute of International Studies at Monterey
M.S. 2008 University of South Alabama, Dauphin Island Sea Lab
B.S. 2002 University of Rhode Island

Title of Project
Effectiveness of Canadas MPAs in successfully achieving the long-term conservation of nature with associated ecosystem services and cultural values.

Publications and reports
FAO 2016. Report of the Workshop on impacts of marine protected areas on fisheries yield, fishing communities and ecosystems. FAO, Rome. 16–18 June 2015. FAO Fisheries and Aquaculture Report. No 1136. Rome, Italy.
FAO 2016. Climate change implications for fisheries and aquaculture: Summary of the findings of the Intergovernmental Panel on Climate Change Fifth Assessment Report. FAO Fisheries and Aquaculture Circular No. 1122. Rome, Italy.
Miller, ME., WM Graham. 2012. Environmental evidence that seasonal hypoxia enhances survival and success of jellyfish polyps in the northern Gulf of Mexico. Journal of Experimental Marine Biology and Ecology 432-433 p 113-120.
Anton, A., J. Cebrian, K. Heck, C. M. Duarte, K. L Sheehan, M. Miller and C. D. Foster (2011). Decoupled effects (positive to negative) of nutrient enrichment on ecosystem services. Ecological Applications 21(3):991-1009.
Turner, J., L. Allen, A. Anton, M. Miller, R. Swann and J. Cebrian. 2005. SAVing the Gulf: Education, Restoration, and Conservation. Mobile Bay National Estuary Program and Mississippi-Alabama Sea Grant Consortium, 32 pages.
W.N. Harman, P.H. Lord, M.F. Albright and M.E. Miller. 2001. Augmentation of the "aquatic macrophyte moth" (Acentria ephemerella) into Lebanon Reservoir for control of Eurasian water-milfoil (Myriophyllum spicatum) and follow-up monitoring of fish, insects and water-milfoil. BFS Technical Report # 18.
W.N. Harman, P.H. Lord, M.F. Albright and M.E. Miller 2000. Aquatic macrophyte management plan facilitation, Moraine Lake, Madison County, NY. Biological Field Station Technical Report #13.
Presentations
What to do with a Marine Biology Degree? State University of New York at Oneonta 2017
Area-Based Management and Regional Cooperation. Brussels, Belgium 2017
Territorial Use Rights in Fisheries. Manilla, Philippines 2016
Jellyfish Soup? Anthropogenic impacts and jellyfish blooms. University of West Georgia 2013
Impacts of Hypoxia on Jellyfish survival and reproduction in the Northern Gulf of Mexico. Association for the Sciences of Limnology and Oceanography (ASLO) Nice, France 2009
Impacts of Hypoxia on Jellyfish survival and reproduction in N. Gulf of Mexico. Graduate Student Symposium; LUMCON, Cocodrie, LA, USA 2008
Low oxygen effects on reproduction of jellyfish polyp A. aurita Southeastern Ecology and Evolution Conference; FSU, Tallahassee, FL, USA 2007
Low oxygen effects on reproduction of jellyfish polyp A. aurita. Second International Jellyfish Blooms Symposium; Gold Coast, Qld, Australia 2007
Research Interests
Marine Protected Area design and monitoring
Marine and coastal biodiversity and conservation
Marine conservation planning
Social-Ecological feedback loops
Coastal watershed governance