Marc Storey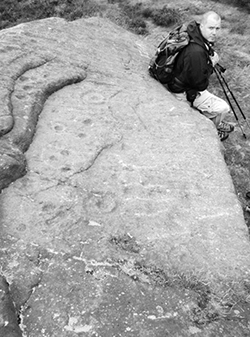 email: mstorey[at]mun[dot]ca
Supervisor
Dr. Trevor Bell (Dept. of Geography)
Committee
Dr. Rodolphe Devillers
Dr. Mike Deal (Dept. of Archaeology)
Thesis Title
A vulnerability assessment of archaeological resources to impacts of projected coastal change
Research Description
The risks to coastal archaeological sites from changing climate are poorly understood. It is manifest, however, that projected sea-level rise and higher storm surges will result in increased coastal flooding and retreat and, consequently, major changes to Newfoundland and Labrador's coastline as a result of climate change will impact significantly on the archaeological record. Because in practical terms all sites cannot be protected, it is essential that heritage managers understand which sites and landscapes are most at risk.
This research, within the framework of the Coastal Archaeological Resource Risk Assessment project (CARRA), will address this challenge through the development of practical vulnerability assessments of coastal archaeological resources to the impacts of sea-level rise (SLR) within a pre-determined study area of the Province of Newfoundland and Labrador: the Great Northern Peninsula and the southern coast of Labrador. With approximately 9000 years of continuous coastal occupation and 18,000km of coastline there remains great potential for further significant archaeological discoveries in the coastal zones of Newfoundland and Labrador. A second stage of proposed research will therefore expand on the results of the impact assessment and, through predictive modelling within a bespoke GIS-environment and the inclusion of a further study area at Bonavista Bay, will identify potential archaeological landscapes (PALs) also at risk from predicted coastal change.
Along with the CARRA, this proposed research will also serve to further bridge a gap within the often disparate bodies of literature on which this research will depend. Research will be drawn from the fields of coastal geomorphology; high-resolution LiDAR data interrogation and manipulation; past and projected sea-level rise models; and archaeological settlement pattern analysis.
Academic & Professional Background
B.A. Interdisciplinary Sciences (Archaeology & Geology) – Carleton University
Post-graduate qualifications in Archaeological Resource Management & World Heritage Resource Management
15 years experience as professional archaeologist in UK and Europe
Research Interests
Remote sensing (LiDAR) and terrain modelling
Implementation of new technologies to archaeological fieldwork and data analysis
Open archaeology & public outreach
Sustainable heritage tourism development
Select Publications
As Author
Storey, M.A. 2010. Didsbury Flood Storage Basin, Greater Manchester. Watching Brief. Oxford Archaeological Unit Ltd. (Unpublished)
Bradley, J. & Storey, M.A. 2009. Camerton UID, Camerton Cumbria. Historic Research and Watching Brief. Oxford Archaeological Unit Ltd. (Unpublished)
Clark, P. & Storey, M.A. 2008. A595 Parton to Lillyhall Road Improvement Scheme, Cumbria. Archaeological Evaluation, Topographic Survey and Watching Brief. Oxford Archaeological Unit Ltd. (Unpublished)
Storey, M.A. 2006. Canning Place Firestation, Liverpool. Archaeological Building Survey. Oxford Archaeological Unit Ltd. (Unpublished)
Storey, M.A. 2004. Entry Level Scheme of Environmental Stewardship – An Archaeological Impact Assessment for Identified Monuments on Arable Land. Project Report with GIS project and user manual. Oxford Archaeological Unit Ltd.
As Contributor
Brown, F. (ed.) (forthcoming) Asselby to Pannal Gas Pipeline. Archaeological Post-excavation Assessment Report. Oxford Archaeological Unit Ltd.
Miller, I. (ed.). (forthcoming) River Ellen Flood Alleviation Scheme, Maryport, Cumbria. Project Report. Oxford Archaeological Unit Ltd. (Unpublished)
Rowland, S. (ed.) (forthcoming) Easington to Paull Gas Pipeline. Archaeological Post-excavation Assessment Report. Oxford Archaeological Unit Ltd.
Quartermaine, J. (ed.). 2010 Mann Island, Liverpool, Merseyside. Archaeological Post-excavation Assessment Report. Oxford Archaeological Unit Ltd. (Unpublished)
Clark, P. & Foreman, S. 2009. The Archaeology of the A30 Bodmin to Indian Queens Road Scheme. Project Report. Oxford Archaeological Unit Ltd.
Quatermaine, J. (ed.). 2008. Shilla and Bog Head Bastles, Kielder Forest, Northumberland. Fabric Survey Report. Oxford Archaeological Unit Ltd. (Unpublished)