Lillian Saul
Email: lmsaul [at] mun[dot]ca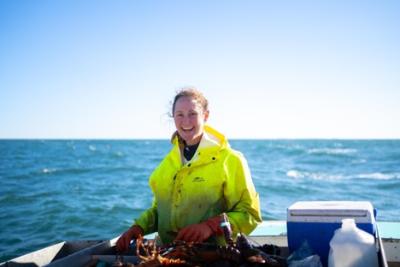 Supervisor
Dr. Ratana Chuenpagdee
Previous Education
BA History (major), Wesleyan University 2018
Title of Project:
Mapping the institutional level of governance for Newfoundland and Labrador's Fisheries
Project Description
The purpose of my research is to improve sustainability in Newfoundland and Labrador (NL) inshore fisheries by understanding how governing institutions may adapt and respond to change. I define institutions as the structures and arrangements that set the stage for interactions and decision making. Agencies such as the Department of Oceans and Fisheries (DFO) increasingly recognize the importance of the inshore/ small-scale sector and principles related to the governance of that sector, as outlined by the FAO Voluntary Guidelines for Small-Scale Fisheries. My research ultimately aims to assess the capacity of present institutions to apply these frameworks in the law and policy context in NL.
NL presents an ideal case study for the theoretical challenge of assessing governing institutions. Federal and provincial law and policy frameworks interact on the community level to formulate governance for NL fisheries. Presently, the degradation of shellfisheries such as snow crab, the most dominant fishery in the region, poses a serious threat to the well-being and livelihoods of coastal communities. How the institutional model can address such changes is a primary interest of my research.
Before delving into interactions, I seek to understand simply what exists—what is and is not present in the federal and provincial law and policy. Then, I want to understand how institutional processes and arrangements shape the principles that exist in the first step. And finally, I want to know what capacity these arrangements have to adopt new principles and frameworks, such as those outlined in the FAO Voluntary Guidelines for Small-Scale Fisheries.
Research Interests
Fisheries Governance/ Interactive Governance
Fisheries in Newfoundland and Labrador