Hannah Kosick
Email: hakosick[at]mun[dot]ca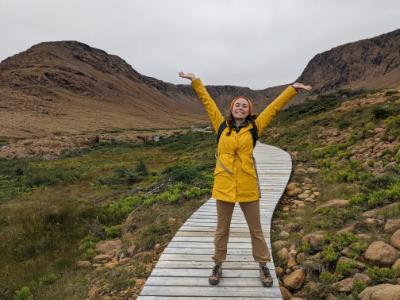 Supervisor:
Dr. Carissa Brown
Research Groups:
Northern EDGE Lab
Previous Education:
Bachelor of Arts and Science in Environment (BASE) - Biology, Nature, Culture, & Communication, Cape Breton University (2021)
Honours Thesis - Cape Breton Abuzz: Naturalists Amass Data About Bumble Bees
Environmental Impact Assessment Certificate
Project Description:
Cape Breton Highlands National Park (CBHNP) protects and preserves a substantial amount of viable boreal habitat in Northern Cape Breton, 950 square kilometres to be exact. The Park is located in Unama'ki, the traditional and unceded territory of the Mi'kmaw people, and contains both low elevation temperate species (Acadian forest) and highland boreal stands. Unfortunately, this important habitat is threatened by biotic and abiotic factors. The cumulative effects of moose herbivory, continued warming, and an imminent spruce budworm outbreak is expected to increase ecological pressures on an already threatened ecosystem. In addition to these stressors, climate change could induce forest range shifts, further constraining boreal stands if Acadian forests shift upslope. Lack of suitable boreal habitat has the potential to create a bottom-up trophic cascade which could have catastrophic implications for all boreal species, including at-risk species. The purpose of my research is to gain a better understanding of Acadian forest range expansions in CBHNP. In doing so, we can identify how range shifts are influencing boreal forest health which will inform conservation and forest management efforts.
Teaching:
Teaching Assistant, Winter 2022, Cultural Landscapes (GEOG 3610)
Teaching Assistant, Fall 2021, Cultural Geography (GEOG 2001)
Publications:
Kosick, H. (2021). Bumble Bees of Unama'ki: A Guide to Becoming a Buzzing Naturalist.
Awards and Distinctions:
2022 - Joyce C. MacPherson Award in Physical Geography
2021 - School of Graduate Studies F.A. Aldrich Fellowship
2021 - Science Atlantic Environment Conference, Science Atlantic Acadian Award second place
2021 - Cape Breton University Spring Graduating Class Valedictorian
Interests:
- Biogeography
- Pollinators
- Climate Change
- Science Communication