Gillian McNaughton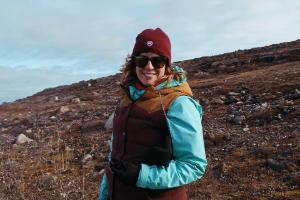 Office: Storytelling Research Lab, IIC-2006
Email:gmcnaughton[at]mun[dot]ca

Supervisor: Dr. Mario Blaser and Dr. Julia Christensen

Committee: Dr. Dean Bavington


Education:
BSc (Geography) - Memorial University of Newfoundland
Field Naturalist Diploma - Sault College of Applied Arts and Technology
Research Interests:
Broadly, I am interested in:
All things northern

Interactions between wildlife,environment and anthropogenic influences

Indigenous knowledge systems and research methodologies and decolonial approaches to knowledge formation, generation, dissemination and validation

Human-wildlife tolerance and conflict management

Northern resiliency and adaptation to environmental change

Cultural practices and valuation

Land-based learning and research

Activism within the academy, feminism and social justice

Community-based participatory research paradigms

Risk management in the context of northern research, (field) work and recreation
Current Research:
Over the course of the last century, the Innu of Nitassinan have experienced their people being dispossessed, settled into sedentary communities, forced into westernized school systems and subjected to systematic erasure of their cultural identity and connection to land. Simultaneous to this, their traditional territory has been subjected to massive hydroelectric developments, low-level flying operations by NATO, large-scale deforestation and mining, all while being claimed at first as a British colony and later, by the colonial government of Canada in what is now recognized as Labrador. As the Innu's governing body, the Innu Nation, moves toward finalization of their land claim following ratification of an Agreement-in-Principle in 2011, they have identified the need to evaluate the valuation of fisheries in a culturally relevant context within their traditional territory in order to inform the development of Innu fisheries management strategies. At present it is unknown how cultural valuation of fisheries in contemporary Innu ways of life translates into local fishing practices and household consumption in Innu communities, however, it is widely recognized that settler colonialism has altered Innu traditional activities. The repercussions of this on Innu cultural valuation are not yet realized, but this community-driven research hopes to inform the development of their future fisheries management planning.
Teaching Assistantships:
Fall 2018 - Memorial University - GEOG 2001 Cultural Geography
Winter 2019 - Memorial University - GEOG 1050 Geographies of Global Change