Susane Havelka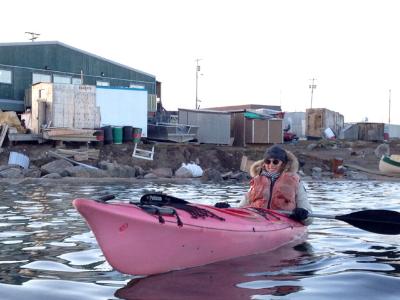 Office: IIC 2005
Supervisor:
Dr. Julia Christensen
Previous Education:PhD (McGill), MARCH (Columbia), BSAD (MIT)
Title of Project:
Testing the links among housing quality, self-building and well-being: lessons from Greenland and NWT
Current Projects as co-investigator:
Improving community well-being through housing — led by Dr. Mylène Riva, McGill University
Community-led housing in the Canadian North: mobilizing the development of supportive housing plans through knowledge sharing and engagement in the NWT and Nunavut—with Dr. Julia Christensen, Mylène Riva and Ellie Stephensen
New Partners in Northern Housing and Homelessness — led by Dr. Julia Christensen
Postdoctoral Research Project Description
While established science links housing quality and health (Riva, 2018), little light has been shed on the relationship between housing quality and self-building. In particular, there is a lack of studies on self-building and community well-being. Building upon my PhD dissertation Building with IQ: The Rise of a Hybrid Design Tradition in Canada's Eastern Arctic, where a well established self-building tradition already exists, this postdoctoral study aims to explore self-building as another path to housing delivery and to understand how it correlates with housing quality, quantity and well-being.
Using communities in Greenland and NWT as case studies, the central question this research proposes to answer is: how can housing-delivery based on self-building improve housing quality, quantity and well-being? and how can our existing housing delivery system enable self-building?
Awards and Distinctions
RAIC Urban design Award with the community of Kuujjuaq (2018)
FQRSC Doctoral Scholarship (2013-2016)
Schulich Graduate Fellowship (2012)
Columbia University Tadao Ando Award of Excellence
Special Events and Presentations
CCA 2016 co-curator of the Inter-University Design Charrette
Reassembling the North
https://www.cca.qc.ca/charrette/2016/accueil.html
https://www.youtube.com/watch?v=rI8eQSEsMX0
2017 Kuujjuaq Hackathon
https://www.habiterlenordquebecois.org/single-post/2017/10/30/The-Nunavik-Hackathon-2017
https://reporter.mcgill.ca/from-trash-to-treasure-recycled-material-gives-kuujjuaq-new-sports-pavilion/
Research Groups and non-for-profits
Research areas
Housing and well-being
Self-building and cold-climate housing
Sustainable communities and cultural landscapes in northern regions
Publications
Bhatt, V., Harlander, D., Havelka S.,
March 2020, Blueprint for a Hack: leveraging informal design practices (in press), Actar publishing, Barcelona.