Evan Edinger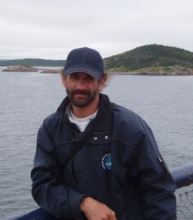 Department of Geography
Memorial University of Newfoundland
St. John's, NL
A1B 3X9
Office: SN 1044
Tel: (709) 864-3233
Fax: (709) 864-3119
E mail: eedinger[at]mun[dot]ca
Research
| | |
| --- | --- |
| | Climate & Environmental Change |
My research interests focus around three inter-related themes.
First, I have worked on corals and coral reefs, both modern and ancient, and both tropical and cold-water, for many years. More recently I have turned my attention to the carbonate skeletons and sediments produced in these tropical and cold-water settings. In the cold waters of the Northwest Atlantic, the major biological systems of conservation concern that make these carbonates are coralline algae, especially rhodolith beds, and cold-water corals, especially gorgonian sea fans. We use Remote Operated Vehicles (ROV's) to study cold-water coral ecosystems in-situ, and we study samples collected from the ROVs along with specimens from fisheries bycatch. Most recently I spent a sabbatical year at IFREMER in Brittany, France, and continue collaborations on rhodolith and cold-water coral geobiology with French colleagues.
Second, marine habitat mapping is an acoustic remote sensing approach to mapping marine habitats and understanding the interactions between marine geology and marine biology. I was a co-founder of MUN's marine habitat mapping group. With students and colleagues, I have contributed chapters to both the first and second editions of the GEOHAB Atlas, seafloor geomorphology as benthic habitat, compiled by the GEOHAB research group. Our marine habitat mapping work has been focused on boreal and arctic coastal habitats, especially fjords, and on deep-sea coral habitats. Much of this work has been in conjunction with the ArcticNet research consortium, and the Canadian Healthy Oceans Network (CHONe).
Third, marine conservation, especially conservation of Vulnerable Marine Ecosystems, is a major conservation need in Canada and around the world. Marine Protected Areas are one of the key solutions to addressing the biodiversity crisis in the oceans. Within the field of marine conservation, I have focused especially on deep-sea corals, but I have also advised the Newfoundland and Canadian governments on general approaches to marine protected area networks and marine conservation planning in general.
I am jointly appointed in Geography and Biology and cross-appointed in Earth Sciences, and teach undergraduate coursesin all three departments. I supervise undergraduate and graduate students in Geography, Biology, Earth Sciences, and Environmental Sciences. Since 2019, I have served as chair of the Environmental Science interdisciplinary graduate program at Memorial.

Education

Dr. Evan Edinger is an associate professor in Geography and Biology, and cross-appointed to Earth Sciences. Prior to joining Memorial, he taught at St. Francis Xavier University in Nova Scotia, and did a post-doctoal fellowship at Laurentian University in Northern Ontario.
Dr. Edinger obtained his PhD from McMaster University in Hamilton, Ontario, where he studied the impacts of land-based pollution on Indonesian coral reefs.
Select Publications

Meredyk SP, Edinger E, Piper DJW, Huvenne VAI, Hoy S, Ruffman A. (2020). Enigmatic deep-watermounds on the Orphan Knoll, Labrador Sea. Frontiers in Marine Science 6:744
Misiuk B, Diesing M, Aitken A, Brown CJ, Edinger E, Bell TJ. (2019). A Spatially Explicit Comparison of Quantitative and Categorical Modelling Approaches for Mapping Seabed Sediments Using Random Forest. Geosciences. 9: 254.
Dinn C, Zhang X, Edinger E, Leys S. (2019). Sponge communities in the eastern Canadian Arctic:
species richness, diversity and density determined using targeted benthic sampling and underwater video analysis.Polar Biology.
Pierrejean M, Nozais C, Grant C, Maps F, Chaillou G, de Moura Neves B, Edinger E, Archambault P. (2019). Influence of deep-water corals and sponge gardens on infaunal community composition and ecosystem functioning in the Eastern Canadian Arctic. Frontiers in Marine Science.
Devine B, Baker K, Edinger E, Fisher J. (2019). Habitat associations and assemblage structure of
demersal deep-sea fishes on the eastern Flemish Cap and Orphan Seamount. Deep-sea Research I.
Punshon S, Azetsu-Scott K, Sherwood O, Edinger E. (2019). Bottom water methane sources along the high latitude eastern Canadian continental shelf and their effects on the marine carbonate system.Marine Chemistry. 212: 83-95.
Novaczek E, Devillers R, Edinger E. (2019). Generating higher resolution regional seafloor maps from crowd-sourced bathymetry. PLoS-One. 14(6): e0216792.
Misiuk B, Bell T, Aitken A, Brown C, Edinger E. (2019). Mapping Arctic clam abundance using multiple datasets, models, and a spatially explicit accuracy assessment. ICES Journal of Marine Science. doi(10.1093/): icesjms/fsz099.
Jorry S, Jouet G, Edinger E, Toucanne S, Counts J, Miramontes E, Courgeon S, Vázquez Riveiros N, Le Roy P, Camoin G. (2019). From platform top to adjacent deep sea: new source-to-sink insights intocarbonate sediment production and transfer in the SW Indian Ocean (Glorieuses archipelago). Marine Geology.
Dinn C, Leys S, Edinger E. (2019). Sponge (Porifera) fauna of Frobisher Bay, Baffin Island, Canada, with the description of an Iophon rich sponge garden.. Zootaxa. 4576(2): 301-325.
Maccali J, Hillaire-Marcel C, Ghaleb B, Ménabréaz L, Blénet A, Edinger E, Helie J-F, Preda M. (2019). Late Quaternary sporadic development of Desmophyllum dianthus deep-coral populations in the southern Labrador Sea with specific attention to their 14Cand 230Th-dating. Marine Chemistry.

Proudfoot B, Devillers, R, Brown, CJ, Edinger, E., Copeland, A. (2019). Seafloor mapping to support conservation planning in an ecologically unique fjord in Newfoundland and Labrador, Canada. Journal of Coastal Conservation.