HIKING, ETC.
There are two Walking / Hiking Groups, one group walks on Mondays and the other on Saturdays.
See below for more detail.
---
MONDAY:

TIME: 1:30 p.m.
CONVENOR: Elke Molgaard
PLAN: Call Elke at 726 0719, before 1 p.m. on Monday, if you want to walk that day.
DESTINATIONS: The destinations are posted through WAMUN email.
CARPOOLING: Will be arranged for each walk, depending on the venue and the participants.

---

SATURDAY:

TIME: 1:30 p.m.
CONVENOR: Deborah Rehner
PLAN: Deborah sends out an email message about the meeting place each week. To get on the mailing list, contact her.

email via WAMUN
phone: 739 5046
WAMUN's "Weekday Walkers" began walking again in 2011 after an hiatus of several years. They walk on Mondays at 1:30.
Typical walks include:
The White Hills, behind the DFO building, straight down to the ocean and back.
Cape Spear, walking on the trail from Cape Spear towards Maddox Cove.
Virginia River Trail.
Oxen Pond Botanical Garden, in the snow!
Pippy Park on snowshoes
WAMUN's "Saturday Walkers" have been walking (and talking) almost every Saturday afternoon, since 2003. We start at 1:30, walk for about an hour, and often wind-up having coffee together.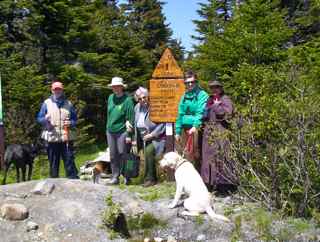 Typical walks include:
Long Pond
MUN Botanical Garden
Bowring Park
The Grand Concourse
East Coast Trail (easy/moderate)
Octagon Pond
Cape Spear
Power's Pond (Mt. Pearl)
The Works (reserved for very nasty weather)
"The capitals": the neighborhood that has many streets named for capitals of the provinces: Halifax St., Ottawa St., etc.
The T-Railway (along the Waterford River, for example)
These lists are not meant to be exhaustive, but they do give an idea of the level of difficulty and variety of our walks.
We keep a pictorial record of our walks that you may wish to visit. Follow the links to these to albums, which can be viewed as slideshows.
The ARCHIVE, from 2003 to 2011, is a large album - it might be too large to watch at one sitting.
The RECENT WALKS will be kept smaller - you can see what we have been up to.
Last updated: January 29, 2014 | dbr
---