ENJOYING OUR ELECTRONIC TOYS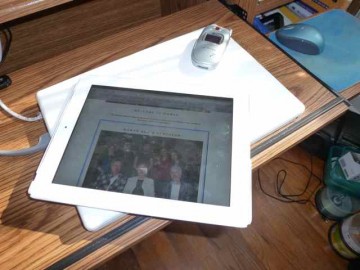 When do we meet?

The 2nd and 4th Thursday of each month, starting September 26, 2013
2:00 - 3:30 p.m.
A schedule will be posted here soon!

Where do we meet?

The room off the Children's Library at A. C. Hunter Library

What are electronic toys?

Tablets, e.g.

iPad
Android
Kindle Fire
Nook Table

e-book Readers, e.g.

Kobo
Sony
Kindle, Kindle Touch
Nook

Cell phones and smart phones
Laptop Computers
etc.

What will we do?

Regularly enjoy presentations by members of the group!
Enjoy our toys with a group of like minded people.
Answer each other's questions.
Share ideas about apps and ways of using our toys.

Who supplies the questions?
Who has the answers?

No one has all the answers!
[We trust that no one thinks they have all the answers!]
Everyone has some of the answers!
[Maybe you don't believe it now, but there will come a time when you have the answer.]

Do I have to register?

Do I have to come every week?

This is not a course; this is an Interest Group - come when you can!
There will be a sign up sheet at the fall registration.
We will want your e-mail address so we can reach you - remember snow days?
Newcomers are always welcome
Drop-ins are always welcome.

Who are the convenors?

Susan Goold
Karen Herzberg
Deborah Rehner

More questions?
Last updated 2013-08-31 | dbr
---