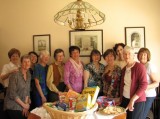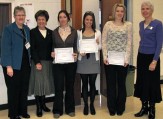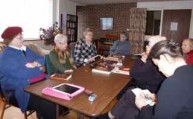 WELCOME TO WAMUN
The Women's Association of Memorial University welcomes you.
Explore our website to learn more about the Association.
COMING SOON - AGM!
Come! Enjoy the lunch and company of WAMUN friends.
DATE: Saturday, April 27, 2013

TIME: 11:30 a.m. for lunch at noon.
The AGM starts at 1:00 p.m., all are welcome.
WHERE: The Fluvarium

Lunch details:

Price: $25, includes dessert, beverages and gratuity.

Menu:
- Lasagna with Caesar Salad
- Chicken Stir-Fry with Rice
- Vegetarian Quiche with Salad

Tickets: Send e-mail to Kathy Simonsen at WAMUN, stating your menu choice. She will get back to you with details about getting your ticket and paying for it.
ONGOING INTERESTS AND ACTIVITIES

GUEST SPEAKERS: See "Spring Lecture"

RECYCLING FOR THE WAMUN SCHOLARSHIP FUND

Recycling with Ever Green Recycling is a small, but regular source of donations to the WAMUN Scholarship Fund. If you recycle with Ever Green Recycling, check here to see how you can donate to WAMUN Scholarships.

PROGRAM

JANUARY COFFEE MORNING

This event, which was scheduled for January 12th, was cancelled because of adverse weather conditions.

AGM, with lunch

Don't miss it - details above!




UPCOMING EVENTS & NEWS

ET INTEREST GROUP UP AND RUNNING




WHO? WAMUN members who have 'electronic toys' (and some who don't!)

WHEN? EVERY Thursday, restarting Thursday, January 10.

TIME? 2 - 3:30 p.m.

WHERE? The room off the A. C. Hunter Children's Library. Enter the A&C Centre on the main floor - e.g., at the main door, in the underpass. Go into to the Children's Library. The staff will direct you to the room we are using. [NEW LOCATION!]


WHAT IS AN ELECTRONIC TOY?

a laptop computer
a tablet (iPad, Android tablet, etc.)
a cell phone
a digital camera
etc.

WHAT DO WE DO?

help each other solve problems that we are having with our toys
discuss advantages / disadvantages of different types
discuss security issues
talk about whatever comes to mind - believe it or not, our talk is usually on topic!

For more information, see our web page.

We need your help in maintaining a useful website. Please let us know, if you find typos, errors, broken links, or anything else about the site that bothers you.


Last updated: 2013-04-15 | dbr
---