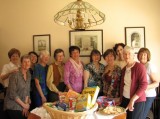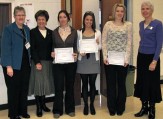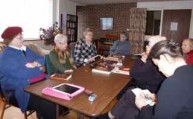 WELCOME TO WAMUN
The Women's Association of Memorial University welcomes you.
Explore our website to learn more about the Association.
DON'T MISS: FALL TALK!
TOPIC: Maternal Infant Health and Training Local Women in West Africa and Nunavut

DATE: Wednesday, November 6

TIME: 6:00 for 6:30
6:30 Potluck Dinner

7:30 Talk
WHERE: Earth Science, 4065 (on campus)

PARKING: Park indoors under the Earth Sciences building. Park near the elevator shaft and you will have no problem finding the room.
ONGOING INTERESTS AND ACTIVITIES

GUEST SPEAKERS: (COMING SOON!)

RECYCLING FOR THE WAMUN SCHOLARSHIP FUND

Recycling with Ever Green Recycling is a small, but regular source of donations to the WAMUN Scholarship Fund. If you recycle with Ever Green Recycling, check here to see how you can donate to WAMUN Scholarships.

PROGRAM

JANUARY COFFEE MORNING

AGM, with lunch

And more to come!

ET INTEREST GROUP CHANGES COMING

NO CHANGE:

WHO? WAMUN members who have 'electronic toys' (and some who don't!)

WHERE: The room off the A. C. Hunter Children's Library.

TIME? 2 - 3:30 p.m.

EVERYTHING BELOW IS SUBJECT TO CHANGE - PLANS SHOULD BE DEFINITE BY SEPT. 7!

WHEN? THE 2ND AND 4TH THURSDAY OF EACH MONTH.

START DATE: SEPTEMBER 26, 2013

WHAT WE DO:

One week each month will be more focused. Topics that have been suggested include:

Productivity, Ha!
How to use 'productivity' apps. Do they make you more productive? Who knows!
Music and your tablet
Apps for listening to music and apps that you can use as a performer.
Text messaging
Are you being brought into the 21st century kicking and screaming? Do your kids/grandkids/uncles and aunts want you to text with them? Come and learn.
Other ideas?
Contact our conveners!

For more information, see our web page.




The entire site is regularly 'under updation' and we need your help in keeping it interesting and useful website. Please let us know, if you find typos, errors, broken links, or anything else that bothers you.

AND Please bear with us and keep coming back!


Last updated: 2013-10-16 | dbr
---