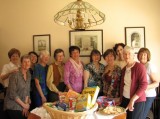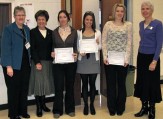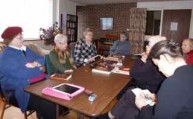 WELCOME TO WAMUN
The Women's Association of Memorial University welcomes you.
Explore our website to learn more about the Association.
COMING SOON TO A LECTURE THEATRE NEAR YOU!

CHINA UNCENSORED: Confessions of a Canadian Foreign Correspondent
Anthony Germain worked in China for five years (2006-2011) for the Canadian Broadcasting Corporation and traveled across much of the world's most populous nation. In an open lecture, Anthony shares his personal observations about covering China's people, its politics, and its new power and influence in world affairs. Anthony will also share anecdotes about how he and his family coped with the culture shock western visitors experience when they move to such a vast, complex, and dynamic country. A Q & A session will follow Anthony's presentation.
DATE: Tuesday, March 18th

TIME: 4:00 pm - 5:30 pm

WHERE: Bruneau Centre for Innovation and Research Lecture Theatre, IIC 2001
(formerly known as the Inco Innovation Centre lecture theatre)

PARKING: TBD
SPONSORED BY:
Women's Association of Memorial University of Newfoundland
Memorial University of Newfoundland Pensioners' Association
Memorial University of Newfoundland Department of Political Science
Canadian Federation of University Women
OPEN TO THE PUBLIC!
ONGOING INTERESTS AND ACTIVITIES

PROGRAM

FALL RECEPTION: September 25, 2013
FALL LECTURE AND POT LUCK: November 6, 2014
Kay Matthews: Maternal Infant Health and Training Local Women in West Africe and Nunavit
NEW YEAR'S COFFEE MORNING: January 18, 2014
SPRING LECTURE: March 18, 2014
Anthony Germain: China Uncensored: Confessions of a Canadian Foreign Correspondent
AGM, with lunch: April 26, 2014

More detail here.

---

RECYCLING FOR THE WAMUN SCHOLARSHIP FUND

Recycling with Ever Green Recycling is a small, but regular source of donations to the WAMUN Scholarship Fund. If you recycle with Ever Green Recycling, check here to see how you can donate to WAMUN Scholarships.

---

SUPPORT

---




---

The entire site is regularly 'under updation' and we need your help in keeping it interesting and useful website. Please let us know, if you find typos, errors, broken links, or anything else that bothers you.

Please bear with us and keep coming back!


Last updated: 2014-02-05 | dbr
---