Mouseion
Journal of the Classical Association of Canada
Revue de la Societé canadienne des études classiques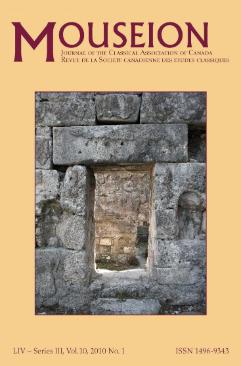 Aims of the Journal
Mouseion aims to be a distinctively comprehensive Canadian journal of Classical Studies, publishing articles and reviews in both French and English. One issue annually is normally devoted to archaeological topics, including field reports, finds analysis, and the history of art in antiquity. The other two issues welcome work in all areas of interest to scholars; this includes both traditional and innovative research in philology, history, philosophy, pedagogy, and reception studies, as well as original work in and translations into Greek and Latin.
Objectifs de la Revue
Mouseion se présente comme un périodique canadien d'études classiques polyvalent, publiant des articles et comptes rendus en français et en anglais. Un fascicule par année est normalement dédié à des sujets archéologiques, incluant des rapports préliminaires de fouilles, des études de matériel et des études d'histoire de l'art antique. Les deux autres fascicules présentent des études dans tous les domaines d'intérêt pour les chercheurs, ce qui inclut à la fois les recherches traditionnelles ou novatrices en philologie, en histoire, en philosophie et en pédagogie ou relatives à l'influence des études classiques en dehors du monde universitaire; Mouseion publie également des travaux originaux rédigés ou traduits en latin ou en grec ancien.
Editors/Directeurs
Peter O'Brien
Department of Classics, Dalhousie University.
Kathryn Simonsen (also Book Review Editor)
Department of Classics, Memorial University of Newfoundland.
Associate Editors/Rédacteurs associés
Myles McCallum (Archaeology)
Department of Modern Languages and Classics, Saint Mary's University.
Hans vanderLeest (Archaeology)
Department of Classics, Mount Allison University.
Guy Chamberland (French Language Submissions)
Department of Classical Studies, Thorneloe University.
Craig Maynes (Secretary-Treasurer)
Department of Classics, Memorial University of Newfoundland.