By David Penney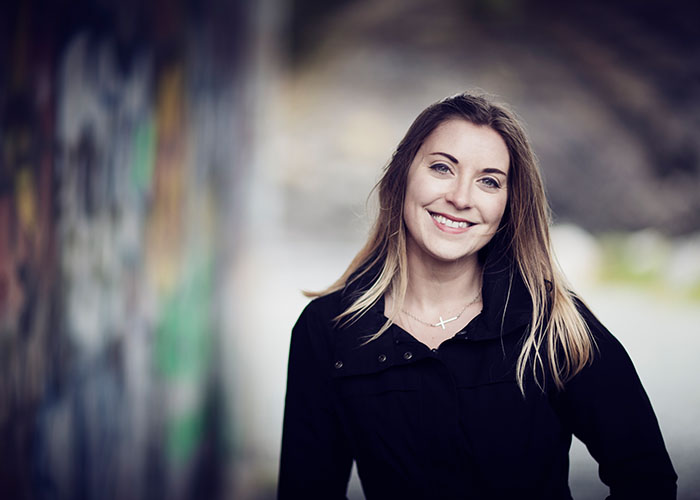 EMILY BUTLER, B.Ed.(Primary/Elementary)'11, BA'14, is passionate about mental health in our communities and schools.
That passion and a recent work term with Memorial's Student Wellness and Counselling Centre was supported by the Ever Green Environmental Scholarship in Social Enterprise and Mental Health, an award established in memory of the late Edwin M. Drover.
The scholarship is designed to support graduate students working with organizations that, through training, or employment, help create self-sufficiency for individuals with mental health challenges. Created in 2017 thanks to a generous donation of $100,000 from Ever Green Environmental, the scholarship was established to honour Mr. Drover, the founding chair of Ever Green and longstanding contributor to mental health needs in the community.
"I was honoured to receive this scholarship," said Ms. Butler. "I share Mr. Drover's passion for mental health advocacy so being able to advance this work in his memory, even in a small way, is extremely rewarding for me. This scholarship was also a big help in allowing me to focus on my research, my study and get the most out of my work term."
Ms. Butler was the successful recipient of the scholarship in part because of the work term she completed during her graduate program in counselling psychology at Memorial. While employed at the Student Wellness and Counselling Centre on the St. John's campus, Ms. Butler was on the front lines of student wellness programming that reflects the Stepped Care model. First introduced at Memorial in 2014 by Dr. Peter Cornish, the initiative matches the approach and options for care through a collaborative process with the patient.
I share Mr. Drover's passion for mental health advocacy so being able to advance this work in his memory, even in a small way, is extremely rewarding for me.
– Emily Butler
An array of programs in various combinations is available for students who need mental health supports. Online self-help, blended in seminars and workshops, structured and unstructured groups, one-on-one sessions, psychiatric consults and health system navigation are all options depending on the person and situation in question.
The work term was a real eye-opener for me and I know will influence how I practise," said Ms. Butler. "There are so many options available for care through the centre and it's finding the right combination, at the right time, in consultation with the client. The ultimate goal is greater self-empowerment — with programs and at a pace that is always flexible and adaptable depending on their changing needs. It's helping people be active participants in their own care in ways that work best for them."
One of the initiatives piloted at the centre in September 2017, as part of the larger client care program, was focused on creating meaning through employment. Ms. Butler explained that the connections between employment and self-empowerment drove the rationale to provide opportunities for some clients, where it made sense in their therapy plan, to work on a part-time basis with the centre.
Other initiatives Ms. Butler noted included working with in-person and online peer support groups such as MUN Minds and MUN Listeners, just a few examples of the many different ways Memorial is addressing the broad range of needs — and making mental health and wellness supports more accessible for people who might be intimidated to take that first step.
Ms. Butler said that, as a student, this scholarship felt like a confirmation she was on the right path. Now, as a psychologist (provisionally registered), her focus is working with schools and the community to help children and youth with exceptionalities, disabilities, or mental health concerns. In particular she noted the importance of accommodations and modified learning plans that will meet students at a level where they can excel.
"The work happening at Memorial, and Mr. Drover's beliefs, follow the same principle," she said. "In my work going forward, the better we can meet children and youth where they are academically, mentally, and emotionally, the better we as educators can equip them for meaningful employment, or further education when they come out of the K-12 school system."