By David Penney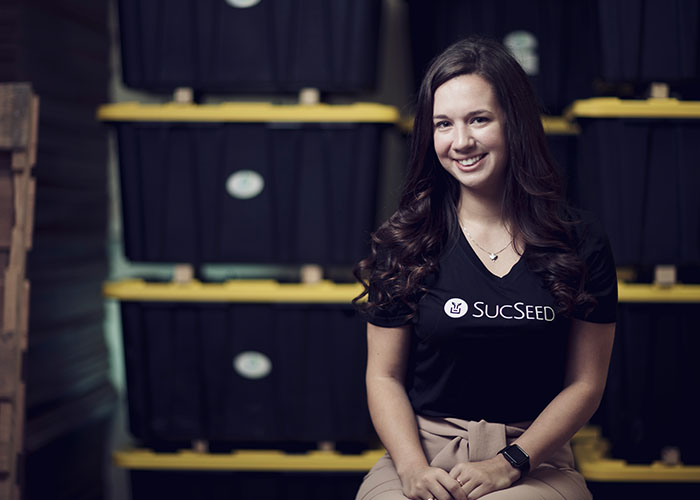 A FORMER PRESIDENT of Enactus Memorial, she was a leader with Memorial's World Cup-winning team of student volunteers — a group that works on projects to improve lives and create opportunities through entrepreneurial action and socially responsible enterprises.
One of those initiatives was the highly successful SucSeed.
The hydroponic systems at the centre of this initiative address issues of food security and sustainability, while also providing vocational training that employs disadvantaged young people through a partnership with Choices for Youth.
Ms. Bland now runs the business as a social enterprise independent of Enactus Memorial.
"SucSeed experienced rapid growth after the Enactus World Cup win in 2016 and it continued after our second place finish in 2017," she said. "We all quickly realized it was expanding beyond what the student volunteer team could support, so I pitched the idea of me taking it on full-time. The team was on board and I took a big leap. I decided to quit my job at Ernst & Young and switched gears from being a CPA to an entrepreneur."
Thanks to a strong foundation of entrepreneurial education through the Enactus program, support from Memorial's Centre for Social Enterprise and now as a client of Genesis, Ms. Bland knows better than anyone the importance of creating a culture of innovation and entrepreneurship at Memorial — it's a local platform with global potential.
Currently SucSeed is based out of Genesis; they've hired a head of operations and grown the team to five full-time employees, four of whom are MUN grads.
"We're doing that while continuing to work with Tim Horton's to put our systems in every school across the country to educate over 1.3 million young Canadians," said Ms. Bland. "But the focus on growing this across Canada is just the beginning. We see potential for global expansion as well — our systems can be an important part of how we address food security not only in this country, but around the world."