By Moira Baird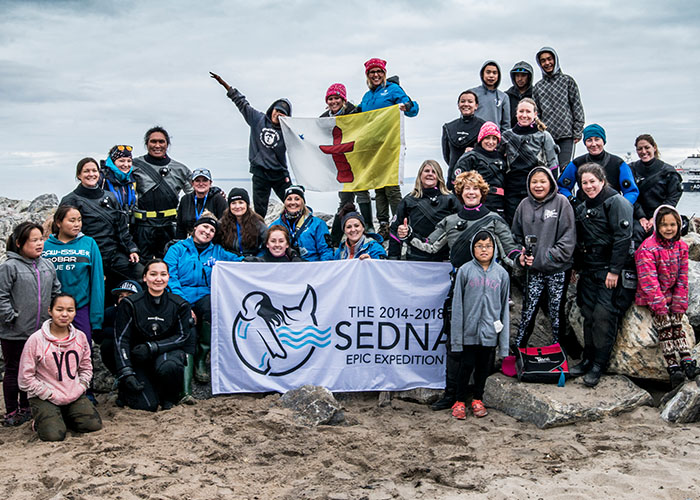 SARAH WALSH, B.Sc.'13, B.Tech.'17, Dip.Tech.'17, jumped at the opportunity to join the Sedna Epic Expedition in August 2018, a research and education journey in Artic waters with stops in the Nunavut communities of Resolute and Pond Inlet.
She was the only Newfoundlander and Labradorian among a 16-member team of all-star "sea women" volunteers from across Canada, the United States and Mexico invited to participate by the expedition's founder and team leader, Susan R. Eaton.
"This expedition taught me that we need to do more, as Canadians, on the path to reconciliation. The people of the North deserve so much better from us," Ms. Walsh said. "I felt that talking with the people in the communities helped me get a little closer to understanding what I need to do as a southerner to help in the healing process."
A multidisciplinary hydrographer in St. John's with the Canadian Hydrographic Service, Ms. Walsh was part of a Sedna team that included a geologist, a remotely operated vehicle instructor, a paramedic, a videographer, a diving instructor and a maritime archaeologist.
The expedition, which takes its name from the sea goddess of Inuit legend, has documented climate change and disappearing sea ice in the Arctic and the impact on Indigenous Peoples' traditional way of life since its first voyage in 2014.
The team used the Deep Trekker remotely operated vehicles (ROV), on loan from MI, to provide livestream underwater images from along the shores of each community. They also introduced Inuit girls to the many possibilities in ocean-related careers and provided experiential education programs, including an opportunity to build and operate their own ROV.
"It was great to see them learn to make an ROV and then come right back and make it better," said Ms. Walsh. "Most of the time, they didn't even need us."
Ms. Walsh is also sharing what she has learned. In January she provided an account of her Sedna experiences, using photos and video, at a public event on seafloor mapping hosted by the Marine Institute.
"I really hope that I can join future expeditions. There is so much more I want to learn about the North and its people."