Learning disabilities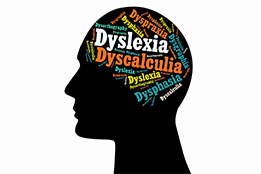 What are learning Disabilities?
Learning disabilities are neurologically-based processing problems. These processing problems can interfere with learning basic skills such as reading, writing and/or math. They can also interfere with higher level skills such as organization, time planning, abstract reasoning, long or short term memory and attention.1
Who can be affected by a Learning Disability?
By definition anyone of average or above intelligence(measured by IQ) can have a learning
disability. Because learning disabilities are neurologically-based the person affected are usually diagnosed as having a learning disability at a young age by mental health professionals. Although, this can happen later in the individual life particually through adultlesence and even through adulthood. Often, because persons affected have average or above average intelligence they might develop coping mechanism that can make thier condition go undetected throughout K-12. The teachers often simply to not have the necessary training to spot a learning disability. Often, learning disabilities are noticed when the individual enters post seconday. The transition between k-12 can be challenging for a person affected because they do often as post seconday does not have the same structure as k-12.
ow does a learning disability affect life?
A learning disability involves the foundational perceptual and thinking skills that allow us to operate in life. Thus, just as a sore or injured muscle will cause difficulty wherever that muscle is required for physical movement, so a learning disability will affect a person's life wherever that skill is required.
For example, a person who has difficulty keeping things in a sequence may have trouble keeping in order words and letters in reading, spelling, and writing; keeping numbers in order in math; keeping track of a class schedule; completing long-range assignments, such as a term paper; and following directions. A memory deficit can cause problems with taking notes in class; remembering homework assignments, spelling or vocabulary; recalling information studied for tests; remembering basic math facts, phone numbers, addresses, locker combinations, people's names, appointments, etc.2

To Learn More:

https://www.youtube.com/watch?v=5NgIsJ-ACsE
http://nild.org/learning-disabilities/causes-effects-diagnosis/ 2
https://www.wellingtonalexandercenter.com/scottsdale-az/learning-disabilities/1