If at first you don't succeed, try, try again. This simple piece of childhood advice remains at the core of what researchers do. It's through a series of tests and observations that researchers are able to better understand the problems we face today and how to solve them; it's also how innovations and new areas of study are discovered by chance. The results usually lead to change. New discoveries become innovative developments that address the ever-evolving needs of modern-day society. Research creates a positive impact in the classroom, the community and throughout the world.
Memorial, a multi-campus university, continually aims to address the needs of Newfoundland and Labrador through research programs that are both provincially relevant and internationally significant. Our Research Strategy Framework, a working document that outlines how Memorial supports researchers, engages with the wider community and builds on a culture of research excellence, guides all research at Memorial. If you're interested in learning more, feel free to explore The League of Extraordinary Researchers, a graphic novel that tells the story of Memorial's research strategy framework.
"An investment in knowledge pays the best interest."
To be a researcher you must be curious by nature. You will spend your entire life poking and prying in search of something. Our researchers attempt to answer the who, what, when, where and why of the world around us. Over the past year, considerable effort and funding have been invested in world-class research projects across each of Memorial's campuses. The following is just a sampling of those projects, each one addressing a different need faced by the province.
A growing number of contentious management issues plague the provincial wildlife managers of Newfoundland and Labrador. Caribou populations are significantly declining. Coyote populations are expanding in size and range. Large moose populations are negatively affecting native vegetation and are involved in several hundred vehicle-moose accidents every year. Each of these issues requires custom management strategies and responses.
Stephen Decker, lecturer for environmental studies and geography at Memorial's Grenfell Campus, explores integrative approaches to wildlife management. His ongoing PhD research is focused specifically on caribou management. The caribou is the island's largest native herbivore and an iconic symbol for the province. However over the last decade and a half the population has decreased by 60 per cent, upwards to 90 per cent in certain areas. Examining the various issues faced by the province's caribou population, Stephen Decker compared the provincial government's current management efforts with integrated management approaches seen in other areas of resource and environmental management across North America. To make this assessment, extensive information was gathered from stakeholders associated with the Government of Newfoundland and Labrador's five-year Enhanced Caribou Management Strategy. Such information will contribute to efforts to manage wildlife effectively within the province and to sustain the caribou herds of insular Newfoundland for future generations.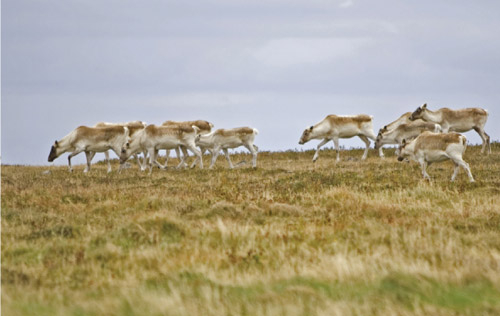 "A modern approach to a modern industry" is how the Aquaculture Real-Time Integrated Environmental System (ARIES) is being described. Richard Kelly, engineer and researcher with the Marine Institute's Centre for Applied Ocean Technology (CTec), is the project lead for ARIES, a groundbreaking project initiated by the Newfoundland Aquaculture Industry Association (NAIA) in partnership with CTec, the Centre for Aquaculture and Seafood Development (CASD), as well as three aquaculture companies: Cold Ocean Salmon Inc. (Cooke Aquaculture), Northern Harvest Sea Farm and Nova Fish Farms.
This pilot project, being tested in the Coast of Bays region, aims to demonstrate the potential of real-time environmental and oceanographic data within the aquaculture industry. This innovative system will aid in site management, site investigations and improve operational efficiency and production by providing remote access to real-time data such as water temperature, dissolved oxygen, salinity and meteorological information, from anywhere in the world.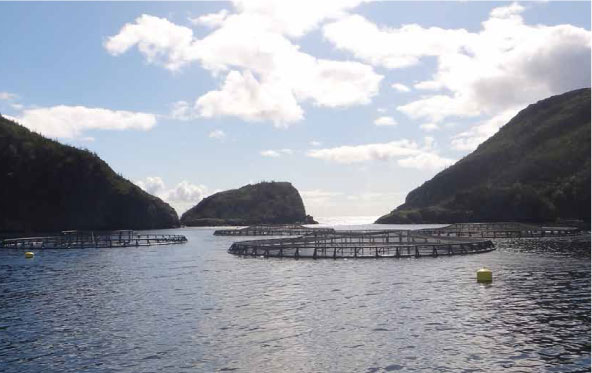 "If this project is good for fish farming in Newfoundland, then it's good for fish farming anywhere in the world."
In essence, the system provides improved quality controls, allowing clients such as fish farmers to select the ideal time to feed, ultimately resulting in a better quality product that is more efficient to produce, but also healthier to consume. The ARIES project started in September 2012 and testing will conclude December 2013.
The Big Land has transformed over the last half century. Dr. John Thistle, a research associate with the Labrador Institute and adjunct professor in the Department of Geography, is curious what effect this rapid development has had on the local economy, culture and environment. His teaching and research interests span human geography, environmental history, and science and technology studies. Based out of the Labrador Institute's North West River Research Station, Dr. Thistle's research project, Large Scale Resource Industries in Labrador, is an historical and geographic analysis of resource economies based on minerals and hydroelectricity in the years after Newfoundland and Labrador's confederation with Canada.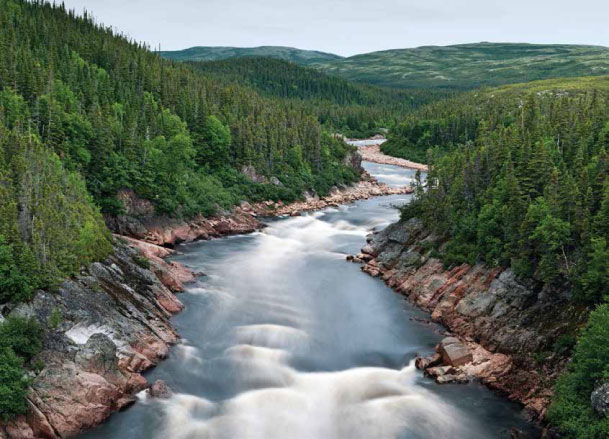 His research, funded by the Department of Innovation, Business and Rural Development, the Atlantic Canada Opportunities Agency and the Labrador Institute, poses many pertinent questions, all of which explore the effects of modernization and development on Labrador communities and landscapes. The results of the project will not only provide a much-needed historical perspective on challenges and opportunities for large-scale resource development in the region, but will also establish important historical baselines for future socio-economic research.
Dr. Thistle has presented his research at workshops and public forums on resource development in the Labrador region, including a Memorial Presents presentation titled Community Resiliency: Navigating Boom and Bust Cycles, which was followed up by a series of workshop sessions with the public.
Dr. Mani Larijani recently received the Terra Nova Young Innovator Award for his research in DNA-mutating processes, which modify human and virus genomes. This award recognizes and supports Dr. Larijani as an outstanding and emerging researcher whose innovative work has the potential to impact society significantly.
Listen to Dr. Larijani explain how his research will shape our future.
The Terra Nova Development operated by Suncor Energy funds the prestigious award, valued at $50,000. Research, and the impact it can make in our world, depends heavily on funding provided by generous supporters.
To learn more about the research being conducted at Memorial, explore Into the Deep, our 2013 research report.