The Dare To campaign continues to change the course of Memorial's history. It began as a journey with this guiding principle: no limitations, only possibilities. There was no map. It had never been done before. But we all shared the belief that education is an important part of who we become. Our culture, our sense of place, our ability to innovate connects us to each other and to Memorial.
What happened next surpassed all expectations. We energized Memorial's talented supporters, our creative alumni, and a contagious sense of optimism spread throughout our community of students, faculty and staff. The Dare To campaign set a goal that honoured the history of Memorial while envisioning a future that would take us beyond even our greatest hopes. To the dreamers who thought it was possible, we want to thank you for helping us exceed our original goal of $50 million to raise $67.2 million. The Dare To campaign is part of Memorial's sustained, long-term approach for fundraising and engagement and this is only the beginning.
"Always set goals, and work as hard as you can. You'll be amazed at what you can do."
Memorial University's faculty, staff, students and retirees came together to raise $1.2 million during the campaign. This was a remarkable show of solidarity and support. The ability to receive the endorsement, enthusiasm and financial support of this group, collectively known as our "family", is tremendous and something of which we should all be proud.
One heartwarming example of this support is the development of the April Arnott Memorial Scholarship. The scholarship aids students in the marine environmental program at the Marine Institute and was established in honour of the late April Arnott, a hard-working MI student who was well-loved by her family, peers and instructors.
Funding for the scholarship was raised primarily through donations from members of the Department of Human Resources at Memorial University, co-workers of April's mother Hilda. Together the department staff members wanted to honour April, while also offering emotional support for Hilda, through fundraising efforts made during the campaign. The recipient of the April Arnott Memorial Scholarship for 2012 was Jonathan Chatman, a very grateful third-year marine environmental student from Canning's Cove, N.L.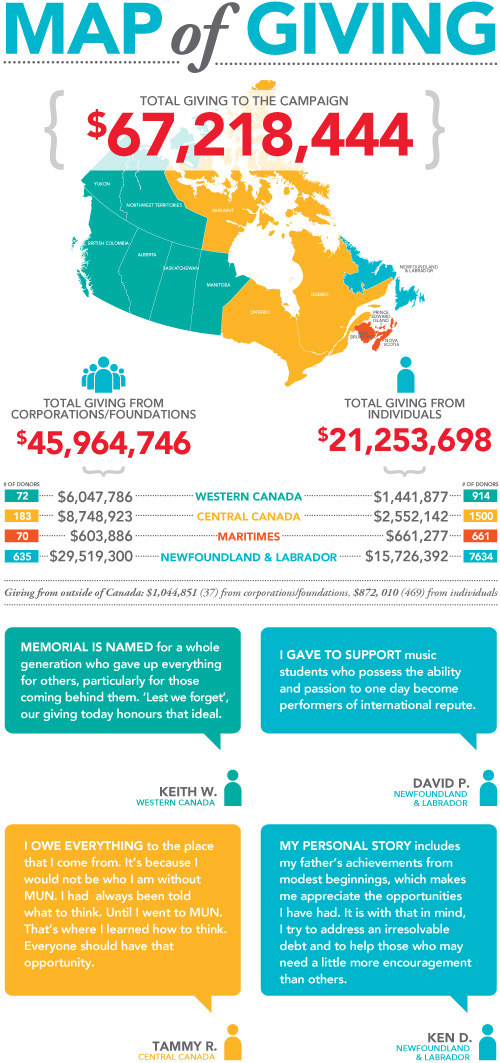 This year Memorial University was once again the fortunate beneficiary of a truly generous gift from Drs. Jean and Angus Bruneau. A donation of $1 million was made to Memorial University's School of Music to fund the Bruneau Centre for Excellence in Choral Music.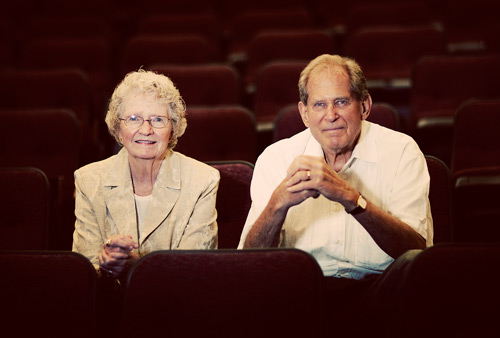 In addition to providing students, faculty and the surrounding community with a premier choral experience, this new centre will support research, internships and community choir projects, as well as enable choirs to participate in national and international festivals.
Choral singing is at the heart of our culture. It has a powerful impact on people, strengthening their identities and building stronger communities. For Memorial, this gift is a cultural treasure. But for the Bruneaus, it is much more. It's the legacy of their lifelong love affair with choral music and their gift to Memorial's future generations.
A scholarship can be more than just financial assistance; it honours a student's hard work and can provide life-changing experiences. Scott Tobin is one of those students. Scott is a recipient of the Poole Family Scholarship. A recent graduate of Memorial University, Scott completed a bachelor of arts with a major in French. This scholarship provided him the opportunity to study abroad and he is now proud to be fully bilingual. Scott is continuing his education at Memorial and has recently joined the Faculty of Education.
The Poole Family Scholarship, valued at $5,000 per year, is funded through the Dare To campaign by Terry Poole, a former resident of Corner Brook who now lives in Calgary. The scholarship is awarded annually to a full-time undergraduate student entering into their first year of study in any program at Memorial University, with a preference for students from the west coast of Newfoundland. The scholarship is renewable for up to three additional years as long as the candidate maintains scholarship standing. This is a goal that Scott aimed for and achieved throughout his entire undergraduate degree.
A total of 12,175 unique donors gave to the Dare To campaign. That's 12,175 separate and compelling reasons to give. Each and every one of these individuals, corporations and foundations has made a beneficial impact on Memorial. You can learn more about these stories through our culminating campaign review that will be released before the end of the year and will be available through www.munalum.ca.
"Why did I give to the Dare To campaign? It's because I owe everything to the place that I come from. It's because I would not be who I am without MUN. Going to MUN didn't answer all my questions. Instead, it helped me to realize that I didn't even know what the questions were! I had always been told what to think. Until I went to MUN. That's where I learned how to think. Everyone should have that opportunity."