Faculty A-Z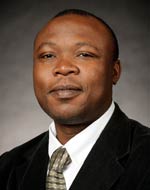 William Midodzi
Associate Professor of Clinical Epidemiology Postdoc., Ph.D., MSc. (U of Alberta, CA), BSc (KNUST, Ghana)
Community Health and Humanities Clinical Epidemiology
What brought me to MUN? What keeps me at MUN?
I have always aspired to pursue a teaching and research career in Medicine. My appointment here at the Memorial University is definitely an exciting opportunity for me to get my career started.
I am currently an Assistant Professor in the Clinical Epidemiology graduate program in the Discipline of Medicine. This is my fifth year of service at the University. Previously, I have worked as a statistical consultant and a postdoctoral student at the University of Alberta, with the Epidemiology Coordinating and Research Center in the Department of Medicine. Beforehand, I have also studied epidemiology (PhD) and biostatistics in clinical trial (MSc) at the University of Alberta.
In 1998, I emigrated from Ghana. Having lived in Edmonton, Alberta for 12 years, I deliberated a change to a different environment. My aspirations were for a small university upon completion of my education in 2007. I finally seek a research intensive institution in medical science and rural health outcomes and services. Previously, I have completed rural health research training in CIHR/ PHARE program at the University of Saskatchewan. My long term goals drew my attention to the faculty position advertised for clinical epidemiology here at the Memorial University. My application and experience won me the position to begin my first academic appointment in January 2011.
Over my past five-year experience here, I have worked and formed collaborative relationships with skilled faculty members with reputable research program notably the Bariatric Surgery Outcome program and the Newfoundland and Labrador Infant Feeding Maternal Attitude program lead by Dr. Laurie Twells. Presently, I have initiated forming the Pulmonary Research Group with a colleague.
I'm very proud to be part of the Faculty of Medicine experience here at the Memorial University. I've gotten not only the chance to pursue my academic endeavors and improve my professional skills, but to meet, help, and nurture dozens of graduate and undergraduate students along the way. This is what keeps me going. Whatever your faculty endeavors, I hope your experience at the Memorial University Department of Medicine inspires you as it has done for me.
Education:
PhD (Medical Sciences-Public Health Sciences), University of Alberta, 2007
MSc (Biostatistics), University of Alberta 2000
BSc (Hon), KNUST, Ghana
Training:
Postdoc (Clinical Epidemiology of Respiratory Diseases), U of Alberta
CIHR/PHARE Fellowship in Rural Health, U of Saskatchewan
Respiratory Epidemiology & Biostatistics Method, U of Alberta
MITACS/PIMS Mathematical Epidemiology of Infectious Diseases, U of Alberta
Clinical Trails, U of Alberta
Research/Teaching Summary:
My main interest is in the area of obstructive airway disease (OADs) epidemiology. My research area include multivariate statistics and discriminant analysis using pulmonary function testing (PFT) data in patients with shortness of breath (SOB), and sequential analysis of clinical trials. In particular, I am currently interested in development of diagnostic algorithms for OADs based on PFT, immunologic and biomarkers for community patients with breathing symptoms. SOB (or dyspnea) is a worrisome symptom associated with many acute and chronic diseases such as asthma, chronic obstructive pulmonary diseases (COPD), pulmonary hypertension and heart failure. PFT research will help provide appropriate diagnostic workout aimed to better understand the differential diagnosis and provide quality care for dyspnea patients.
I am also interested in collaborating with researchers in the area of health outcomes and services. I provide consultation or collaborating with public health sciences researchers and practitioners in the design, conduct, analysis and reporting of their work.
Teaching:
MED6262 –Biostatistics in Clinical Medicine
MED6260 - Clinical Research and Design (Chair)
Awards:
PStat Certification (#098), Statistical Society of Canada, 2007
CIHR/PHARE Strategic Scholar in Rural Health, Saskatoon 2002-2007
Publications:
1: Dillon C, Peddle J, Twells L, Lester K,
Midodzi W
, Manning K, Murphy R, Pace
D, Smith C, Boone D, Gregory D. Rapid Reduction in Use of Antidiabetic Medication
after Laparoscopic Sleeve Gastrectomy: The Newfoundland and Labrador Bariatric
Surgery Cohort (BaSCo) Study. Can J Hosp Pharm. 2015 Mar-Apr;68(2):113-20.
2: Twells LK,
Midodzi WK
, Ludlow V, Murphy-Goodridge J, Burrage L, Gill N,
Halfyard B, Schiff R, Newhook LA. Assessing Infant Feeding Attitudes of Expectant
Women in a Provincial Population in Canada: Validation of the Iowa Infant Feeding
Attitude Scale. J Hum Lact. 2014 Nov 25.
3: Grattan MJ, Thomas DS, Hornberger LK, Hamilton RM,
Midodzi WK
, Vohra S.
Maternal hypothyroidism may be associated with CHD in offspring. Cardiol Young.
2015 Oct;25(7):1247-53. doi: 10.1017/S1047951114001887. Epub 2014 Oct 2.
4: Twells LK, Gregory DM, Reddigan J,
Midodzi WK
. Current and predicted
prevalence of obesity in Canada: a trend analysis. CMAJ Open. 2014 Mar
3;2(1):E18-26. doi: 10.9778/cmajo.20130016. eCollection 2014 Jan. Erratum in:
CMAJ Open. 2014 Mar;2(1):E35.
5: Harris GE, Dupuis L, Mugford GJ, Johnston L, Haase D, Page G, Haldane H,
Harris N,
Midodzi WK
, Dow G. Patterns and correlates of cannabis use among
individuals with HIV/AIDS in Maritime Canada. Can J Infect Dis Med Microbiol.
2014 Spring;25(1):e1-7.
6: Gregory D,
Midodzi W
, Pearce N. Complications with Angio-SealTM vascular
closure devices compared with manual compression after diagnostic cardiac
catheterization and percutaneous coronary intervention. J Interv Cardiol. 2013
Dec;26(6):630-8.
7: Kao D, Lalor E, Sandha G, Fedorak RN, van der Knoop B, Doornweerd S, van
Kooten H, Schreuders E,
Midodzi W
, Veldhuyzen van Zanten S. A randomized
controlled trial of four precolonoscopy bowel cleansing regimens. Can J
Gastroenterol. 2011 Dec;25(12):657-62.
8: Estabrooks CA, Squires JE, Hutchinson AM, Scott S, Cummings GG, Kang SH,
Midodzi WK
, Stevens B. Assessment of variation in the Alberta Context Tool: the
contribution of unit level contextual factors and specialty in Canadian pediatric
acute care settings. BMC Health Serv Res. 2011 Oct 4;11:251.
9: Estabrooks CA,
Midodzi WK
, Cummings GG, Ricker KL, Giovannetti P. The impact
of hospital nursing characteristics on 30-day mortality. J Nurs Adm. 2011
Jul-Aug;41(7-8 Suppl):S58-68.
10: Tse-Chang A,
Midodzi W
, Joffe AR, Robinson JL. Infections in children
receiving extracorporeal life support. Infect Control Hosp Epidemiol. 2011
Feb;32(2):115-20.
11: Cummings GG,
Midodzi WK
, Wong CA, Estabrooks CA. The contribution of hospital
nursing leadership styles to 30-day patient mortality. Nurs Res. 2010
Sep-Oct;59(5):331-9.
12: Midodzi WK, Rowe BH, Majaesic CM, Saunders LD, Senthilselvan A. Early life
factors associated with incidence of physician-diagnosed asthma in preschool
children: results from the Canadian Early Childhood Development cohort study. J
Asthma. 2010 Feb;47(1):7-13.
13: Makowsky MJ, Koshman SL,
Midodzi WK
, Tsuyuki RT. Capturing outcomes of
clinical activities performed by a rounding pharmacist practicing in a team
environment: the COLLABORATE study [NCT00351676]. Med Care. 2009
Jun;47(6):642-50.
14: Vohra S, Johnston BC, Laycock KL,
Midodzi WK
, Dhunnoo I, Harris E, Baydala L.
Safety and tolerability of North American ginseng extract in the treatment of
pediatric upper respiratory tract infection: a phase II randomized, controlled
trial of 2 dosing schedules. Pediatrics. 2008 Aug;122(2):e402-10. doi:
10.1542/peds.2007-2186.
15:
Midodzi WK
, Rowe BH, Majaesic CM, Saunders LD, Senthilselvan A. Predictors
for wheezing phenotypes in the first decade of life. Respirology. 2008
Jun;13(4):537-45. doi: 10.1111/j.1440-1843.2008.01284.x. Epub 2008 Apr 10.
16:
Midodzi WK
, Rowe BH, Majaesic CM, Senthilselvan A. Reduced risk of
physician-diagnosed asthma among children dwelling in a farming environment.
Respirology. 2007 Sep;12(5):692-9.
17: Estabrooks CA,
Midodzi WK
, Cummings GG, Wallin L. Predicting research use in
nursing organizations: a multilevel analysis. Nurs Res. 2007 Jul-Aug; 56(4
Suppl):S7-23.
18:
Midodzi WK
, Hayduk L, Cummings GG, Estabrooks CA, Wallin L. An alternative
approach to addressing missing indicators in parallel datasets: research
utilization as a phantom latent variable. Nurs Res. 2007 Jul-Aug;56(4 ):S47-52.
19: Adewale AJ, Hayduk L, Estabrooks CA, Cummings GG,
Midodzi WK
, Derksen L.
Understanding hierarchical linear models: applications in nursing research. Nurs
Res. 2007 Jul-Aug;56(4 ):S40-6.
20: Cummings GG, Estabrooks CA,
Midodzi WK
, Wallin L, Hayduk L. Influence of
organizational characteristics and context on research utilization. Nurs Res.
2007 Jul-Aug;56(4):S24-39.
21: Wallin L, Estabrooks CA,
Midodzi WK
, Cummings GG. Development and validation
of a derived measure of research utilization by nurses. Nurs Res. 2006
May-Jun;55(3):149-60.
22: Chang WC,
Midodzi WK
, Westerhout CM, Boersma E, Cooper J, Barnathan ES,
Simoons ML, Wallentin L, Ohman EM, Armstrong PW. Are international differences in
the outcomes of acute coronary syndromes apparent or real? A multilevel analysis.
J Epidemiol Community Health. 2005 May;59(5):427-33.
23: Gupta M, Chang WC, Van de Werf F, Granger CB,
Midodzi W
, Barbash G, Pehrson
K, Oto A, Toutouzas P, Jansky P, Armstrong PW; ASSENT II Investigators.
International differences in in-hospital revascularization and outcomes following
acute myocardial infarction: a multilevel analysis of patients in ASSENT-2. Eur
Heart J. 2003 Sep;24(18):1640-50.
See full list at
PubMed