Marketing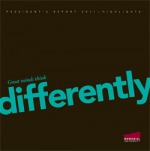 In 2003, Memorial's Marketing Working Group kick-started the effort to market the university to a broad audience, one that includes prospective students, faculty and donors.
Marketing & Communications and the Office of Student Recruitment undertook the first project under the new marketing strategy by developing informational materials aimed at prospective students of Memorial.
Since then, our division has added a marketing component to its services and hired marketing specialists to the team to develop and implement an integrated marketing plan for Memorial.
If you would like to learn more about Memorial's marketing efforts, please get in touch.
Jeff Hulan
Associate Director (Marketing)
Tel: 709-864-8666
Fax: 709-864-8699