Northern communities face a multitude of interdependent issues stemming from factors such as climate change, infrastructure deficits and energy insecurity. Dr. Trevor Bell, a professor with Memorial University's Department of Geography, Faculty of Arts, is the principal research partner for SakKijânginnatuk Nunalik: the Sustainable Communities Initiative (SCI) of the Nunatsiavut Government. Dr. Bell and the SCI team are tackling issues central to community wellbeing and sustainability in the context of climate change. One such project addresses the challenge of healthy homes with a blueprint for culturally appropriate and environmentally adapted housing.
For generations these communities relied on fairly predictable conditions in order to operate. But according to Dr. Bell's research, some of these conditions are changing; for instance, many sea ice travel routes – winter highways for communities without roads – have become increasingly more dangerous due to thawing and thinning ice. In winter 2009-10, one in 12 people surveyed in Nain fell through the ice in areas once safe to travel. Higher temperatures are also thawing the permafrost and causing the ground to shift. As a result, many houses have become unstable.
Energy security in the North is another critical factor identified by Dr. Bell affecting the quality of life in these communities. Power outages happen every winter in as low as minus 40-degree Celsius conditions. Due to unreliable electricity supply, wood stoves remain the primary heating source for over half of the homes in Nunatsiavut. Meanwhile unpredictable sea ice conditions limit access to firewood, leaving many homes inadequately heated and ventilated in winter months. Alarmingly, 44 per cent of children in Nunatsiavut communities are living in houses with mould. In order for these children to thrive, they need safe, healthy houses to call home.
"Housing is the most fundamental issue facing our communities today. […] If we address our housing crisis effectively, we will improve quality of life in this region and many related issues that can only be tackled successfully when Nunatsiavummiut have roofs over their heads and warm beds to sleep in."
Recently awarded $350,000 at an Arctic Inspiration Prize ceremony in Halifax, N.S., Dr. Bell and the SCI team will use the funds to build and monitor Nunatsiavut's first sustainable, multi-unit residential dwelling, a model that is culturally relevant, affordable, energy efficient, technologically advanced and adapted to climatic and environmental changes. Dr. Bell intends for this model to serve as a prototype for future northern housing development, both in Canada and across the Arctic, as its innovative design will be the first to adapt to the changing northern climate while also addressing the diverse infrastructure requirements, skills training, capacity building and specific Inuit housing needs and preferences.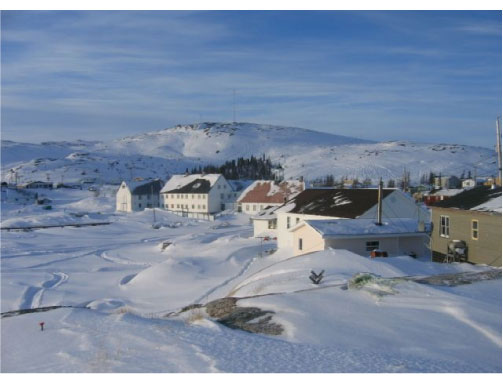 Dr. Bell recognizes climate change is more than just an environmental problem. "It's not just the natural landscape that is changing; it's the cultural landscape as well." The complex interdependent issues facing people in the North demand a holistic, integrated strategy to deal with them. For example, the knowledge-to-action plan that won the Arctic Inspiration Prize for the SCI team was built on a baseline understanding of housing needs in the region, drawing together Labrador Inuit knowledge and the findings from both professional assessments and comprehensive literature reviews. Dr. Bell describes the nominated SCI team as a mix of knowledge producers and decision makers: from recent Memorial graduates to senior executives, from community researchers to the first minister of the Nunatsiavut Government.
"What a great legacy for Memorial in the North — With the assistance and expertise of our researchers to help Inuit build thriving sustainable communities across the Arctic "
For Dr. Bell, this project is about much more than solving the problem of healthy homes. It's about building stronger sustainable communities through co-designed research and co-produced knowledge in real partnership with university researchers. In many ways, his research approach is leading the way for a new kind of collaborative, community shared, action-oriented research that will enrich and empower communities, as well as inspire young