Birding Sri Lanka, the Basics, December 2005 to January 2006
Paul Jones - Ottawa, Canada
We spent December 24, 2005 to January 8, 2006 in Sri Lanka, hosted by friends, the Seniviratne family. Everywhere we went we were struck by the warmth of the people, the diversity of habitats and the abundance of wildlife. In two weeks we recorded 231 bird species, including all 33 endemics. Sri Lanka is an outstanding birding destination.
go straight to annotated bird triplist
go straight to annotated mammal triplist
Itinerary - Birding Sri Lanka means visiting its three main habitats - wet zone, dry-zone and high country. To cover these, I followed the established birding trail. Sinharaja National Park was the main wet-zone destination. High country coverage was achieved at Horton Plains National Park and Nuwara Eliya. The dry-zone stops were Yala National Park and two sites of cultural/archaeological significance, Sigiriya and Polonnaruwa. All these areas are relatively close together, making the ease of sampling strikingly different habitats one of the best aspects of the trip. Sri Lanka is an island country located off the southern tip of India. Sinhalese make up 75% of the population, with Tamil and Muslim communities accounting for the remainder. English is spoken at most government, banking and tourist establishments. The terrain ranges from flat lowland to mountains reaching 2,500 metres in the central interior. Rainfall, as much as topography, defines the country, with Sri Lanka divided between a densely populated wet-zone in the south-centre and south-west and a less crowded dry-zone covering the remainder. Temperatures range from warm and humid in the low wet-zone, near freezing at dawn in the high country and dry and hot in the dry-zone. Although Sri Lanka has one of the highest population densities in Asia, there is an impressive system of national parks and forest reserves. Farming practices retain some compatibility with bird life, and tanks (reservoirs) and paddy fields hold astonishing numbers of storks, egrets and other wetland birds. Sri Lanka has a high literacy rate and low infant mortality, but it is not a wealthy country and has seen hardship in recent times. Tensions between and among Sinhalese and Tamil broke into open warfare in the mid-1980s and continued until a cease-fire in 2001. On December 26, 2004 a tsunami swept the southern and eastern coasts, killing approximately 35,000 people. These events, as tragic as they are, now have little material effect on tourists. Military checkpoints in birding areas are infrequent and traffic is simply waved through. Along the shore, tsunami debris has been cleared away, infrastructure repaired and people are returning to their normal lives. Much of the coastal vegetation survived, and kilometre after kilometre of the empty frames of broken houses are the most poignant reminder of the wave.

Health and Safety - At the time of writing (March 2006), the cease-fire between the Tamil insurgency and the government was holding, albeit unsteadily. We never felt at risk from war. On an individual level, Sri Lankans were friendly and helpful. People in rural areas were happy to see visitors, shyly smiling, waving or trying out their English. Tourist centres have moderately aggressive entrepreneurs, but these locations do not overlap much with birding zones, so we was never really bothered. Before the trip, we augmented previous Hepatitis A and tetanus shots with diphtheria, polio and typhoid boosters. To combat severe gastric upset, the anti-biotic Novo-Norfloxacin was prescribed but never used. Swayed by pharmaceutical advertising (and not my doctor's scepticism) we took Dukoral, an oral vaccine against cholera and, more relevantly, a few forms of E. coli that cause diarrhoea. We never had any stomach problems except for mild constipation, perhaps the Dukoral helped. We drank only bottled water and avoided uncooked vegetables, eating mostly at roadside stalls, roadside restaurants and guest homes. Malaria and Dengue Fever are two mosquito-borne risks in Sri Lanka. We took daily tablets of Malarone, a relatively new anti-malarial. It did not cause any side effects. No vaccine is available for Dengue, so the advice is to cover up and use insect repellent, especially at dawn and dusk. DEET-based repellents (the only kind that repel mosquitoes) are not readily available in Sri Lanka, so we brought my own supply. We encountered at least a few mosquitoes nearly everywhere we travelled, both in the field and in hotel rooms and restaurants, underlining the need to take the health risks of mosquito-borne diseases seriously. Most accommodations provide mosquito nets, which should be used even in air-conditioned rooms. As elsewhere, road accidents are the biggest danger that travellers face. The situation in Sri Lanka deserves its own discussion.
Road Travel - Sri Lanka's roads follow ancient ox-cart paths, so even major routes are narrow and curve through densely populated areas. In addition to being hemmed in by houses and shops, the highways are packed with cats, dogs, cattle, pedestrians, cyclists, motor-cyclists, tri-shaws, passenger cars, vans, trucks and buses, all on what looks like a single lane. There are no shoulders, only a ditch, a cliff or someone's front steps. Aggressive passing in the face of oncoming vehicles and on curves is the norm, with close calls occurring routinely. Saving the situation from absolute chaos is the technical skill of drivers and the fact that congestion usually keeps traffic flow below 40 kph. We cannot imagine a westerner arriving in Sri Lanka, renting a car and driving off to do some birding. Road conditions aside, the maze of routes and subtle signage can confuse even the locals. The options for visiting birders are: hire a driver and vehicle; hire a driver/bird guide and a vehicle; or, tour with a group. Jetwings (www.jetwingeco.com) and Baurs (www.baurs.com) are well-regarded Sri Lankan companies that provide these services. Our party privately hired a 4X4 Toyota van and driver and were very happy with the results. Our driver, W.G. Priyankera, was great, mixing stops at roadside religious shrines with brilliant driving to keep us out of harm's way. Total cost for two weeks of transport was 700 USD.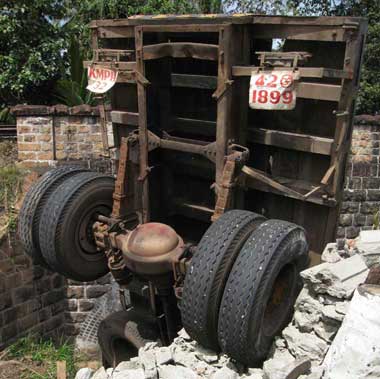 Clothing - For a small tropical country, Sri Lanka enjoys rather extreme variations in climate. To cope with heat in the low lands, we wore light, loose-fitting clothing and a sun hat. A light-weight rain coat and rain pants and a small travel umbrella kept precipitation at bay (we encountered a number of evening rain showers in the wet-zone). At Horton Plains, where the temperature drops to near freezing at night, we survived the cold dawn by wearing long pants, a long-sleeved shirt, a fleece jacket, rain gear and a ball cap. By eight in the morning things start to warm up and layers can come off. Footwear was close-toed synthetic sandals in the dry-zone and leather hiking shoes in the wet. Leech socks (impenetrable cotton or synthetic) are a necessity in the wet-zone and are available in one very large size from the Oriental Bird Club (www.orientalbirdclub.org).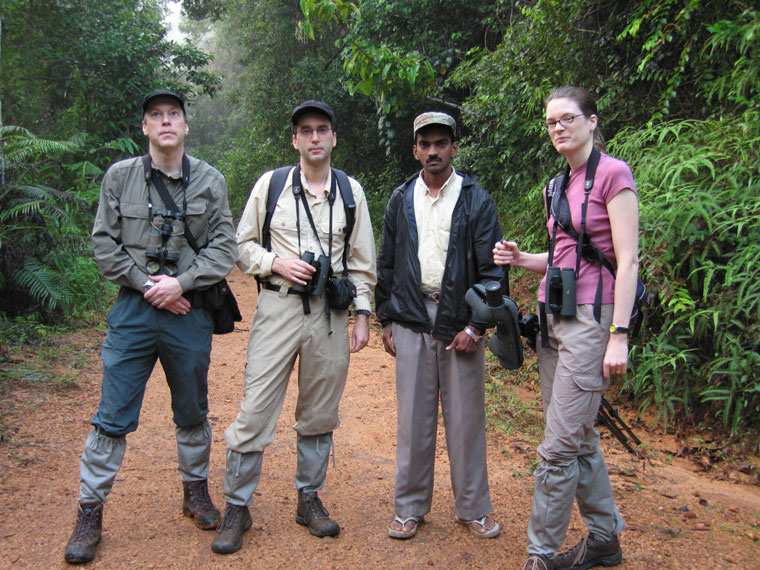 imported and traditional birding wear at Sinharaja
Leeches - Terrestrial leeches are an interesting and intermittently active part of the wet-zone forest. They do not carry disease, do not cause any pain, and leech socks almost always allow one to flick them away before they embed and engorge (wait until they loop up in a bow). Although small and harmless, they are still annoying, lying in wait along the trail and crawling up any available leg for a meal of blood. Upon arrival in leech country the tendency is to examine your socks every few minutes for any sign of them, a distraction from the priority of spotting birds. After a while the novelty of being attacked wears off and the frequency of inspections declines. Trying to stay on bare ground (away from leaf litter) is one avoidance strategy, but the best approach is to don your leech socks, tuck in your shirt and get on with birding. If you do get bit, the major problem is blood-stained clothing as the tiny bites continue bleeding long after the leech has left.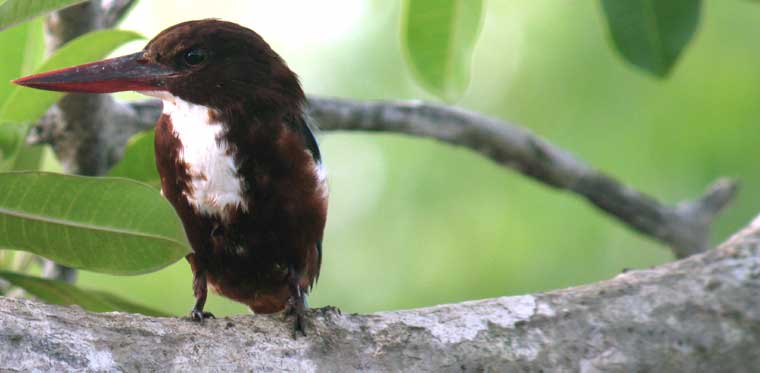 White-throated Kingfisher
Birding - As an island, Sri Lanka's bird diversity is relatively low. But what it lacks in total species it compensates for in endemics, 33, and with some hard work and luck, we were able to see or hear all of them, obtaining extraordinary views of most species. The endemics are primarily in wet-zone rain forest and the high country and could probably all be found in seven days, but a rushed trip would be a shame. We found two weeks too short to fully appreciate Sri Lanka. In addition to all the endemics (here printed in red text) and near endemics, the country is just very birdy, with accessible populations of most species. Sri Lankan culture is respectful of animal life, so most birds show little wariness, carrying on their activities without regard for human presence and responding with moderate interest to pishing and squeaking. The dry-zone tanks are filled with storks, egrets and other waders that allow close approach and study. Gardens, roadsides and even urban areas teem with birdlife. The shore-birding along the south-east coast is extraordinary and, as a final bonus, there is always the chance of finding a vagrant rarity. We came across Oriental Hobby and Great Knot, not super unusual, but exciting finds nonetheless. The Ceylon Bird Club (39 Chatham St., Colombo 1, Sri Lanka - birdclub 'at' sltnet.lk) greatly appreciates reports submitted by visiting birders. January and February are said to be the best months for birding, with resident populations augmented by migrants from the north. This makes Sri Lanka an excellent place to see wintering Kashmir Flycatcher, Brown-breasted Flycatcher, Pied Ground Thrush and Indian Blue Robin, birds not easily accessed during their nesting seasons. Book early to visit Sri Lanka during the holiday season. We planned our Christmas trip at the last minute and was fortunate to find a ticket at any price.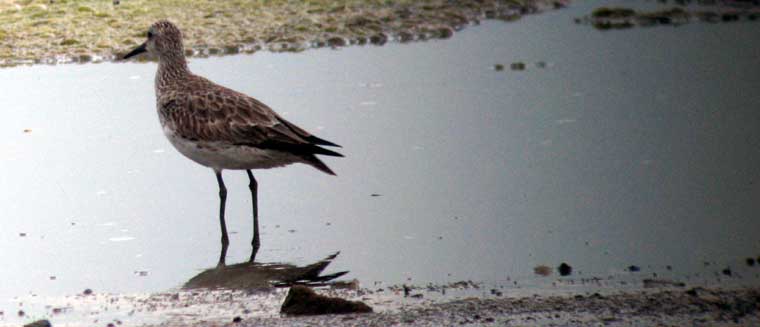 Great Knot, near Hambantota January 1
Other Wildlife - Sri Lanka is a great place to see a variety of large mammals. A combination of skilled guiding and luck gave point blank views of Sloth Bear and Leopard. We also saw Asian Elephant, Spotted Deer, Sambar Deer, Golden Jackal, three monkey species, five bats, three mongooses and a variety of squirrels. Lizards abound and the variety of frogs and toads is astounding. All this abundance resulted in sensory overload, with difficult choices often having to be made about what to look at.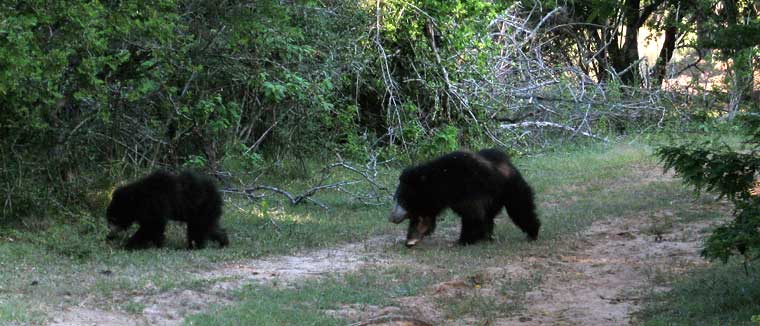 Sloth Bears, Yala
Equipment - Waterproof binoculars and a lightweight scope/tripod are necessities. The scope was invaluable for pulling in passerines at long distance, including our only Black-throated Munias and Yellow-eyed Babblers. We carried a big flashlight (Mag-lite 6 D-Cell) to light up bats, owls and nightjars. A small camera was useful for digi-scoping rarities, but also because Sri Lanka is one big photo op. In addition to beautiful natural areas to document, there are spectacular terraced tea estates, glowing green paddy fields, overflowing gardens, ancient archaeological sites, colourful fishing boats and bustling markets. To recharge batteries, the same plug adapter for India (three small round prongs) works in Sri Lanka, although some of the larger hotels had UK sockets too. We also brought along an iPod/portable speaker combination, loaded with a collection of Sri Lanka bird songs. On arrival, we discovered that using recordings to lure species into view is a delicate subject in the country, with strong environmental and cultural objection to the practice. Most organized tours use tapes, but we elected not to. Surprisingly, to me at least, we were still able to obtain striking views of most of the endemics, including the skulkers. My personal tendency is pro-tape, but it might be time for international listing conventions to accept heard-only birds to relieve pressure on local and vulnerable species.

Literature - Sri Lanka is blessed with excellent field guide coverage, including Harrison's 'Field Guide to the Birds of Sri Lanka (Oxford, 1999).' Harrison is all one needs, covering the island's species while excluding the hundreds of birds occurring in nearby countries. Grimmett and Inskipp's 'A Guide to the Birds of India, Pakistan, Nepal, etc.' (Princeton, 1999) and Rasmussen's new 'Birds of South Asia - the Ripley Guide' (Lynx Edicions, 2005) are also good, but they contain many more species to sort through. G.M. Henry's classic text 'A Guide to the Birds of Sri Lanka, Revised Third Edition' (Oxford, 1998) offers deeper and more colourful commentary than the modern guides. There are also dozens of excellent trip reports available on the internet. One puzzle for birders in Sri Lanka, visiting and resident alike, is sorting through multiple common names for the same bird. Harrison's choices do not seem to be sticking, with Grimmett, Rasmussen and local birders still using most of Henry's nomenclature. The confusion is frustrating and so are the names that scientists invent. Instead of Crimson-backed Flameback, why not just Crimson Flameback?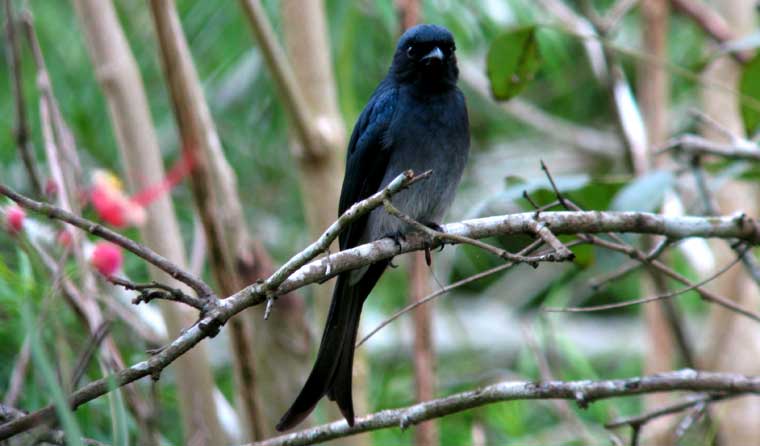 White-bellied Drongo
Money - We carried US dollars to convert to Sri Lanka Rupees and had my Canadian bank card and VISA for backup. The quickest place to convert currency was at the airport bank branches in Colombo. The process at banks outside of Colombo was very, very deliberate. Make sure you bring new bills. Torn ones will not be changed (WTF?). Most ATMs dispensed cash on our cards without problem. The larger hotels accepted VISA, but smaller establishments, especially in rural areas, were cash only. The standard denomination for travellers is 1,000 Rupees (about 10 USD). We burned through them quickly and should have got more money on fewer occasions, rather than having to stop for cash every few days. In addition carrying 1,000 Rupee notes, a supply of smaller denominations is useful to have on hand for tips. We never quite figured out what was appropriate, giving out 1,000 for a morning's guiding and 100 for more modest services (baggage carrying). Whether this was generous or cheap, we don't know. If you are looking for a calm and productive shopping experience in Sri Lanka, try the Laksala craft stores. They are co-operatively run and filled with tasteful and inexpensive items.
Food - Rice and curry is Sri Lanka's culinary mainstay. Light and flavourful, it consists of a largish serving of rice accompanied by smaller side dishes, including mild potato curry in coconut milk, spicier yellow dal, hotter fish or chicken curry and a vegetable, often green beans but sometimes local yams, gourds or exotic leaves. Occasionally rice is substituted with noodles called String Hoppers, not to be confused with Hoppers, a special batter browned to a cupped crisp in a small wok and served with various curries. The popular condiment is Sambol, a mixture of finely shredded dry chilli and coconut. Papaya, pineapple and small bananas, local bread and jam and an egg dish are breakfast standards. Roadside bakeries make excellent lunch stops, offering savoury buns and western-style sweet pastries. Tea was served with breakfast, lunch and dinner. Sri Lankan cuisine has a reputation for being hot, especially in the dry zone. When things got a little overpowering, we just increased the ratio of rice to curry. The local ginger beer, especially Elephant brand, is excellent and has fire-quenching properties. The best food we had was at roadside restaurants and guest houses; the fare at hotels was not as good. Outside of the usual meal routine, a few special stops are recommended. The first is for buffalo curd. Prepared in red earthenware pots and sweetened with treacle (syrup tapped from the kitul palm), curd is like a rich, delicious yogurt. To sample produce from local orchards, especially different mango varieties, fruit stalls are worth a visit too. We tried Wood Apple at one, a curious hard-shelled fruit with a tart pulp. Finally, try King Coconut, a sweet, refreshing drink bought by the roadside and sipped directly from the shell.

One - Galle (Introduction to the Wet Zone) Galle (pronounced 'Gaul') is the major centre on the south coast of the island. Our hosts, the Seneviratne family, live just inland from the city in an area of mixed forest, paddy fields, gardens and small tea estates. A relaxed walk around their neighbourhood provided a pleasant introduction to birding in Sri Lanka. The tameness and abundance of bird life was striking, with Ceylon Green Pigeon, Green Imperial Pigeon, Ceylon Hanging-Parrot, Ceylon Small Barbet, Indian Pitta, Ceylon Swallow, Black-headed Cuckoo-shrike, Small Minivet, Black-capped Bulbul, Asian Paradise Flycatcher, White-bellied Drongo and a host of other species making appearances. A morning visit to the Kottawa Forest Reserve, located ten kilometres northeast of Galle, put us into lowland rain forest. Birding was fairly slow, but it was a good introduction to the habitat, allowing to me to acclimatize to the myriad of frog, insect and squirrel calls, as well as the leech phenomenon. Kottawa provided my first looks at Crimson Flameback and the opportunity to scope and study Asian Brown Flycatcher and Brown-breasted Flycatcher. In Galle we stayed at the Lady Hill, excellent mid-range accommodations (http://www.lanka.net/ladyhill/). We also visited Kanneliya Forest Reserve - 50 kilometres northeast of Galle. A paved former logging road curves up into the park, providing smooth entrance into the maturing secondary forest. Highlights included an easily accessible bat cave, Malabar Trogon, Black-naped Monarch, Spot-winged Ground Thrush and encounters with two more difficult endemics. The first was Ceylon Spur Fowl, an easy bird to hear but a hard one to see. On the short trail running to the rubbish tip to the left of the dormitory (the building to the left of the main path just before the forest) two spurfowl put in visual appearances. On a night time walk we heard Serendib Scops Owl just a little way up the main path. Chitrasekera is the local guide who knows about this bird. We stayed at the Kanneliya Forest Resort, a pleasant and friendly place right at the edge of the reserve. The owners, thinking our party was starving, kept bringing us platter after platter of food.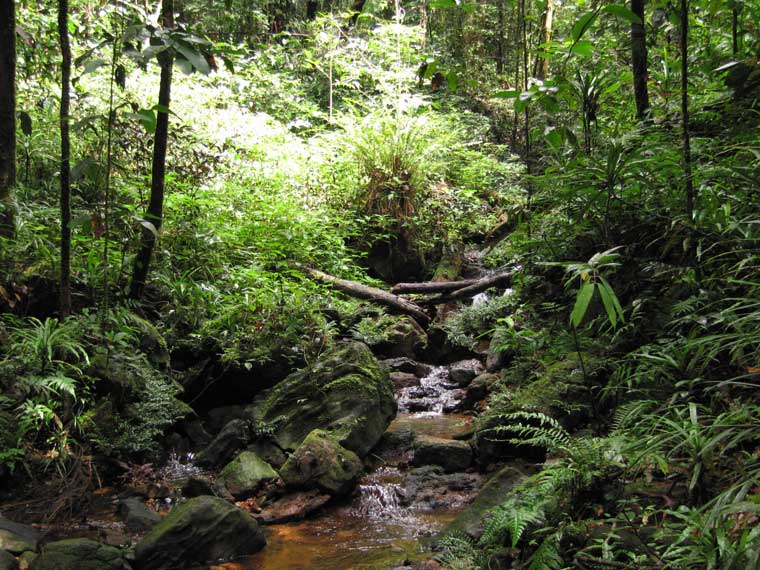 Two - Sinharaja National Park (Heart of the Wet Zone) Sinharaja, a UNESCO World Heritage Site, is located 80 kilometres southwest of Colombo on the hill country's lower edge. The park encompasses 190 square kilometres of some of the last remaining wet-zone rain forest in Sri Lanka. Birding access is from the village of Kudawa on the north side of the park. Permits and a guide (both required) are obtained from the Forest Department Office there. The guides are local villagers and not all of them are expert naturalists, but they work together once in the park, exchanging information about interesting sightings. In this way we were directed to roosting Ceylon Frogmouths and the location of an Indian Python resting in the undergrowth. The guide we were assigned, Nihal Abearathna, was an extraordinary birder, identifying birds by eyesight that we could barely see with binoculars. Soft spoken, he would whisper 'Green-billed Coucal' or 'White-faced Starling' and point carefully with his umbrella at the bird. Although guides are assigned on a fixed rotational basis, try asking for Nihal by name. Sinharaja is a good place to look for two endemic Zoothera thrushes, Spot-winged Ground-thrush and Ceylon Scaly Thrush. Early in the morning is the best time to find these two species. At dawn, Spot-wings are relatively easy to see foraging along roads and trails. Ceylon Scaly Thrush is a different story. They are wary and much less inclined to show themselves along roadsides or open areas of forest floor, skulking maddeningly in dense undergrowth (especially along streams near the Research Station), their presence indicated by thin lisping calls. The best way to see one is to stand quietly near streams or wet areas at dawn, looking and listening for the slow, low-slung, deliberate movements and leaf-tossing behaviour of this forest ghost.
While some Sinharaja sightings are lone individuals, the real key to success is finding a feeding flock. Most large forest flocks in Sinharaja will contain Red-faced Malkoha, Lesser Yellownape, Ceylon Scimitar Babbler, Rufous Babbler, Ashy-headed Laughing Thrush, Bright Green and Large-billed Leaf Warblers, Black-naped Monarch, Asian Paradise Flycatcher, Crested Drongo and possibly Velvet-fronted Nuthatch. Knowledge of flocking behaviour is still incomplete, but the basic facts are that mixed species begin to coalesce around the ringing calls of drongos about eight in the morning and begin to roam together along unpredictable routes through the forest, taking a couple hours off at mid-day and then reforming for another tour between two and five. The timing, composition, size and speed of the flocks depend on a host of variables, including rainfall. Too much rain apparently discourages the behaviour, but so do long dry spells. Most birders manage to come across a flock. We found one rather late in the afternoon on the hill trail that breaks left from the main path well before the research station. True to form, the first sign was the whistles of drongos and then the fluty bubbling of Ceylon Scimitar Babblers and the excited calls of other species. Nihal began quietly pointing out birds. The flock was high in the canopy, and we began to desperately sift through shapes flitting far above me, hidden in branches or silhouetted against the sky. Fortunately, the flock paralleled the forest trail, so by hurrying back along the path we were able to catch it in places where the foliage opened and the flock dropped lower. The first bird we got a good look at was an Ashy-headed Laughing Thrush. Rufous Babbler, Ceylon Hill Myna and finally Red-faced Malkoha came into view. Much excitement! Unless you require luxury accommodations, stay at Martin's Place when birding Sinharaja.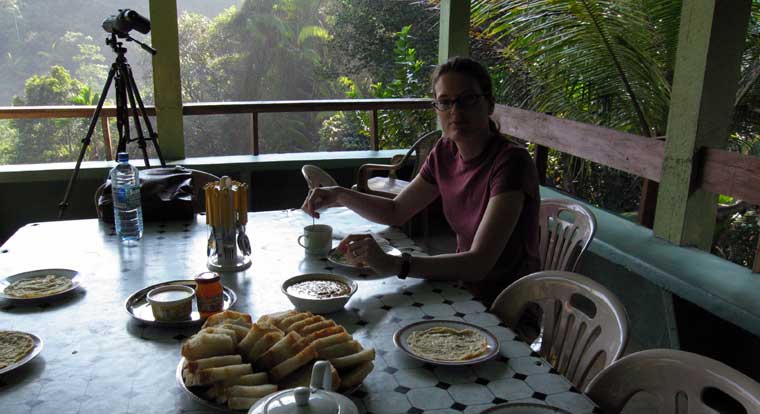 Breakfast at Martin's Place
Located at the very edge of the park, it overlooks a forested valley and offers great birding opportunities right on its doorsteps. Our party had Ceylon Blue Magpie hopping around the dining area. The proprietor Martin Wijesinghe, a quiet and dignified man, was born and raised in the Sinharaja area and is an expert naturalist and former park ranger. His lodge provides rooms that are basic and rough hewn but clean and dry. A micro turbine in the nearby river provides electricity and a solar water heater on the roof allows for pleasant showers. Guests are requested to bring food - basics such as rice and beans are good, but fresh fruits and vegetables are even more welcome. In accordance with Sri Lankan tradition, the food brought by travellers enters a communal supply and is then prepared and shared amongst guests. The meals at Martin's were the best we had in Sri Lanka. Access to the lodge is up a long and steeply ascending road. A jeep is usually required, but our driver managed to negotiate a Toyota van up the trail. Reservations at MartinŐs are booked through the mail. His address is Martin Wijesinghe, Kudawa, Weddagala, Kalawana, Sri Lanka. Other accommodations in the area include the Blue Magpie Lodge near the village of Kudawa. It is well-regarded and less rustic, but while you can walk into Sinharaja from Martin's, Blue Magpie guests take a long, bumpy jeep ride to and from the park.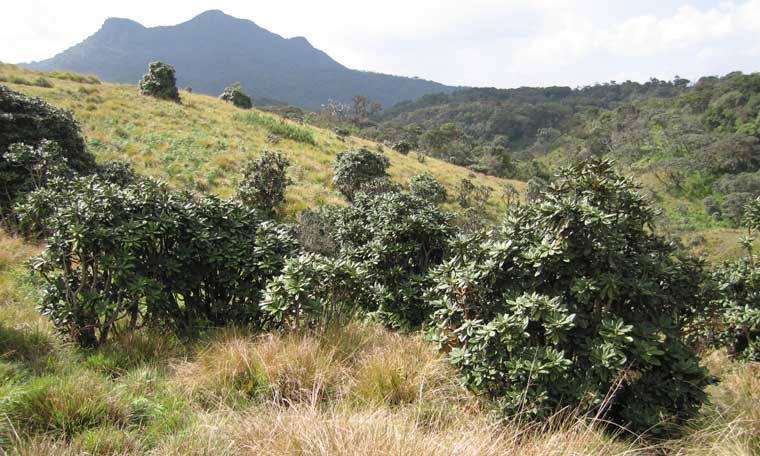 Horton Plains high country habitat
Three - Nuwara Eliya, Victoria Park and Horton Plains (High Country) Sri Lanka's high country is located in the south-centre of the island. Nuwara Eliya (pronounced as one word - New-ra-lee-ya) is the region's crowded commercial centre and where most visiting birders stay. At 2040 metres, the areaŐs climate, habitat and birdlife contrast greatly with Sinharaja. The first place birders usually experience the new environment is in downtown Nuwara Eliya at Victoria Park. Victoria Park, modelled on a British arboretum, consists mostly of manicured lawns, widely-spaced trees, ornamental shrubs and garden beds, with a bit of birdy habitat along a river bank and at the back fence. During the day it is packed with a happy mixture of picnicking families and strolling couples, so visit it early morning or late afternoon. Our strategy was to linger a little bit past the official closing time (the park is fenced and gated and an entrance fee is required). Bear left immediately after the gate and follow the narrow trail beside the river through patches of unkempt undergrowth. The river curves around to the back of the park where, along the back fence, the shrubbery is also untended. By pushing my way into these thickets I was able to find a female Indian Blue Robin. A male later appeared in the open by the main river path. Other sightings included one Indian Pitta, two Forest Wagtails (on the lawn by the river) and one male Pied Ground Thrush. Contrary to name, this last bird spends a lot of time up in trees. In contrast to Nuwara Eliya, Horton Plains National Park provides a more wilderness experience, but it requires a steep, hour-long early-morning drive to reach. The terrain at Horton Plains is otherworldly, a mixture of stunted montane forest and rolling grassy valleys, lit by bright blue sunshine flicking on and off as cloud banks move rapidly through. The park opens at six and from the gate a paved road runs several kilometres through cloud forest and open plain to a parking lot and interpretation centre. From the centre a trail system leads to World's End, a spectacular overlook. Birding strategy consists of a pre-dawn drop off at 'The Arrenga Pool,' a small pond on the right side of the road a little ways in from the gate. After looking for Arrenga (Ceylon Whistling Thrush) you can walk the few kilometres to the parking area, birding along the way. From there you can proceed through a separate gate and hike the nine kilometres round trip to World's End. We hit the Arrenga Pool a little after six in the morning and, in the shivering cold, quickly heard one and then two of the location's namesakes. An Arrenga and an Indian Blackbird briefly presented themselves for poor views (these birds look very similar in the dark). As the sun rose we walked up the road a ways, experiencing some of the best birding of the trip. A group consisting entirely of South African bird-tour leaders graciously pointed out Kashmir Flycatcher. Without assistance we had excellent views of Ceylon Wood Pigeon, Dull-blue Flycatcher, Yellow-eared Bulbul and Sri Lanka Bush Warbler. At 7:20 a.m. we strolled back to the pool and looked up to see a male Arrenga perch semi-openly and sunlit in the shrubbery. It then flew across the road at knee level. Patience, as much as early arrival, may be the key with this bird. From the pool we walked the road to the parking lot and then did the loop trail to World's End and back. Pied Bushchat and Hill Swallow were common along the road. Several Oriental Honey Buzzards displayed overhead. The beautiful hike to World's End yielded a rare Oriental Hobby. In Nuwara Eliya we stayed at the Galway Forest Lodge, the priciest accommodation of the trip. It was fine and in contrast to most hotels, the buffet was very good (http://www.galway.lk/forest.htm).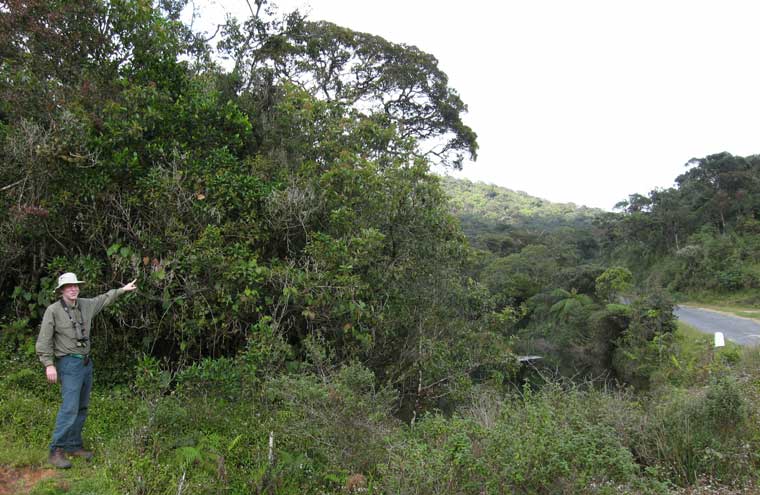 The Arrenga spot
Four - Buduruvagala (Introduction to the Dry Zone) Buduruvagala is a beautiful and quiet place to combine birding and culture. Located eight kilometres south of Welawaya, it is easily accessed off the main road between Yala National Park and the high country. The site consists of a series of ancient Buddhist figures carved into the rock of a cliff face. A stroll around the towering carvings, which can be closely approached and photographed, is a tranquil, pleasant experience. It is one that visitors, especially those seeking a brief respite from non-stop birding, should try to add to their itineraries. Our party had the place to ourselves. As far as birds, nothing extraordinary showed up, but as it was the first dry-zone stop, there were lots of new sightings, including Grey-bellied Cuckoo, Common Hoopoe, Malabar Pied Hornbill, Coppersmith Barbet, White-browed Fantail, Ashy, Plain and Grey-breasted Prinias, Sykes Warbler and Tri-coloured Munia. The road into the site runs beside an ancient tank, which provided the trip's first Spot-billed Pelicans.

Five - Yala National Park (Heart of the Dry Zone) Although our party spent less than seven hours in Yala, the memory of the place looms larger in my mind than any other single location in Sri Lanka. The park is located in the south-east of the country and protects 1,300 square kilometres of dry-zone forest, scrub, savannah and coastal plain. Access is restricted to guided vehicles and once in the park you are not permitted to dismount and walk around, except at a few designated locations. These rules are not as detrimental to birding as they sound, and, after encountering various large mammals in the park, seem entirely sensible. Success at Yala depends in part on luck, but there are a couple of steps that improve one's chances. The first is to hire a good driver/guide and vehicle. The Seneviratne's recommended Lalith. He drives a long Landrover Defender with an open-sided, canvas-roofed back and he knows Yala's network of sandy roads, birding areas and how to look for big mammals. His numbers are (home) +94 47 22 39111 and (mobile) +94 77 308 6489). The second key is an early start. Most tours do not head in until after seven in the morning; we were through the gate by quarter past five. This let us get deep into the park before dawn and brought us to quieter areas that many visitors do not reach. Golden Jackal was our first mammal sighting. Spotted Deer, Sambar Deer, Grey Langur, Black-naped Hare, Badger Mongoose, Ruddy Mongoose and Wild Pig followed quickly. Before seven o'clock Lalith found us the first of seven Asian Elephant. Viewing was interrupted when another party pulled up and reported a Sloth Bear near by. We approached the area by a back route and almost immediately a mother bear and yearling cub ambled into view. Stunned by our mammal success, we shifted our focus to birding and just as quickly the sightings started to pile up. In rapid succession Hoopoe, Brahminy and Rose-coloured Starling, Ashy-crowned Finch Lark, Indian Silverbill, Ashy Drongo, Sirkeer Malkoha and Yellow-crowned Woodpecker popped into view. A male Indian Peafowl danced in a clearing 50 metres from the vehicle, close enough to hear the rattling of its display feathers. Careful searching revealed a pair of rare Black-necked Stork amongst the hoards of Painted Stork, Eurasian Spoonbill and assorted egrets in a wetland area. At 11:30 am, as we were ready to head out of the Park, a Leopard strolled across the road immediately in front of our vehicle. Lalith backed up and stopped where Premarantne, our park guide, believed the cat would reappear. Obligingly, the Leopard, a large male, walked into position ten metres from us and sat down under the shade of a tree. Just incredible! Tissa is the main access point to Yala. We stayed at the pleasant Lakeside Tourist Inn.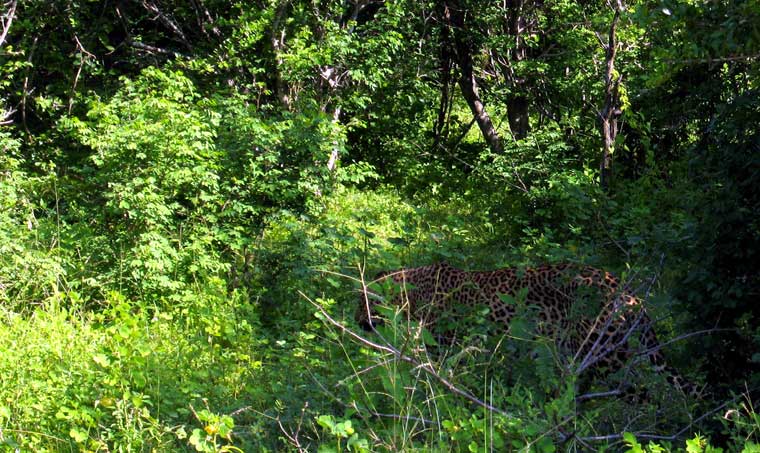 Leopard, Yala
Six - Wetlands Sri Lanka's dry-zone is the best place to see the country's wetland birds. Tanks, the ancient but still functioning irrigation reservoirs that dot the landscape, serve as bird magnets. Most have emergent vegetation. They reminded me of the bird-rich sloughs of the Canadian prairies. The best were around Sigiriya and Polonnaruwa and along the western boundary of Yala. Causeways occasionally cut across the tanks, and on them it was possible to park and study Little Grebe, Lesser-whistling Duck, Pheasant-tail Jacana and Purple Swamp Hen. Shrubby areas surrounding the water were crowded with weavers, prinias, bee-eaters and a host of other land birds. Where there were standing dead trees, Oriental Darter were present. Paddy fields, although not nearly as bio-diverse as tanks, attract, in ascending order of abundance, Cattle Egret, Indian Pond Heron, Red-wattled Lapwing, Black-headed Ibis and Asian Openbill. For Palaearctic shorebirds, the lagoons and saltpans along the southeast coast were the best stops.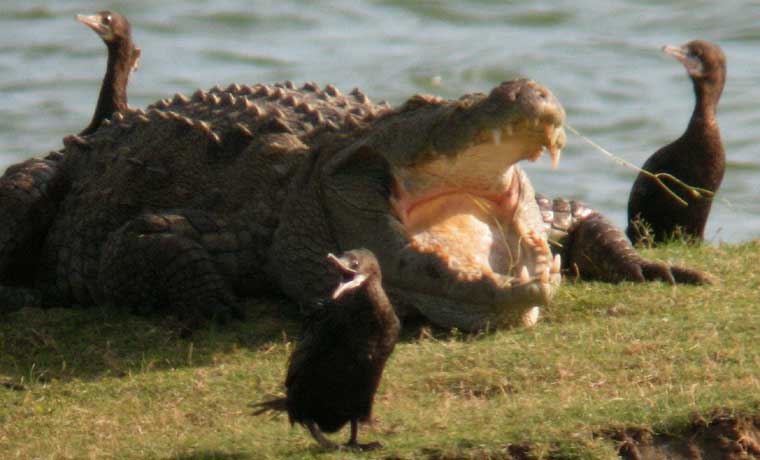 Crocodile and Indian Shags, near Hambantota
Unusually heavy rain during our visit, while a boon for local farmers and probably wildlife, dampened birding success by widely dispersing waders. The salt pans near Hambantota were flooded with fresh water, possibly explaining the absence of Greater Flamingo and the small numbers of shorebirds. Small is a relative concept in the area and means seeing flocks of 500 Curlew Sandpiper, rather than 5,000. I still managed 24 Charadrii, including Great Knot.
The best site was just outside Hambantota on the main Colombo-Kataragama road where the highway cuts across the edge of Karagan Lagoon on a causeway. By parking and walking along the water's edge we wereable to closely study shorebirds in abundance, including hundreds of the near mythical (to North Americans) Mongolian Plover, Greater Sandplover, Little Stint and Marsh Sandpiper. The Hambantota Rest House, a classic colonial era building with high-ceilinged rooms and good food, is a fine place to stay. The hotel grounds overlook Hambantota's main beach. At night the area was beautifully lit up by local fishing boats bringing in their catches.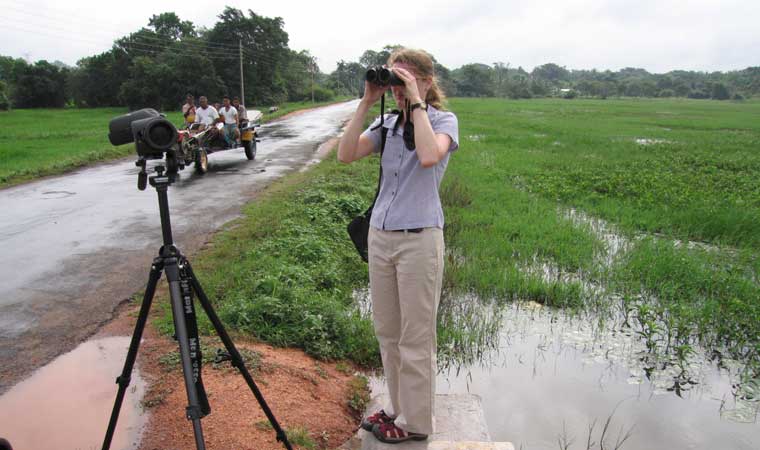 Seven - Sigiriya and Polonnaruwa (Dry Zone and Culture) Sigiriya is a spectacular archaeological site in the central dry-zone and features the remains of a palace fortress set atop a massive rock rising 200 metres from the surrounding plain. The climb to the top is not unduly arduous and the summit provides a spectacular view, as do the colourful rock frescoes visible on the way up &endash; the famous Sigiriya Maidens. Once at the top, two Shaheen (Peregrine) Falcons, the appropriately orange-breasted peregrinator race of Peregrine, circled close at eye level as we stood amongst the palace ruins.
Within park grounds you are required to stay to the main paths, but just before the climb begins at the base of the rock, the forest to the left of the main walkway is accessible. Skirt across the lawn, up a slight slope, and look for a trail leading into the woods. We had excellent looks at Ceylon Grey Hornbill, Blue-faced Malkoha and White-rumped Shama here. Sigiriya is a major tourist site, so expect crowds, even early in the morning. The entrance fee is about 20 USD for international visitors and much less for Sri Lankans, understandable given the massive income disparity between tourists and locals. Hotel Eden Gardens in Dambulla was our Sigiriya accommodations.
Polonnaruwa is another archaeological site in the cultural triangle northeast of Colombo. We did not visit the ruins, but spent an afternoon and evening birding a ways towards the east. This was the closest encounter with the conflict zone and it was the only time we felt a sense of tension in the air (cue the Apocalypse Now film soundtrack). A search for nesting Forest Eagle Owl was unsuccessful, but we were able to pick up Cotton Teal, Jungle Prinia and Thick-billed Flowerpecker, glaring misses up to that point. Both Indian Little Nightjar and Jerdon's Nightjar were spot-lighted on the road. We stayed at the 'The Village-Polonnaruwa', excellent accommodations.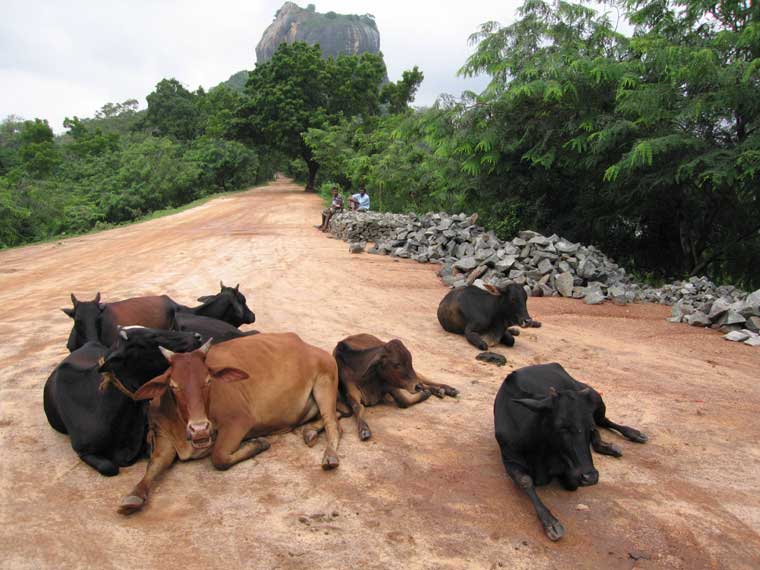 Closing Thoughts - Our trip was the collective endeavour of my wife, my brother Ian L. Jones, our driver Priyankera and, in succession, our hosts Sampath, Charita, Serath, Premilla and Hemantha Seniveratne. Priyankera was so caring for our welfare that it was very difficult to say goodbye at the airport. The hospitality of the Seniveratnes, and their generosity with friendship, time and knowledge was overwhelming. Special thanks to Ian for making the trip happen. Sri Lanka is a beautiful travel destination.
Paul Jones - Ottawa, Canada - pauljodiATmagma.ca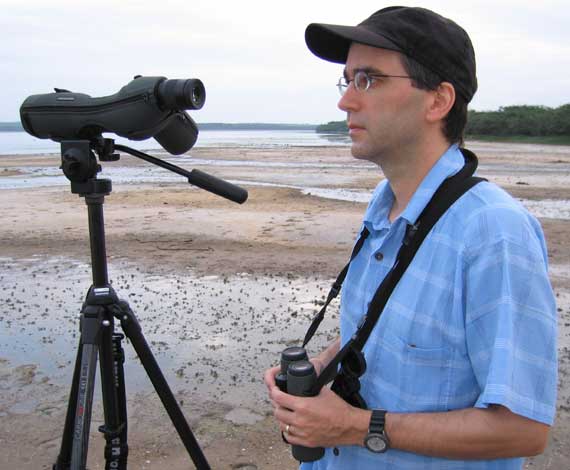 Annotated Bird List - Sri Lanka - December 24, 2005 to January 8, 2006
This is a list of birds we saw or identified by vocalizations only. Nomenclature attempts to follow Pamela Rasmussen and John Anderton's 'Birds of South Asia - The Ripley Guide (Lynx Edicions 2005)', which contains many splits. Bird names/taxonomy in South Asia are in a state of flux, so expect some confusion.
(!) - Impossible to miss in habitat
CAPITALIZED = Endemic to Sri Lanka
WZ - Wet Zone
DZ - Dry Zone
Little Grebe (!) - Tachybaptus ruficollis - Common wetland resident
Spot-billed Pelican (!) - Pelecanus phillipensis - Commonish wetland resident
Indian Shag (Cormorant) (!) - Phalacrocorax fuscicollis - Common wetland resident
Little Cormorant (!) - Phalacrocorax niger - Common wetland resident
Oriental Darter (!) - Anhinga melanogaster - Uncommon DZ wetland resident
Little Egret (!) - Egretta garzetta - Very common wetland resident
Great Egret (!) - Egretta alba - Very common wetland resident
Intermediate Egret (!) - Egretta intermedia - Commonish wetland resident
Eastern Cattle Egret (!) - Bulbulcus coromandus - Abundant wetland/field resident
Grey Heron (!) - Ardea cinerea - Common wetland resident
Purple Heron (!) - Ardea purpurea - Common wetland resident
Indian Pond-heron (!) - Ardeola grayii - Very common wetland/field resident
Black-crowned Night-heron - Nycticorax nycticorax - Uncommon wetland resident
Striated (Little) Heron - Butorides striata - Locally common wooded wetland resident
Black Bittern - Dupetor flavicollis - Locally common wooded wetland resident, three observed at Attaragoda (mangrove swamp) near Galle on December 26, obligingly perching in low trees/shrubbery
Yellow Bittern - Ixobrychus sinensis - Uncommon winterer in reeds, mangroves, one sighting near Hambantota
Asian Openbill (!) - Anastomus oscitans - Common wetland/paddy field resident
Woolly-necked Stork - Ciconia episcopus - Uncommon wooded wetland resident, one flying bird in Yala and one in a paddy field near Polonnaruwa
Painted Stork (!) - Mycteria leucocephala - Common wetland resident
Black-necked Stork - Ephippiorhynchus asiaticus - Rare resident in Yala, two sightings of three of these spectacular birds on December 31 - find them by scanning through aggregations of large waders or by scoping soaring storks
Black-headed Ibis (!) - Threskiornis melanocephalus - Common wetland/paddy resident
Eurasian Spoonbill (!) - Platalea leucorodia - Uncommon wetland resident
Lesser Whistling Duck (!) - Dendrocygna javanica - Common wetland resident
Garganey (!) - Anas querquedula - Common wetland winterer
Northern Shoveler - Anas clypeata - Uncommon wetland winterer, single sighting of one bird near Hambantota
Cotton Teal (Pygmy-goose) - Nettapus coromandelianus - Uncommon wetland resident, especially in well-vegetated tanks - two birds seen near Sigiriya, difficult to pick out amongst wind-curled lotus leaves
Black-winged Kite - Elanus caeruleus - Uncommon open country resident
Brahminy Kite (!) - Haliastur indicus - Very common resident near wetlands/coast
Shikra - Accipiter badius - Common resident, very vocal, often provided obliging views, seven separate sightings
Crested Goshawk - Accipiter trivirgatus - Uncommon forest resident, one bird in Sinharaja, high in a dead tree warming up in the morning sun
Himalayan Buzzard - Buteo burmanicus (recent split from Common Buzzard) - Rare open country winterer, one seen at Horton Plains on December 29
Oriental Honey-buzzard (!) - Pernis ptilorhynchus - Common resident, supplemented by wintering birds, one of our most frequently seen raptors, including displaying individuals at Horton Plains
Crested Serpent-eagle (!) - Spilornis cheela - Common resident
Booted Eagle - Hieraaetus pennatus - Uncommon open country winterer, two sightings of soaring birds, one near Welawaya and another near Hambantota
Crested Hawk-eagle (!) - Spizaetus cirrhatus (recent split from Changeable Hawk-eagle) - Common forest edge resident
Grey-headed Fish-eagle - Ichthyophaga ichthyaetus - Uncommon resident in DZ wetlands, one bird seen in Yala, scan dead trees in and around tanks
White-bellied Sea-eagle (!) - Haliaeetus leucogaster - Uncommon coastal and inland wetlands resident
Pallid Harrier - Circus macrourus - Rare winterer in open areas, one sighting of sub-adult male at Horton Plains on December 29
Eurasian Kestrel - Falco tinnunculus - Uncommon open country resident, single bird seen near Hambantota

Oriental Hobby - Falco severus - Rare winterer, single sighting on December 29 of an adult bird at Horton Plains, photographs and report submitted to Ceylon Bird Records Committee
Peregrine (Shaheen) Falcon - Falco peregrinus peregrinator - Uncommon cliff-side DZ resident, single sighting of pair at Sigiriya, including eye level views of birds circling the top of the rock
Barred Buttonquail - Turnix suscitator - Uncommon open scrub resident, a single sighting near Galle of a lone female bird crossing a country lane
CEYLON SPURFOWL - Galloperdix bicalcarata - Uncommon WZ forest resident, easy to hear (starts with a series of ringing clear notes followed by cacophonous shrieking) but difficult to see - heard in Sinharaja but seen in Kanneliya Forest Reserve on path to dormitory rubbish tip - will respond aggressively to whistled imitation of the initial notes of the call
CEYLON JUNGLEFOWL (!) - Gallus lafayetti - Common forest resident, very obliging along wooded trails, the abrupt mechanical call is a familiar Sri Lanka sound
Indian Peafowl (!) - Pavo cristatus - Common DZ resident in open woods, despite image saturation in popular culture, this is still an extraordinary bird
White-breasted Waterhen (!) - Amaurornis phoenicurus - Common wetland resident
Purple Swamphen (!) - Porphyrio poliocephalus - Common wetland resident
Common Moorhen - Gallinula chloropus - Uncommon wetland resident
Ruddy-breasted Crake - Porzana fusca - Uncommon wetland resident, one seen in a reedy tank near Sigiriya
Black-winged Stilt (!) - Himatopus himatopus - Abundant wetland resident
Pheasant-tailed Jacana (!) - Hydrophasianus chirurgus - Common DZ wetland resident
Small Pratincole - Glareola lactea - Uncommon coastal resident, single sighting of two birds at salt pans near Hambantota
Great Thick-knee - Esacus recurvirostris &endash; Uncommon coastal resident
Indian Stone-curlew - Burhinus indicus (recent split from Eurasian Thick-knee) - Uncommon dry open-ground resident, single sighting of two birds near Hambantota
Red-wattled Lapwing (!) - Vanellus indicus - Common open ground resident
Yellow-wattled Lapwing - Vanellus malabaricus - Uncommon DZ open ground resident
Grey (Black-bellied) Plover - Pluvialus squatorola - Uncommon coastal winterer
Pacific Golden Plover (!) - Pluvialus fulva - Common coastal winterer
Greater Sand Plover - Charadrius leschenaultii - Uncommon coastal winterer, fairly conspicuous beside more numerous Mongolian (Lesser Sand-) Plover
Mongolian (Lesser Sand) Plover (!) - Charadrius mongolus - Very common coastal winterer
Little Ringed Plover (!) - Charadrius dubius - Common coastal resident
Kentish (Snowy) Plover (!) - Charadrius alexandrinus - Common coastal resident
Whimbrel - Numenius phaeopus - Uncommon coastal winterer
Black-tailed Godwit (!) - Limosa limosa - Common coastal winterer, flocks of hundreds frequently seen over coastal wetlands
Common Greenshank (!) - Tringa nebularia - Uncommon coastal winterer
Wood Sandpiper - Tringa glareola - Uncommon wetland winterer
Common Sandpiper (!) - Actitis hypoleucos - Common wetland winterer
Marsh Sandpiper (!) - Tringa stagnatalis - Very common coastal winterer
Common Redshank (!) - Tringa totanus - Common coastal winterer
Ruddy Turnstone - Arenaria interpres - Common coastal winterer
Great Knot - Calidris tenuirostris - Rare coastal winterer, single bird sighted on December 31 and January 1 near Hambantota, photograph and report submitted to Ceylon Bird Records Committee
Curlew Sandpiper (!) - Calidris ferruginea - Very common coastal winterer
Little Stint (!) - Calidris minuta - Very common coastal winterer
Pintail Snipe - Gallinago stenura - Common winterer in wet fields, single sighting of four obliging birds near Hambantota
Brown-headed Gull - Larus brunnicephalus - Locally common coastal winterer, a handsome and interesting gull
Little Tern/Saunders Tern - Sterna albifrons/Sterna saundersii - Common coastal winterers, I did not pause long enough to confirm specific identification
Roseate Tern/Common Tern - Sterna dougallii/Sterna hirundo - A Sterna tern around some coastal rocks west of Galle was thought to be one of these
Gull-billed Tern (!) - Gelochelidon nilotica - Common coastal/tank winterer
Greater Crested Tern - Thalasseus bergii - Commonish coastal winterer
Caspian Tern - Hydroprogne caspia - Common DZ coast winterer
Whiskered Tern (!) - Chlidonias hybrida - Very common coastal/tank winterer
Green Imperial Pigeon (!) - Ducula aenea - Common resident in lowland forest, as the British sports-shooting influence wanes, all pigeon species are apparently increasing in Sri Lanka
CEYLON WOODPIGEON - Columba torringtonii - Uncommon high forest resident, three seen near MartinŐs place in Sinharaja and at the Horton PlainsŐs Arrenga spot
Spotted Dove (!) - Streptopelia chinensis - Very common resident
Emerald Dove - Chalcophraps indica - Common but inconspicuous forest resident, watch for this beautiful bird along wooded roadsides
CEYLON GREEN-PIGEON (!) - Treron pompadora (recent split from Pompadour Green-Pigeon) - Common forest resident
Orange-breasted Green-pigeon (!) - Treron bicinctus - Common forest/mangroves resident
CEYLON HANGING-PARROT (!) - Loriculus beryllinus - Common forest and garden resident
LAYARD'S PARAKEET - Psittacula calthropae - Uncommon and local WZ forest resident, but regular around MartinŐs Place at the edge of Sinharaja and within the park itself, watch for shortish tail
Plum-headed Parakeet - Psittacula cyanocephala - Uncommon forest resident, single sighting near north western border of Yala
Rose-ringed Parakeet (!) - Psittacula krameri -Very common forest/garden resident
Alexandrine Parrakeet - Psittacula eupatria - Common forest resident
Grey-bellied Cuckoo - Cacomantis passerinus (recent split from Plaintive Cuckoo) - Common but inconspicuous dry forest winterer, one at Buduruvagala, two in Yala
Jacobin (Pied) Cuckoo - Clamator jacobinus - Uncommon DZ forest/scrub resident, pairs seen Yala, Hambantota and Polonnaruwa
Asian Koel (!) - Eudynamys scolopaceus - Very common but secretive resident in open forest, edge and urban garden habitat, loud vocalizations part of the Sri Lanka soundtrack
Indian Cuckoo - Culculus micropterus - Uncommon and very inconspicuous forest resident, spends its time sitting motionless in the forest canopy, HemanthaŐs sharp eyes spotted two near Polonnaruwa
Blue-faced Malkoha - Phaenicophaeus viridirostris - Uncommon and elusive DZ forest/scrub resident, glide in/glide out is the modus operendi of this bird, but after several unsatisfying fly-bys we finally had good looks at a pair in the scrub forest at the base of Sigiriya
RED-FACED MALKOHA - Phaenicophaeus pyrrocephalus - Rare WZ forest resident, a single sighting of two birds in a mixed flock in the Sinharaja canopy
Sirkeer Malkoha - Taccocua leschenaultii - Uncommon DZ scrub resident, a single sighting of one bird in Yala &endash; in typical Malkoha fashion it glided across the road into some brush, posed briefly in the morning sun and then was gone
Greater (Southern) Coucal (!) - Centropus sinensis parroti - Common scrub resident
GREEN-BILLED COUCAL - Centropus chlororhynchos - Rare, inconspicuous WZ forest resident, knowing the calls in advance would be helpful - three heard near Martin's Place, one seen in Sinharaja sitting still in dense foliage on the sandy edge of a stream near the main trail - thanks Nihal!
Brown Hawk-owl - Ninox scutulata - Common forest resident, two birds heard calling at night near Galle
Brown Fish-owl - Ketupa zeylonensis - Uncommon riparian woodland resident, one heard calling at night near Galle
SERENDIB SCOPS-OWL - Otus thilohoffmanni - Rare resident of WZ forest, we were fortunate to hear one in the Kennaliya Forest Reserve at approximately 8 pm on January 4. Chitrasekera is the local man with knowledge of this bird in Kanneliya
CHESTNUT-BACKED OWLET - Glaucidium castanonotum - Uncommon resident in WZ forest, three heard calling at daybreak in Sinharaja along the main path into the forest - apparently some Sinharaja guides know reliable roosting locations for this owlet and Serendib Scops-owl and for a fee will lead you to them
Ceylon Frogmouth - Batrachostomus moniliger - Uncommon forest resident, one heard calling at Martin's Place before dawn, later the same day and the next, two birds were roosting at eye level beside the main trail into Sinharaja, their location was passed along between forest guides and many parties were able to enjoy close views of these spectacular birds FROM THE TRAIL, a few days later the roosting site was abandoned, the vegetation immediately under it bull-dozed by the inconsiderate feet of over-eager observers
Indian Little Nightjar - Caprimulgus asiaticus - Common resident of dry forest, fields, one seen at dawn at Yala, another spotlighted in our vehicleŐs headlights at night near Polonnaruwa
Jerdon's Nightjar - Caprimulgus atripennis - Uncommon open forest resident, seven calling birds spotlighted by flashlight near Polonnaruwa, a great night sound
Crested Treeswift (!) - Hemiprocne coronata (recent split from Grey-rumped Treeswift) - Common resident in dryer forest, often seen flying over ponds and paddy fields
Asian Palm-swift (!) - Cypsiurus balasiensis - Common resident
Indian Swiftlet (!) - Aerodramus unicolor - Common resident
Little (House) Swift (!) - Apus affinis - Common resident
Alpine Swift - Tachymarptis melba - Very uncommon resident in hilly areas, three seen above the hills near Kudawa
Brown-throated Needletail - Hirundapus giganteus - Very uncommon forest resident, six seen high overhead along the main trail in Sinharaja
Indian Roller (!) - Coracias benghalensis - Common open country resident
Common Hoopoe - Upupa epops - Uncommon open forest/scrub resident, we were fortunate to see two of these great birds, one in Yala, the other near Polonnuruwa, both were sitting on the ground in grassy areas interspersed with scrub and sandy patches
Malabar Trogon - Harpactes fasciatus - Uncommon and inconspicuous forest resident, they sit motionless in the foliage, but we still managed seven sightings
Stork-billed Kingfisher (!) - Pelargopsis capensis - Uncommon wetland resident
White-throated Kingfisher (!) - Halcyon smyrnensis - Very common resident
Lesser Pied Kingfisher - Ceryl rudis - Common resident in low country wetlands
Common Kingfisher (!) - Alcedo atthis - Common resident in open wetlands
Chestnut-headed Bee-eater - Merops leschenaultia - Uncommon resident in dryer, open areas, two sightings only
Blue-tailed Bee-eater (!) - Merops philippinus - Common open country winterer
Little Green Bee-eater (!) - Merops orientalis - Common, confiding and beautiful open country resident, more numerous in DZ
CEYLON GREY HORNBILL - Ocyceros gingalensis - Uncommon forest resident, we had obscured and fly-by sightings of single birds at Kottawa, Kanneliya and Sinharaja and finally stunning views at Sigiriya
Malabar Pied Hornbill - Anthracoceros coronatus - Uncommon forest resident, we began to encounter them as we entered the DZ, with great views at Buduruvagala, Yala and near Pollunawara - a larger and more boldly patterned bird than Oriental Pied Hornbill
Coppersmith Barbet (!) - Megalaima haemacephala - Common DZ resident in open forest/gardens
CEYLON SMALL BARBET (!) - Megalaima rubricapillus (recent split from Crimson-fronted Barbet) - Common WZ resident in open forests/gardens
YELLOW-FRONTED BARBET (!) - Megalaima flavifrons - Common resident in higher forest/gardens
Brown-headed Barbet (!) - Megalaima zeylanica - Common resident in lowland forest/gardens
Indian Pygmy Woodpecker - Dendrocopus nanus (recent split from Brown-capped Woodpecker) - Uncommon forest resident, one sighting of a single bird near Galle, very small and very black and white
Yellow-fronted Pied (Yellow-Crowned) Woodpecker - Dendrocopus mahrattensis - Uncommon DZ forest/scrub resident, one bird seen in Yala
Lesser Yellownape - Picus chlorolophus - Uncommon forest resident, seen at Sinharaja and Horton Plains
Black-rumped Flameback (!) - Dinopium benghalense - Common forest/garden resident
CRIMSON (-BACKED) FLAMEBACK - Chrysocolaptes stricklandi (recent split from Greater Flameback) - Commonish forest resident in forest areas, look for the larger and paler bill than preceding species
Indian Pitta - Pitta brachyuran - Common winterer in forest areas throughout, we had amazing views at Galle, Victoria Park, Yala - if only all Pittas were so cooperative
Jerdon's Bushlark (!) - Mirafra affinis (recent split from Rufous-winged Bushlark, AKA Rufous-winged Lark) - Common DZ scrub resident
Oriental Skylark - Alauda gulgula - Uncommon open country resident, a single sighting of one bird at the Hambantota salt pans
Ashy-crowned Finch (Sparrow) Lark - Eremopterix griseus - Common DZ open country resident, look for it in over-grazed areas
Hill Swallow - Hirundo domicola (recent split from Pacific Swallow) - Officially an uncommon resident in open high hill country, but we saw at least fifty on a sunny morning between the Arrenga spot and the parking lot at Horton Plains
Barn Swallow (!) - Hirundo rustica - Common winterer
CEYLON SWALLOW - Hirundo hyperythra (recent split from Red-rumped Swallow) - Commonish open lowland resident, though much less numerous than preceding species - usually seen near paddy fields or perched on telephone wires
Yellow Wagtail - Motacilla flava - Uncommon winterer in wet fields
Grey Wagtail (!) - Motacilla cinerea - Common streamside, wetland winterer
Forest Wagtail - Dendroanthus indicus - Uncommon forest edge winterer, two at Victoria Park and one at Buduruvagala
Paddyfield Pipit (!) - Anthus rufulus - Common open country resident - it would have been nice to have the time to study anthus pipits, as Richard's and Blylth's both occur in Sri Lanka and we could not call with confidence all the birds we had
Ashy Woodswallow - Artamus fuscus - Uncommon resident in open woods, palms, two sightings only
CEYLON WOODSHRIKE - Tephrodornis affinus (recent split from Common Woodshrike) - Uncommon open forest resident, we had birds at Galle and Sigiriya
Pied Flycatcher-shrike - Hemipus picatus - Uncommon scrub resident
Black-headed Cuckooshrike - Coracina melanoptera - Uncommon open forest resident
Large Cuckooshrike - Coracina macei - Uncommon open forest resident, one sighting only
Orange (Flame/Scarlet) Minivet (!) - Pericroctus flammeus - Common forest resident
Small Minivet - Pericroctus cinnamomeus - Uncommon dryer forest resident, pair at Galle and at Sigiriya
Red-vented Bulbul (!) - Pycnonotus cafer - Abundant resident
Square-tailed Black Bulbul (!) - Hypsipetes ganeesa (split from Black Bulbul) - Uncommon forest resident seen Sinharaja
BLACK-CAPPED BULBUL (!) - Pycnonotus melanicterus (split from Black-crested Bulbul, AKA Black-headed Yellow Bulbul) - Uncommon low hill forest resident - a pleasing, tidy bulbul
White-browed Bulbul (!) - Pycnonotus luteolus - Common forest resident
Yellow-browed Bulbul (!) - Iole indica - Uncommon hill forest resident
YELLOW-EARED BULBUL (!) - Pycnonotus penicillatus - Locally common high hill forest resident, good numbers near the Arrenga spot at Horton Plains
Common Iora (!) - Aegithina tiphia - Common open forest resident
Jerdon's Leafbird - Chloropsis jerdoni - Commonish forest resident
Brown Shrike (!) - Lanius cristatus - Common open forest/scrub winterer
Black-naped Blue Monarch - Hypothymis azurea - Uncommon low forest resident, listen for loud whistled call 'tweet'
Asian Paradise Flycatcher (!) - Terpsiphone paradise - Common forest and garden resident
White-browed Fantail - Rhipidura aureola - Uncommon dry forest/garden resident
ARRENGA (Ceylon Whistling-thrush) - Myophonus blighi - Rare resident in hill forest, the classic spot for this bird is the small pond on the right side of the road between the entry gate and the parking lot at Horton Plains. Without using recordings we had two birds calling pre-dawn at this location and saw one fly overhead in the half light. This initial encounter was at 6:15 am - we returned to the area an hour later and at 7:20 am (again without recordings) had one male perching semi-openly in the low shrubbery and then flying across the road at knee level, patience as much as early arrival may be the key with this bird, but beware of pre-dawn confusion with the next species
Indian Blackbird - Turdus simillimus (recent split from Common/Eurasian Blackbird) - Uncommon hill forest resident, we had two at the Arrenga spot first thing in the morning, watch for the light bill!
SPOT-WINGED GROUND THRUSH - Zoothera spiloptera - Uncommon low WZ forest resident, we had four in Sinharaja and one at Kanneliya - the best bet for seeing this species is at first light along forest paths and roads where they pick amongst the leaf-litter, we had one at this time just downhill from MartinŐs Place
CEYLON SCALY THRUSH - Zoothera imbricata (recent split from Scaly Thrush) - Rare resident in WZ forest, much skulkier than Spot-winged, remaining deep under cover, we heard two and saw one at Sinharaja - the wet area by the river at the research station is a good place to try your luck and patience with this bird
Pied Ground-thrush - Zoothera wardii - Rare high-zone forest winterer, but fairly reliable at Victoria Park, we saw one male bird there - watch for them in the trees, not just on the ground
Indian Blue Robin - Luscinia brunnea - Uncommon winterer, I had two sightings at Victoria Park, a female was in dense brush along the back fence, a male put on a show in the open along the stream
White-rumped Shama - Copsychus malabaricus &endash; Common DZ forest/scrub resident, we had three in the wooded area at the base of Sigiriya - spectacular haunting vocalizations
Oriental Magpie-robin (!) - Copsychus saularis - Common garden resident
Indian Black (Black-backed) Robin (!) - Saxicoloides fulicatus - Common DZ scrub resident
Pied Bushchat (!) - Saxicola caprata - Common but local resident, restricted to high country open hills and scrub, we saw seven between the Arrenga spot and the parking lot at Horton Plains
Brown-breasted Flycatcher - Muscicapa muttui - Officially an uncommon winterer in dense forest, but we found it to be fairly numerous at Kottawa, Sinharaja and Kanneliya, sitting low beside forest paths - its large pale bill and warm brown cast distinguishes it from the next species
Asian Brown Flycatcher - Muscicapa dauurica - Common but inconspicuous winterer in moist forest, colder grey than above species
Kashmir Flycatcher - Ficedula subrubra - Uncommon winterer in hill forest areas, we saw one bird at the Horton Plains Arrenga spot
Tickell's Blue Flycatcher - Cyornis tickelliae &endash; Uncommon and retiring forest resident, we had pairs at Kottawa and at Sigiriya
DULL-BLUE FLYCATCHER - Eumyias sordidus - Uncommon resident in high-zone hill forest, we had two at Horton Plains near the Arrenga spot
ASHY-HEADED LAUGHING THRUSH - Garrulax cinereifrons - Uncommon resident of WZ forest, we had three in a feeding flock in Sinharaja, same body size and colour as CEYLON RUFOUS BABBLER so watch closely for the grey head and dark bill
Yellow-eyed Babbler - Chrysomma sinense - Uncommon resident in DZ scrub, we had a single sighting of two birds at the edge of a tank near Yala
Tawny-bellied Babbler - Dumetia hyperythra - Uncommon thick scrub resident
Dark-fronted Babbler - Rhopocichla atriceps - Uncommon but inquisitive thick scrub resident, moving hyperactively in tit/chickadee-like flocks - responds to imitations of its ŇtickingÓ calls
Yellow-billed Babbler - Turdoides affinus &endash; Common forest edge/garden resident
CEYLON RUFOUS (ORANGE-BILLED) BABBLER - Turdoides rufescens - Uncommon WZ forest resident, we had seven in the feeding flock in Sinharaja
CEYLON SCIMITAR BABBLER - Pomatorhinus melanurus (recent split from Indian Scimitar Babbler) - Uncommon but cooperative WZ forest resident, listen for loud bubbling fluty call
BROWN-CAPPED BABBLER - Pellorneum fuscocapillus - Uncommon forest resident
Zitting Cisticocola (!) - Cisticola juncidis - Common resident in grassy fields/wetlands
Ashy Prinia (!) - Prinia socialis - Common scrub/grass resident
Grey-breasted Prinia - Prinia hodgsonii - Common scrub resident
Jungle Prinia - Prinia sylvatica - Uncommon dry scrub/grass resident, we finally found a pair on the last day of the trip near Pollunawara
Plain Prinia (!) - Prinia inornata - Common scrub/wet grass resident
SRI LANKA BUSH WARBLER - Elaphrornis palliseri - Officially uncommon resident in high country dense scrub, although a skulker we found them surprisingly easy to locate at Horton Plains, mostly near the Arrenga spot, listen for the loud distinctive 'chink' call note - they also respond to pishing
Indian (Clamorous) Reed Warbler - Acrocephalus brunnescens - Uncommon resident in reeds, we had one near Hambantota
Blyth's Reed Warbler - Acrocephalus dumetorum - Uncommon forest edge winterer, we had only three sightings
Sykes' Warbler - Hippolais rama (recent split form Booted Warbler) - Rare dry forest/scrub winterer, we had two together at Buduruvagala on December 31
Common Tailorbird (!) - Orthotomus sutorius - Common forest edge/garden resident
Gray-headed (Canary) Flycatcher - Culicicapa ceylonensis - Uncommon high country forest resident, we saw one at the Arrenga spot, Horton Plains and one in Victoria Park
Bright-green Warbler (!) - Phylloscopus nitidus - Common forest winterer
Large-billed Leaf-warbler (!) - Phylloscopus magnirostris - Common forest winterer, three note whistle very striking
Great Tit - Parus major - Uncommon forest resident, we saw one bird near the Arrenga spot at Horton Plains and three birds in Victoria Park
Pale-billed Flowerpecker - Dicaeum erythrorhynchos - Common forest/forest edge areas resident
Thick-billed Flowerpecker - Dicaeum agile - Uncommon DZ forest resident, we neglected to search for one until the last day but were able to find one along the roadside near the Pollunawara Village
LEGGE'S (White-throated) FLOWERPECKER - Dicaeum vincens - Uncommon WZ forest resident, we saw five along the main path in Sinharaja
Oriental White-eye (!) - Zosterops palpebrosus - Common forest/garden resident
CEYLON WHITE-EYE (!) - Zosterops ceylonensis - Common high country resident
Purple-rumped Sunbird (!) - Leptocoma zeylonica - Common scrub/garden resident
Purple Sunbird (!) - Cinnyris asiaticus - Common DZ scrub/garden resident
Loten's (Long-billed) Sunbird (!) - Cinnyris lotenius - Common open forest resident
Tricoloured (Black-headed) Munia - Lonchura malacca - Uncommon field resident
Indian (White-throated) Silverbill - Euodice malabarica - Uncommon DZ scrub resident, we had a single sighting of a flock of eleven in Yala
White-rumped Munia - Lonchura striata - Uncommon open forest resident
Scaly-breasted Munia (!) - Lonchura punctulata - Common resident
Black-throated (Hill) Munia - Lonchura kelaarti (not considered an endemic by Rasmussen et al) - Uncommon resident in hill forest openings, we missed this species at Horton Plains but were fortunate to find six birds in the Kanneliya Forest Reserve on January 3, the sighting was at the lower end of the species altitudinal range and the first for this location
House Sparrow (!) - Passer domesticus - Commonish urban resident
Baya Weaver - Ploceus philippinus - Uncommon open country resident
Streaked Weaver - Ploceus manyar - Common DZ reedy wetland resident
Black-hooded Oriole (!) - Oriolus xanthornus - Common forest/garden resident
Ashy Drongo - Dricrurus leucophaeus - Uncommon open forest winterer, a single sighting of three birds in Yala
White-bellied Drongo (!) - Dricrurus caerulescens - Common forest/garden resident
CEYLON CRESTED DRONGO - Dricrurus lophorinus (recent split from Greater Racket-tailed Drongo) - Common WZ forest resident
Greater Racket-tailed Drongo - Dricrurus paradiseus - Uncommon DZ forest resident, may intergrade with above species
Brahminy Starling - Temenuchus pagodarum - Uncommon DZ scrub winterer, we saw one bird in Yala and three birds near Hambantota - all were in low, very open scrub forest
Rose-coloured Starling - Sturnus roseus - Irruptive DZ winterer, common some years, absent others - we saw several flocks of 15 to 200 birds in Yala and near Hambantota
WHITE-FACED STARLING - Sturnia albofrontata - Rare WZ forest resident, we saw a flying flock of 12 near the start of the main path into Sinharaja and one perching bird on deeper into the park - telescope scanning bare tree tops might be your best bet for seeing this bird. Also often seen near Martin's Place.
Common Myna (!) - Acridotheres tristis - Abundant resident
Lesser Hill-Myna - Gracula indica - Common resident in foothill forest
CEYLON HILL-MYNA - Gracula ptilogenys - Uncommon WZ forest, frequently heard, best view was of one in a feeding flock in Sinharaja
Velvet-fronted Nuthatch - Sitta frontalis - Sinharaja
House Crow (!) - Corvus splendens - Common resident especially in urban areas
Indian Jungle Crow (!) - Corvus culminates - Common resident in open forest
CEYLON BLUE MAGPIE - Urocissa ornata - Rare WZ forest resident, we saw one bird deep in Sinharaja and were met by three hopping around MartinŐs Place on our late morning return to the lodge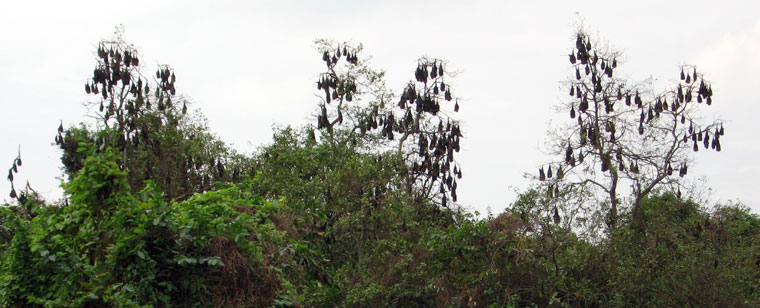 Mammals
Common Flying Fox - Pteropus giganteus giganteus - Seen most evenings, huge, at first I thought they were Black-crowned Night Herons flying around in the dusk
Ceylon False-Vampire Bat - Megaderma spasma ceylonensis - Six studied at close range in a concrete road culvert in the Kottawa Forest Reserve, this bat-eating species has a vicious set of teeth - Sampath Seniveratne's bat expertise added much to the trip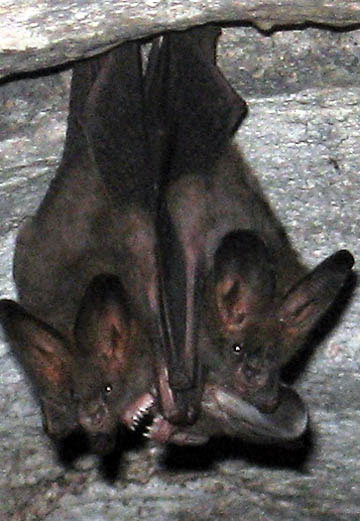 Rufous Horse-Shoe Bat - Rhinolophus rouxi - 15 to 20 in the bat cave in Kanneliya
Dusky Roundleaf Bat - Hipposideros bicolor ater - 10 to 15 in a (different) culvert at Kottawa
Schneider's Leaf-nosed Bat - Hipposideros speoris - 100 to150 in the bat cave at Sigiriya
Grey Langur - Semnopithecus priam - Commonish in the dry zone, 15 seen in Yala
PURPLE-FACED LANGUR -Trachypithecus vetulus - Common in the wet zone, their loud hooting is one of the signature sounds of Sinharaja
Bear Monkey - Trachypithecus vetulus monticola - furrier high zone subspecies of above, excellent looks at a troop at the Arrenga spot, Horton Plains
TOQUE MACAQUE - Macaca sinica - Common throughout, has a great haircut
Black-naped Hare - Lepus nigricollis singala - Seen at dawn in small numbers throughout, including Horton Plains, Yala and Sigiriya
Layard's Striped Squirrel - Funambulus layardi - Three seen on trail to WorldŐs End at Horton Plains, very pale
Palm Squirrel - Funambulus palmarium - Common throughout, makes distracting, loud, birdlike calls
Indian Giant Squirrel - Ratufa macroura - Sightings at Kottawa, Sinharaja and Sigiriya, a big cuddly animal
Golden Jackal - Canis aureus - Two singles and a group of four in Yala, a beautiful canid
Badger (Striped-necked) Mongoose - Herpestes vitticollis - One, Yala
Ruddy Mongoose - Herpestes smithii zeylandicus - Two, Yala
Brown Mongoose - Herpestes fuscus - One, Sinharaja
Sloth Bear - Melursus ursinu - Two, a mother and yearling cub, in Yala - get into the park early!
Leopard - Panthera pardus kottiya - One, big male, Yala, it walked across the road right in front of our vehicle, then rested ten metres away in the roadside scrub as we parked and watched
Asian Elephant - Elephas maximus maximus - Seven, Yala
Wild Pig - Sus scrofa - Six, Yala
Water Buffalo - Bubalus bubalus - Common, but of feral ancestry, in Yala
Spotted Deer - Cervus axis - Common in Yala.
Sambar Deer Cervus unicolor - Common in Yala and at Horton Plains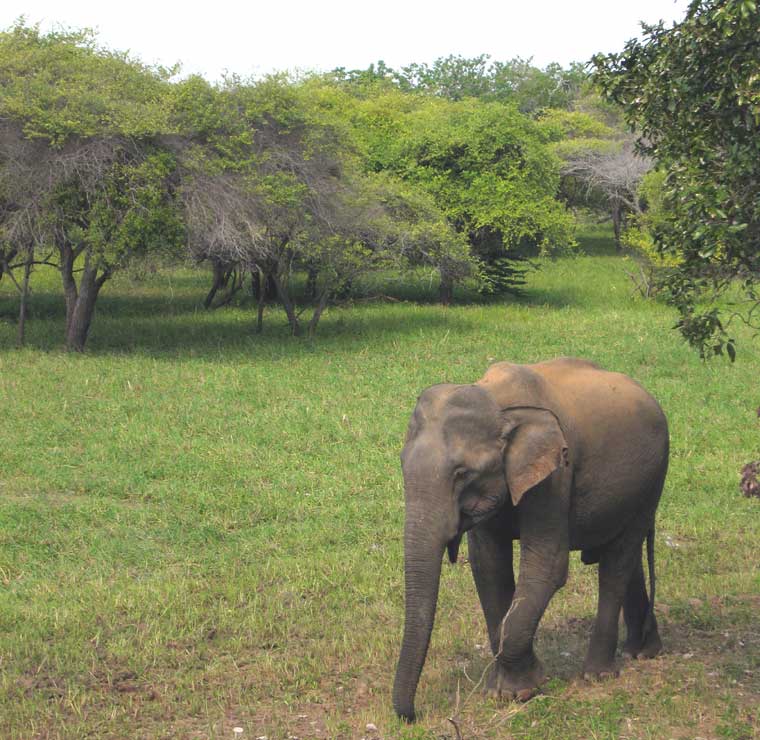 This page is maintained by Ian L. Jones (iljones 'at' mun.ca)

Official disclaimers: nothing in the contents of this site or its links should be taken to represent MUN policy; links to external sites are provided for education and research purposes, their inclusion here in no way implies that MUN endorse the content or use of these sites.