Suhail Hassan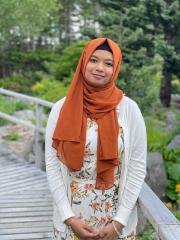 Program of Study: Bachelor of Science (Psychology) Honours and Co-operative
Suhail Hassan, who is currently pursuing a Bachelor Science (Psychology) Honours and Co-operative is completing the fourth and final year of her undergraduate degree. During her studies at Memorial, Suhail has maintained a 4.0 GPA in the Faculty and has been named to the Dean's list. She has been busy at Memorial with MUN Minds, involved in research activities with the Department of Psychology, served as Science Rep with MUNSU and was one of several contributors to the publication Puberty is a Critical Period for Vomeronasal Organ Mediation of Socio-sexual Behavior in Mice. Suhail is committed to helping students in her various roles at Career Development and at the Internationalization office.
Suhail is equally busy off campus as well. Suhail is currently volunteering with the NL Sexual Assault, Crisis and Prevention Center. She has received training and completed certificates to help support survivors of sexual assault. She has also volunteered with the YMCA, Bell Let's Talk and was the Undergraduate Student Representative for the Canadian Psychological Association.
Throughout her undergraduate studies, Suhail has received numerous awards and scholarships. The awards and scholarships that she has received to date include:
International Undergraduate Student Award Nov. 2021
Faculty of Science Co-op Student of the Year Oct 2021 – As featured in the Gazette
Dean's List (2020-2021) Oct. 2021
MUN Psychology Society Resilience Award Feb. 2021
Don and Mona Dooley Thailand Scholarship Nov. 2020
International Undergraduate Student Award Nov. 2020
Dean's List (2019-2020) Oct. 2020
Faculty of Science Undergraduate Research Award Feb. 2020
She hopes to practice as a clinical psychologist one day and continue to provide support to individuals with mental health challenges. However, after graduation she hopes to get some real-world work experience first by getting a job.