Mahiba Khan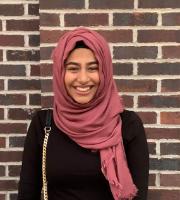 Program of Study: Doctor of Pharmacy
Mahiba Khan graduated high school with an International Baccalaureate diploma as well as a French Certificate. She is currently pursuing a Doctor of Pharmacy and is completing the first year of her undergraduate degree.
On campus, Mahiba is involved in MUN Robogals, a non-profit group that engages girls in the Science, Technology, Engineering, and Mathematics (STEM) fields. Being a certified Red Cross and Nationals Lifeguard, along with First Aid and CPR certification has enabled Mahiba to work as a Lifeguard and Swimming Instructor since 2019. Mahiba currently volunteers with Ronald McDonald house in the Just Like Nan's program cooking and baking for house occupants as well as other activities. She volunteered her time at the Janeway working with the children. Prior to starting Memorial University in Fall 2020, Mahiba was a peer tutor for her high school peers.
The awards and scholarships that she has received to date include:
Dr. Leslie Harris Memorial University Association Scholarship (renewal) 2020 – 2024
RISE Scholarship 2019
Silver Duke of Edinburgh 2019
Shad Fellow 2018
After graduation, Mahiba hopes to give back to the community in a meaningful way as a pharmacist.