Liam Kovich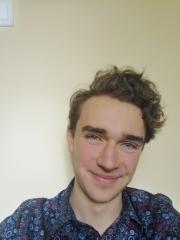 Program of Study: Bachelor of Music
Liam Kovich is currently pursuing a Bachelor of Music - Composition Major with a Jazz Minor and is completing the second year of his undergraduate degree. Liam has an extensive background in music. He started several years ago with training at the Royal Conservatory of Music. He has participated in numerous music festivals, talent shows, Art Crawl festivals, composed theme music for performances, participated in a hometown benefit concert, and was a member of his high school's Jazz Band, Concert Band, Choir, and Musicals.
Most recently, Liam wrote a theremin/piano duo piece that has since been added to concert repertoire for Thorwald Jorgenson which was part of the East Chamber Music Emerging Composer Festival. For a composition workshop - Go Compose!, he wrote a piano solo piece. He participated in the Jean Rohe's Songwriting Series and arranged Dawn Avery's "Circling" as a classical contemporary duo for violin and piano.
In 2018, he obtained a Canadian Copyright for an original composition, "On the Lock Bridge". In addition, he has volunteered his time to teaching youth tennis and ski racing as a coach's assistant.
The awards and scholarships that he has received to date include:
MUN Peters Scholarship nominated for performance scholarship
Shad Scholarship (renewable) 2020 – 2024
Mrs. Grace Morgan Entrance scholarship in Music 2020