Lauren Winsor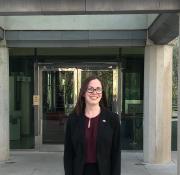 Program of Study – Doctor of Medicine
Lauren is in her final year of study in the Doctor of Medicine program. She completed a Bachelor of Science (Honours) in Psychology in 2018, and attended Wellesley College in Wellesley, Massachusetts as an exchange student during the Winter 2018 semester. She was one of 21 Canadian undergraduate students selected to complete an exchange through the Killam Fellowship program. She has extensive involvement in her area of study from research, presentations, internships, and volunteer involvement.
During her studies at Memorial, Lauren has maintained several research positions at Memorial, the École Polytechnique Fédérale de Lausanne, and Universitӓt Bern, focusing on topics including patient care, unmet healthcare needs, vision loss, and human memory. Additionally, Lauren has presented research findings and attended conferences locally, nationally, and internationally that focused on medicine and healthcare. She has also maintained academic excellence, and this has been recognized on the Dean's List for the Faculty of Science and Faculty of Medicine.
Throughout her time as a university student, Lauren has kept busy with her volunteer efforts. During her undergraduate degree, she dedicated her time to many volunteer initiatives, including acting as a board member of Memorial Minds, a mental health advocacy group with which she helped organize educational events, fundraisers, and awareness campaigns. As a member of Memorial Minds, she also acted as a co-founder of MUN Peer Support, which is a student-led collaboration with the Student Wellness and Counselling Centre that aims to provide peer support to students struggling with their mental health. During this time, some of her other activities included volunteering her time as a tutor and board member with Memorial SOS, as a board member of MUNHOPE, and as a long-term volunteer at Eastern Health. During her time as an exchange student in Massachusetts, she continued her community and on-campus involvement by volunteering as a tutor at an after-school program and at the Wellesley College Child Study Center, along with volunteering with the Balance Health Educators program, which promotes health and wellness to students at Wellesley. As a medical student, Lauren continued her extracurricular involvement as a volunteer and leader of several student-led programs and initiatives including the Access Clinic, Opioid Awareness and Support Team, and the Monte Carlo Charity Gala, among many others. Lauren thoroughly enjoys volunteering and remaining involved with her community while completing her training.
Throughout her undergraduate studies, Lauren has received numerous awards and scholarships. Some of the awards and scholarships that she has received to date include:
Colbourne Family Scholarship (2020 – present)
Medical Practice Associates Scholarship (2020)
Mach-Gaensslen Summer Studentship Award (2020)
The Dean's Building a Healthy Tomorrow Award (2020)
Eileen (O'Rourke) Gronich Scholarship in Medicine (2020)
Global Health Equity Travel Award (2019)
NLMA Gerald F. Lynch Essay Award in Medical History and Humanities (2019)
Dr. Peter and Mrs. Deborah Collingwood Scholarship in Medicine (2019-present)
Faculty of Science Lou Visentin Award (2018)
Governor General's Academic Medal of Canada – Silver (2018)
Dean of Science Book Prize for Psychology 2016-2017 (2017)
Killam Fellowship (2017)
MUNSU 25th Anniversary Scholarship (2017)
Senior Jubilee Scholarship (2016)
Natural Sciences and Engineering Research Council of Canada Undergraduate Student Research Award (NSERC USRA) (2016)
Centenary of Responsible Government Scholarship (2015)
Johnson Incorporated Scholarship (2014)
Governor General's Academic Medal of Canada – Bronze (2014)
Newfoundland and Labrador Teachers' Association Scholarship (2014)
Newfoundland and Labrador Electoral District Scholarship (2014)
Memorial University of Newfoundland Alumni Entrance Scholarship (2014 - 2019)
As for her future plans, Lauren is currently in the process of applying for residency. Her research interests include quality of life, quality of care, healthcare accessibility, and preventive medicine, and she hopes to be able to incorporate these lines of research into her career and specialist practice. In her spare time, Lauren enjoys music, baking, snowshoeing, travel, and spending time with friends, family, and her dog, Mugs.