Dr. Caroline Porr, School of Nursing Chair in Teaching and Learning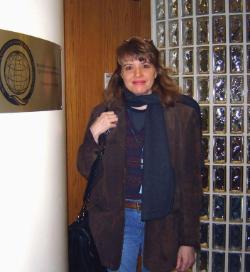 As the Chair in Teaching and Learning for the School of Nursing, Dr. Caroline Porr is leading initiatives to create a teaching and learning environment that emphasizes outcomes for students. In her role, Dr. Porr is exploring ways to engage teachers and learners and build community, including brown bag lunch sessions with faculty, graduate students, staff, nurse educators, and colleagues across Memorial's campuses.
Dr. Porr's teaching philosophy reflects her commitment to fostering high quality scholarly performance and equipping graduates with the knowledge and expertise needed to be safe, competent nurse practitioners. She believes that effective teaching and learning relationships exists when students are taught how to learn, including enhancing their abilities to independently seek necessary human and material resources to achieve knowledge and understanding.
Dr. Porr is a nurse educator with expertise in the areas of didactic models of teaching and learning as well as experiential learning strategies including problem-based learning groups, hands-on simulation technology, role-playing, and reflective exercises. She applies her expertise with nursing students at undergraduate and graduate levels at the School of Nursing; with interprofessional student groups as Faculty Scholar with the Centre for Collaborative Health Professional Education; and internationally, as Visiting Scholar, most recently, in Mainland China.
More about Dr. Caroline Porr
Prior to joining Memorial's School of Nursing, Dr. Porr held teaching positions in nursing baccalaureate degree programs at the University of Alberta, University of Calgary, and Liberty University in Virginia. Her teaching philosophy revolves around the belief that the teacher's job is to teach from the heart with enthusiasm and persistence derived from authentic pride in the professional practice of nursing. Dr. Porr enjoys sharing experiential knowledge and anecdotal accounts drawn from various nursing practice roles and responsibilities she has assumed including primary health care nurse practitioner in northern Manitoba and Toronto, Ontario (focused on acute and preventive health needs of lower income multicultural families).
Dr. Porr completed a Bachelor of Science in Nursing degree from McMaster University, a Master of Nursing degree from the University of Calgary and a Doctor of Philosophy degree in Public Health Nursing in 2009 at the University of Alberta. Her research interests stem from her doctoral research during which she employed grounded theory methodology to formulate a relationship building model for public health nurses who work with vulnerable and potentially stigmatized clients. Research interests include establishing therapeutic relationships, social intelligence competencies, social cognitive theory, and person-centered care. In addition, Dr. Porr wants to investigate how advances in social neuroscience may inform empathic skills training of both frontline practitioners and nursing students.
Dr. Porr is a CIHR Graduate Fellow of the International Institute of Qualitative Methodology, University of Alberta and has a broad qualitative health research knowledge base and skillset, especially grounded theory. Recently she has been teaching mixed methods research to graduate-level students at the School of Nursing, and overseas in Vietnam and Mainland China. She has also completed systematic review training (from the Joanna Briggs Institute and the local Cochrane Centre) and is in the process of conducting both qualitative and quantitative systematic reviews. Dr. Porr has received numerous scholarships and awards, serves on several committees and is, currently, president of the Canadian Association for Nursing Research.