Service Learning & Community Engagement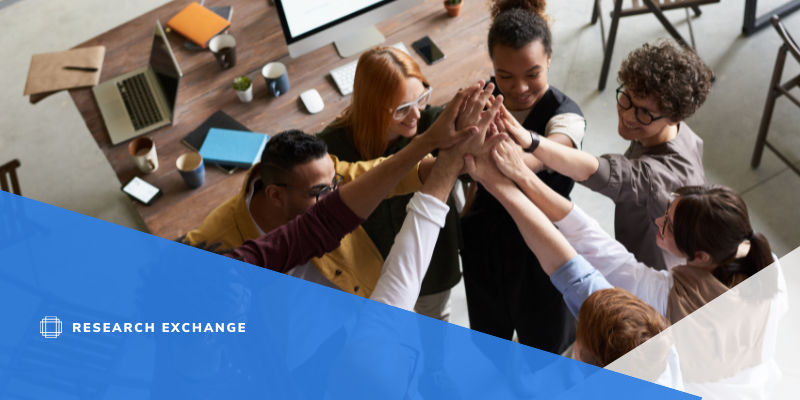 The Research Exchange Group on Service Learning and Community Engagement was established to open a dialogue between academic departments and community groups to gain a deeper understanding of our mutual interests and the potential for improved partnerships and collaboration. The group brings together people working in the health sciences and in other university disciplines and those who work in community organizations with an interest in health equity.
See Group Activities and Presentations

Group Conveners
Dr. Jill Allison—Global Health Coordinator/Clinical Assistant Professor, Faculty of Medicine, Memorial University
Elayne Greeley—Partnership Broker, Community Career, and Employment Partnership (CCEPP)
---
Goals & Objectives
The Research Exchange Group on Service Learning and Community Engagement aims to:
Uncover ways we can engage students in creative, meaningful interdisciplinary projects based on the principles of service learning and community-engaged research
Improve engagement between community organizations and the university with a focus on identifying and responding to community needs
Identify, increase and improve community-responsive service learning and meaningful applied research opportunities for students at Memorial University
---
Join Us
NLCAHR's Research Exchange Group on Service Learning and Community Engagement welcomes anyone with an interest in service learning and community engagement to join us. Please see our calendar of meetings for information about upcoming webinars or email rochelle.baker@med.mun.ca for more details.
---
Group Activities & Presentations
2020
October 20, 2020 | Never Let a Good Crisis Go to Waste: Lessons learned from community engagement in the time of COVID-19 | The COVID-19 pandemic has posed challenges and provided opportunities in terms of learning and engagement in community, health system and educational contexts. As we share the collective responsibility to protect public health and to support those more negatively affected than ourselves, we are also finding both strengths and limitations in terms of our capacity for meaningful engagement. Which leads us to a few core questions: How can we affect community engagement at a time of physical distancing and isolation? How can we best serve our communities in this time of need? We took this time to check in with community, university, health system, and student members of the SLICE Research Exchange Group to talk about what approaches are working in your life or in your organization to support continued social engagement. How are you providing or participating in opportunities for connection? How are you providing learning opportunities that comply with public health measures? What changes will your maintain as you move into the post-pandemic period, in terms of how you work, what you value, and how you plan to make the critical connections that will support your health, well-being, and sense of meaningful engagement? We want you to let us know what you think and how we might use what you've learned to help each other. |
February 11, 2020 | Learn to Lipread Online | Alison Butler MER, COHC, Coordinator of Education and Awareness, Canadian Hard of Hearing Association, Newfoundland and Labrador (CHHA-NL) | The presentation discussed a brand new online course with community health in mind, the first of its kind in Canada. Read Our Lips is an innovative social enterprise supported by Metro Business Opportunities (MBO) that will contribute to the programs & services of the CHHA-NL. Read Our Lips consists of online lessons that teach adults how to lipread by learning to identify and watch for important movements of the mouth. This technique is an important part of overall speech reading. The full Read Our Lips online course has been created and produced in Newfoundland and Labrador and will be sold online throughout North America, and the world. It is affordable and available to anyone with access to a high-speed internet connection and a computer, tablet or smartphone. | Learn to Lipread Online |Learn to Lipread Online
2019
December 3, 2019 | Critical Approaches to Engagement | Dr. Julia Janes, School of Social Work, Memorial University |
September 26, 2019 | September Kick-off Meeting: Let's Talk About Collaboration: Community and Health System Projects, Research, and Learning Opportunities | Elayne Greeley and Jill Allison | All community, health system, student, and academic partners can contribute information about what they've been up to and what supports they may need to initiate planned community based research projects. The presenters discussed what is happening among our membership in terms of programs and research in progress, programs and projects being planned, and the potential for new collaborations, including student opportunities to learn, participate, and volunteer. | Link to Presentation |
March 14, 2019 Ethical Research Engagement between Communities and Academia | Angela Power, and Janine Elliott, with Ally Jamieson | In her work with Choices for Youth, Ally Jamieson wanted to bring an ethical research engagement framework to the collaboration between community and academics who seek to work together. In response to this community call for engagement, Angela Power and Janine Elliott researched and co-authored a paper "Essential Voices and Research Choices: At Risk and Homeless Youth Research Guidelines. This talk explored potential applications of ethics in research across contexts and methodologies, with particular consideration of intersections between community mental health values and research ethics. Ethics themes in recruitment, informed consent, participant benefits and risks, and confidentiality will frame discussions seeking to identify ways in which community mental health practitioners and researchers might collaborate to develop best human subjects ethics practices in community-based service delivery programs and system. | Link to Presentation |
2018
October 24, 2018 | Opportunities at the NL Workforce Innovation Centre | Susanne Dawe, Stakeholder Engagement Coordinator at the NL Workforce Innovation Centre | Dawe discussed the NLWIC's collaborative work in employment: A key social determinant of health. The Workforce Innovation Centre, located at College of the North Atlantic's Corner Brook campus, partners with business and community organizations to foster innovative approaches and create new opportunities to support the development of a skilled workforce. |
September, 2018 | Engage & Connect | Sam Fellows, Master's in Public Health Practicum student | Fellows and the group launched an online portal to connect: Community, health system and government partners with departments and supportive resources at Memorial University; Memorial University faculty and students with community, health system, and government partners; and Students to service learning opportunities in the community | Link to Project |
June 20, 2018 | Considerations for Engagement | Sam Fellows, MPH Practicum student | The presenter discussed a literature review on considerations for better engagement and developing an online portal to connect community and university partners | Link to Presentation | Link to Considerations for Engagement |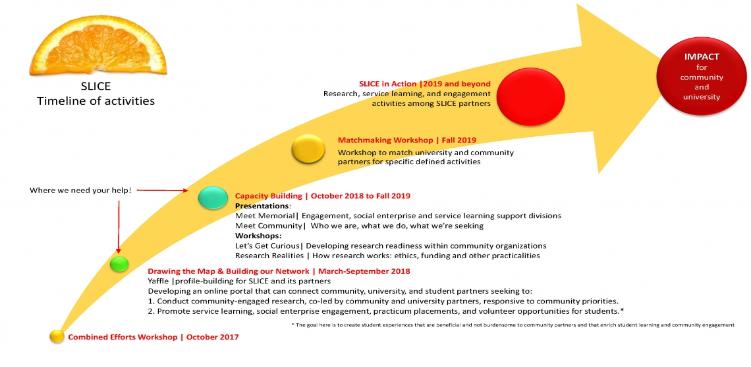 March, 2018 | Follow-Up from Combined Efforts Workshop | This graphic was developed after the March 2018 meeting to show members the proposed timeline of activities for the group. |
2017
October 23, 2017 | Combined Efforts Workshop | An interactive community-university workshop at the Cochrane Centre in downtown St. John's to explore how the university and the community can combine efforts to promote meaningful community service that enriches the learning experience, teaches civic responsibility, and ultimately strengthens communities throughout Newfoundland & Labrador. This event was moderated by SLICE co-conveners Elayne Greeley, Partnership Broker with the Community Employment Collaboration and Dr. Jill Allison, Global Health Coordinator with Memorial's Faculty of Medicine, together with Pablo Navarro and Rochelle Baker of the NL Centre for Applied Health Research. The workshop brought together 45 participants: faculty and students from multiple university disciplines, representatives from municipal and provincial government and the provincial health system, and people who work in community organizations, all of whom expressed a common interest in forging stronger partnerships to support health equity and social justice. The workshop fulfilled its objective: It built a solid framework for the group to continue exploring collaborative opportunities and approaches in the coming years to support more and better partnerships and to build genuine and meaningful engagement. | Workshop Report |
---
About Service Learning
Service Learning refers to any teaching and learning strategy that integrates meaningful community service with instruction and reflection to enrich the learning experience, to teach civic responsibility, and to strengthen communities. (See Comprehensive Framework) As the province's only university, Memorial is dedicated to encouraging and supporting community-engaged work and serving the public good, locally, nationally and internationally. Memorial University is, and always has been, home to students and staff who make community engagement a fundamental element of their research and teaching activities. They are responsive, collaborative and respectful of the needs and contributions of community, drawing on the knowledge and resources of everyone involved.
Enriched by community perspectives and expertise, Memorial is ultimately a stronger institution, a hub of knowledge and ideas that serve the greater community.