Art for health's sake:
Creative collaboration at Memorial

Rochelle Baker, NLCAHR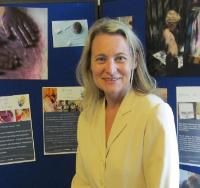 Christina Dove is the convener of a new research exchange group on the arts and health at NLCAHR.
Christina Dove is bringing Memorial University researchers and community artists together to talk about how art can be good for our health.
A PhD candidate in the Faculty of Medicine and the founder of a new research exchange group at the Newfoundland and Labrador Centre for Applied Health Research, Ms. Dove knows from personal experience about the power of art when it comes to improving health outcomes.
When her son was just two years old, Ms. Dove noticed some concerning behaviours she suspected might be linked to an autism spectrum disorder.
"I found myself searching for ways to help Noah overcome his difficulty communicating, his sensitivity to textures, his trouble looking at faces," she said. A ceramic artist and sculptor, Ms. Dove turned to the tools at hand. "I brought Noah into my pottery studio and started using clay to teach him to feel varied textures without anxiety."
The pottery studio proved to be a terrific classroom for both mother and son. Noah, whose diagnosis with an autism spectrum disorder was confirmed a year later, learned a great deal. By outlining signs in clay, he acquired sign language, and eventually started speaking again. By sculpting faces, he overcame his problems with eye contact. His mother was learning, too. She discovered a passion for art therapy and a keen curiosity about the science behind her success with Noah.
Ms. Dove's experience working with her child guided her towards work as an art therapist and influenced the direction of her academic research.
"Eleven years ago, I developed a sensory art therapy program for the Autism Society of Newfoundland and Labrador at the Elaine Dobbin Centre. It was great to be able to apply what I'd learned through my research and through my work with Noah," she said. At the time, Ms. Dove was working in neuroscience and brain development at Memorial's Faculty of Medicine.
She has been teaching sensory art therapy for more than 17 years now, not only at the Elaine Dobbin Centre but also in her own studio, at the Craft Council's Clay Studio and at camps, community centres, schools and hospitals. She works with a variety of clients, including children with physical, developmental and cognitive impairments and adults afflicted with multiple sclerosis, Parkinson's disease, Alzheimer's disease, and post-traumatic stress disorder, as well as people who have suffered a traumatic brain injury or stroke.
After obtaining a B.Sc. (Hons.) in psychology, Ms. Dove earned a graduate teaching certificate and a master's of science in medicine (neuroscience) as well as pursuing art therapy studies in Vancouver, B.C. Today, she is a PhD candidate in medicine (clinical neuroscience). Under the supervision of Dr. Michelle Ploughman, Ms. Dove aims to bring her diverse experiences full circle: to connect her work as an art therapist, her experience as a mother, and her research in developmental neuroscience to conduct a mixed methods research study into the health effects of using the creative arts in the autism spectrum population.
In essence, she will research the science of art as it relates to brain development.
As it turns out, Ms. Dove is not alone in making the connection between the arts and the sciences or between qualitative and quantitative research methods. She recently approached NLCAHR with an idea for a research exchange group devoted to the arts and health.
NLCAHR has a program of research exchange groups that engage with the community and build research capacity in the province by bringing together university researchers, health professionals, decision makers and members of the public who share a common interest under a specific area of applied health research. The groups that are currently active include research on aging, bullying, eating disorders, chronic disease, and mental health, among others.
Ms. Dove had been involved in the research exchange group on autism and she hoped that a new group on the arts and heath would be of interest to other researchers and artists who often work in isolation.
She was right. More than 40 fellow artists and researchers have now signed up. At its first meeting on May 26, 2014, the group decided it would meet monthly to network, to discuss research in progress, to hold seminars, to present on research projects and art therapy services, to initiate collaborative partnerships, and to discover potential funding for further research.
With NLCAHR, Ms. Dove has initiated a unique fellowship among dancers, musicians, visual artists, arts administrators, educators, and researchers from various arts and sciences faculties at Memorial, all of whom are working on diverse arts and health-related projects, from community-based participatory research to learning how art can promote empathy, from music therapy to alleviate anxiety in people with dementia to using dance and drama to help children communicate.
This research exchange group is supporting a hypothesis its founder was forced to consider back when her son was a pre-schooler. As Ms. Dove put it, "I think exposure to the arts has implications that go way beyond art's obvious social function. I believe the arts have a real and lasting impact on our health and on how we learn and develop as humans, in every sense."
For further information on NLCAHR's research exchange group on the arts and health, please visit www.nlcahr.mun.ca/Research_Exchange/TheArtsHealth.php