Tom Gordon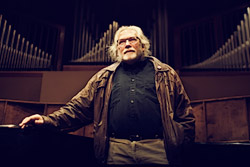 Professor Emeritus
Musicology, Ethnomusicology
B.A. (Central Missouri)
B. Mus. (Central Missouri)
M.A. (Central Missouri)
Ph.D. (Toronto)
TOM GORDON is a pianist/musicologist with a broad range of interests that stretch from musical life in eighteenth-century Labrador to the historical avant-garde of early twentieth-century France. His current research projects explore of the Moravian choral and instrumental music in the Inuit communities of coastal Labrador. Forthcoming from these projects are a thematic catalogue of the 250+ manuscript anthems in the mission churches and a monograph on the indigenization of the Moravian mission music by the Labrador Inuit. Gordon's research has also informed several CBC radio documentaries, including "Three years of provisions and two French horns," a profile of the brass band tradition in Labrador produced by Francesca Swann for Inside the Music. In 2010 he collaborated with independent filmmaker Nigel Markham on the making of a feature-length documentary on the Labrador choral tradition: Till We Meet Again (available through the NFB). In collaboration with Inuit musicians from Nunatsiavut he has produced four CDs documenting their unique musical traditions, including Pillorikput Inuit: Inuktitut Arias for All Seasons which was nominated for a 2016 ECMA award; Imgegusit | Trumpet Hymns with tenor Karrie Obed; Ahak! Ahak! Moravian Music from Inuit Labrador, a collection of archival records from the past seventy years; and Nainip Tittulautingit, a self-titled recording of the new Nain Brass Band.
Gordon's interests in European music have focussed on French music of the late nineteenth and early twentieth centuries. He edited a volume of essays Regarding Fauré (Gordon & Breach, 1999), resulting from an international conference he organized on the occasion of the composer's sesquicentenary. Gordon was also the editor of Jean Cocteau – Evangelist of the Avant-Garde / Jean Cocteau -- Évangéliste de l'avant-garde, (Canadian University Music Review, 2001) and has authored several articles on French music of the nineteenth and twentieth centuries. His doctoral research on Stravinsky and neo-classicism (University of Toronto, 1983) resulted in numerous publications including sketch studies on Trois Pièces pour quatuor à cordes (Amadeus Verlag, 1994) and Piano-Rag-Music (Intersections, XXVI/1, 105).
Stravinsky research is one of several fields where Gordon's scholarship has led to unique performance projects. In 1990 he directed a historical re-construction of the original production of Stravinsky's l'Histoire du soldat which was revived for a tour of Newfoundland and Labrador in 2002. In 1987-88 he toured Eastern Canada with a lecture-recital/exhibition on Stravinsky's four-hand piano works and sketches (with Mary O'Keeffe). Gordon also re-constructed from sketches Stravinsky's incomplete ballet fragment David, an aborted collaboration with Jean Cocteau that found its eventual realization in Erik Satie's Parade.
As a performer Gordon has been most active as a Lieder accompanist with a vast repertoire that covers the standard German, French and English art song repertoire. He has accompanied Canadian and American singers, including sopranos Caroline Schiller, Carmen Mehta, Gail Desmarais, Catherine Fitch, Shari Saunders, Michèle Gagné and Jane Leibel, mezzo-soprano Mary Ann Hart, tenors François Panneton and Brian Staufenbiel and baritones Michel Lachance and Douglas Dunsmore. In celebration of the 200th anniversary of the birth of Robert Schumann, he organized and performed with School of Music alumni in a series of concerts exploring the song cycles of both Robert and Clara Schumann. In 2003 he organized a concert series on the Lieder of Hugo Wolf in honour of the centenary of that composer's death. In the autumn of 2001 he toured the province of Newfoundland and Labrador with a program of French vocal ensemble music with sopranos Caroline Schiller and Catherine Fitch and baritone Douglas Dunsmore. During the 1994-95 season, Dr Gordon programmed the complete vocal works of Gabriel Fauré. Gordon's other performance credits include frequent recordings for Radio-Canada with Ensemble Musica Nova of Sherbrooke, Québec. Notable performances have included works by George Crumb (Vox Balanae and Makrokosmos II) and premieres of works by Andrew P. MacDonald, Jacques Desjardins and Isabelle Panneton.
Gordon was Director of the School of Music at Memorial University of Newfoundland from 2000 to 2010. Following his retirement from Memorial University, Tom Gordon was appointed a Visiting Professor in the Faculty of Music, University of Toronto where he served as interim Director of the Institute for Canadian Music in 2013-2014. Prior to coming to Memorial, he was a professor and chair in the Department of Music at Bishop's University in Lennoxville, Québec (1983-2000). While at Bishop's, Gordon served a term as Director of Centennial Theatre (1997-2000), inaugurated the popular Music Chez Nous concert series and co-founded Ensemble Musica Nova for which he served as administrative director from 1989 to 1997. Previous to his tenure at Bishop's, Gordon was Head of Liberal Arts Studies at the Ontario College of Art and Design in Toronto (1977-1983).
In October 2014 Gordon was named the first professor emeritus in the School of Music at Memorial University of Newfoundland. The following year he was awarded the Dr Helen Creighton Lifetime Achievement Award from the East Coast Music Association. In 2015 Gordon developed a major research partnership between Memorial and the Nunatsiavut Government under funding from the Social Sciences and Humanities Research Council of Canada. Titled "Tradition & Transition Among the Labrador Inuit," this multi-year project focuses on questions surround cultural sustainability for the Inuit of Labrador, coordinating the efforts of some thirty Inuit and academic researchers from twenty institutional partners.
Tom Gordon is married to harpsichordist and arts administrator, Mary O'Keeffe. Gordon and O'Keeffe have two children – neither (thankfully) a professional musician – and four grandchildren.