Shelley Neville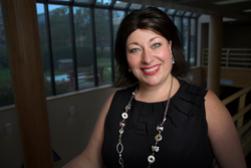 Voice
B. Mus. (Memorial)
B. Mus. Ed. (Memorial)
Artist Diploma Honours (Toronto)
Opera Diploma Honours (Toronto)
M. Mus. (Memorial)
shelleyneville70@gmail.com
864-4826
Born and raised in St. John's Newfoundland, mezzo-soprano Shelley Neville received her conjoint degrees of Bachelor of Music in 1993 and Bachelor of Music Education from Memorial University in 1994. Neville continued her education at the University of Toronto where she obtained an Artist Diploma (Honours) in 1996 then went on to complete an Opera Diploma (Honours) in 1999 where she received the Most Distinguished Graduate Award and in the same year was a Metropolitan Opera National Council Auditions finalist. In 2007, Neville received her Master of Music in Vocal Performance and Pedagogy from Memorial University.
In May 2015, Shelley attended the Neil Semer vocal academy in St. Jean du Gard in the South of France with her singing partner of 25 years Peter Halley. In 2007, Neville attended the five week inaugural training program at Center for Opera in Sulmona, Italy where she performed the role of Marcellina in Le Nozze di Figaro. In 2008, Neville participated in the International Summer Vocal Academy in Aub, Germany as well as the Britten Peers School for Advanced Musical Training in Aldeburgh, England.
Local oratorio and opera highlights include Beethoven's Ninth, The Messiah, Haydn's Creation, La Traviata and The Merry Widow with the Newfoundland Symphony Orchestra under the direction of Maestro Marc David. Shelley is equally at home in the musical theatre repertoire and has performed the roles of Madam Thenardier in Les Miserables, Bird Woman in Mary Poppins, Sister Hubert in Nunsence, Woman 1 in I Love You…You're Perfect…Now Change and the title role of Patsy Cline in Just a Closer Walk with Patsy Cline.
In 1997, Neville co-founded one of the province's leading theatre companies, Spirit of Newfoundland Productions and celebrated the Event of the Year for 2013 awarded by the City of St. John's. In 2008, she established her own performance company and has produced some of the province's most elegant musical shows: Big Italian Night, The Big Wigs and O Holy Night.
In 2010, Shelley Neville was awarded the Emerging Leaders Award at the National Association of Teachers conference in Salt Lake City, Utah. In 2012, she received the Queen Elizabeth II Diamond Jubilee Medal for her outstanding contributions made to Canada. Neville is a sought after clinician and adjudicator, a part time voice instructor at Memorial University and a founding member of the MUN Song Academy.