Ergonomics Program
Ergonomics focuses on the interaction between work and various components of the work environment, taking into account not only productivity but the prevention and/or reduction of injury.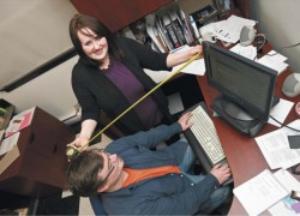 The ergonomics program includes ergonomic assessments and a comprehensive musculoskeletal injury prevention program for all employees. In additon, the program offers advice in the setting up of remote workstations as well as various training exercises and helpful tips.
Ergonomics Self-Assessment Checklist

The Ergonomics Program has developed a Self-Assessment Checklist for people who work in an office setting. This checklist will allow you to go through the process of setting up each component of your workstation ergonomically and can be found on the my.mun.ca portal. If completing the checklist does not allow you to set up a component of your workstation, please send a copy of the completed checklist along with the Request for Ergonomics Assessment form to ergonomics@mun.ca
For more information please call 864-2918 or email ergonomics@mun.ca.