The Shadow of the Past: How History Shapes the Present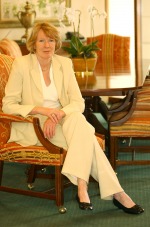 Monday, January 29th, 2007 at 8:00 pm NST
Inco Innovation Centre, Lecture Theatre 2001
Click here to view the lecture.
Click here to view the poster and the program.
Although we do not always realize it, the past is usually present in our attitudes, our assumptions and our guesses about the future. This lecture focuses on the ways in which history shapes the thinking and decisions of policy-makers. Their knowledge or lack of knowledge of other peoples and their issues can help them to make wise decisions or lead them into mistakes. Leaders, in a whole host of fields from politics to business, also search the past for lessons and analogies as they try to choose between one course of action or another. Drawing on key moments in recent history, from the Paris Peace Conference of 1919 to President George W. Bush's decision to invade Iraq, Margaret MacMillan will explore the ways in which history can intersect with policy-making.
Dr. Margaret MacMillan is the Provost of Trinity College in Toronto, a Professor of History at the University of Toronto and the Warden-Designate of St. Antony's College, Oxford. She is the acclaimed author of Paris 1919: Six Months that Changed the World and the recently-released Nixon in China: the Week that Changed the World. Dr. MacMillan appears frequently in the media commenting on both history and current international affairs.
The John Kenneth Galbraith Lecture in Public Policy is made possible through the generosity of Dr. John Kenneth Galbraith, and is an initiative of Memorial's Leslie Harris Centre and the Offices of the President and the Dean of Arts. The annual event brings to St. John's outstanding figures whose work reflects their commitment to scholarship and public affairs.