Professional Development Information
Learn fundamental tools to expand your influence and effectiveness as a leader.
Effective leaders influence, inspire and motivate people to perform to their highest potential in support of the organizations' goals. This interactive 2-day seminar explores the fundamental tools needed to become a more effective leader. Focused on four areas of leadership development – leading self, leading others, leading without authority, and leading organizational strategy – this seminar allows participants the opportunity to explore their style, to understand the foundations of effectively leading others, influencing direction without authority, as well as, creating and implementing effective organizational strategy. Using self-assessment feedback, participants assess their preferred style, and their current leadership behaviour to identify personal strengths and improvement opportunities. Participants create action plans for future improvements.
This module is an elective module in the Public Sector Leadership Management Development Program.
---
Benefits
For Individuals
Discover personal leadership style strengths and weaknesses
Improve communication and influencing skills
Discover areas for self-improvement
Better lead organizational strategy
Advance in your career
For Organizations
More effective and inspired leaders
Create better teams
Build leaders who align with organizational strategy
Prepare for succession planning
---
Who Should Attend
Those who are, or becoming leaders, and want to expand on their leadership effectiveness.
---
Details
Learning Objectives
Define and explore the qualities and behaviours of effective leaders
Learn the dimensions of a full range of leadership styles
Using self-assessment feedback, assess your preferred style, and your current leadership behaviour to identify personal strengths and improvement opportunities
Understand the challenges of working with people with different styles
Learn effective ways to influence others without relying on formal authority
Define key changes you need to make in order to improve your leadership
Learn how to effectively develop and implement organizational strategy
Develop an action plan incorporating interaction styles, leadership foundations, and bases of influence in support of your organizational strategy
---
Instructors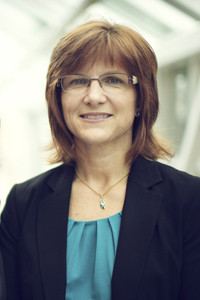 Kara Arnold
Kara Arnold, PhD is Professor of Organizational Behaviour and Human Resource Management at Memorial University's Faculty of Business Administration. During her tenure at the Faculty of Business she has served as Associate Dean of Research, Director of the PhD and MSc Programs, and Area Group Coordinator. Kara's research focuses on leadership, diversity and employee well-being, and she integrates this in her work with clients in the areas of leadership, interpersonal skills and team building, helping them through organizational issues and challenges.
---