Professional Development Information
Influence Without Authority
Influencing others matters for your effectiveness, reputation and success. Learn to influence and persuade other people without using formal authority.
In our complex organizational environments managers and leaders need to focus on influencing and persuading others by creating successful and effective working relationships. Technical or functional skills alone are no longer sufficient. Reliance upon formal authority is also becoming difficult to maintain.
Whatever you do, whatever your level, and in whatever organization, influencing matters for your effectiveness, reputation and success. You simply cannot be an effective leader or manager if you cannot relate to and influence others. Everyone has their own unique style of influencing. What this seminar gives them is the understanding of what style they have, what style is being used on them and when to be able to flex their own style to be more effective in their influencing approach.
Participants first use an Interpersonal Influence Inventory where they obtain an understanding of what influencing style that they currently use. They then work through, in groups or in pairs, situations at work where they have had to use their influence and understand what worked, what did not and why. Using a model around influencing styles and behaviours, participants also work through different approaches to influencing including: Asserting, Attracting, Persuading and Bridging. Finally there is a personal action plan to improve individuals influencing approach, style and understanding what they need to flex their behavior.  
 Topcis Covered: 
The Influencing Model
An overview of successful influencing process
Link effective influencing behaviours with a strategy which fits the structure of their own organization
Development of a real life influencing situation that the participant currently faces in their organization
Importance of influencing for yourself, careers and an organization's success
 Interpersonal Influence Inventory
Online inventory to be completed before the seminar begins
Assessment Contents:
Personalized, full-color report
Results of assessment
The Interpersonal Influence Model
Your Interpersonal Influence Profile

Introduction
What is Influence Style
What is Assertiveness?
Assertive Behavior
Passive Behavior
Concealed Aggressive Behavior
Openly Aggressive Behavior
Factors Affecting Influence Style
Reflection Questions
 Key skills for influencing
Exploration of key success factors for influencing
Identification of personal influencing style
Introduction to a range of practical tools and techniques which contribute to effective influencing outcomes
Practicing these skills to develop and extend your range of influencing capabilities and receive feedback.
 Impression Management
Creating the right impression – understanding the importance of impression management as a part of building your influencing reputation and credibility.
Self and others awareness – review of personal skills and competences and the impact your approach has on others.
 Planning for Action
Developing a concrete action plan for implementation on your return to work.
This is based on a real life influencing situation that you currently face in your organization and starts at the beginning of the day.
 Continuing Education Contact Hours: 7 
This is a module in the Influence, Negotiation, and Conflict Management Program.
Participant Feedback:
-" Understanding the styles of influencing will help me better manage the different types of personalities within the workforce."
-"Tom is very knowledgable on this topic and provided valuable examples and principles which could be applied for use in any business area."
---
Benefits
For Individuals
Become more aware of your behaviour, influencing styles, body language and the impact you have on others
Become more aware of other people's influencing styles
Learn to become more flexible so that you can adapt and flex to your colleagues
Understand the different influencing styles, tools and techniques you can draw upon when influencing people in the workplace
Know-how to generate enthusiasm and motivation in those you influence in the workplace
For Organizations
Your managers and employees will understand their own influencing style and strengths
Your managers and employees will develop the confidence to tackle various situations where their personal influence is critically importance
Your managers and employees will appreciate the importance of creating and managing the impression they project when influencing.
Your managers and employees will know how to apply a range of tools and techniques to achieve tangible results.
---
Who Should Attend
This seminar applies to anyone, in any industry that has to use their influence at some point either to get a project or initiative complete, create the right impression or create effective relationships.
---
Instructors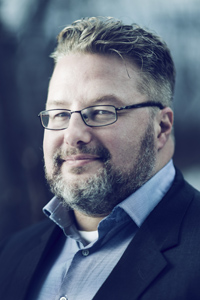 Tom Cooper
Dr. Tom Cooper is an Associate Professor at the Faculty of Business Administration, Memorial University.
As a facilitator and consultant, Tom has worked extensively with most of the major private sector employers in Newfoundland and Labrador including mining, technology, forestry, fisheries as well as oil and gas. He has also done extensive work with small and emerging businesses throughout the province and Atlantic Canada. Tom was recognized for his efforts with small and emerging businesses by being a two-time national finalist for mentor of the year through BDC/Futurpreneur. Tom has also worked with all levels of government in the province and sits on a number of private sector and not-for-profit boards.
Prior to taking his position at Memorial, Tom was a Senior Manager in PwC's consulting practice in London, United Kingdom for seven years. At PwC he worked with major international companies in the area of process improvement, governance, and risk. Tom holds a Ph.D. in Business from the University of Warwick, United Kingdom and undergraduate degrees from Memorial University. He is also a Certified Management Consultant.
---