Custom Team Training
Practical Solutions. Strategic Training. Exceptional Results.
Gardiner Centre has been supporting team development for over 40 years. Group training is a cost-effective way to ensure your team has the skills they need to be successful. It addresses knowledge and skills gaps, builds on existing skills, and offers new practices employees can take back to the workplace. Bringing your team together for a learning experience also fosters a sense of trust and unity among the team and brings a renewed sense of dedication to achieving organizational goals.
Whether in-class or online, Gardiner Centre's training is designed to maximize knowledge transfer using interactive practices including group activities, personal reflection, and new skill application. Employees leave their training equipped with new skills they can immediately apply back in the workplace.
Gardiner Centre's group and team training solutions are dynamic, flexible and tailored to fit your specific requirements. Our custom program developer will work with you to design training that is not only practical but also aligns with your strategic professional development objectives.
Start planning your team training!
Connect with our Custom Training Program Developer, Susan Arscott, at sarscott@mun.ca or 709-864-3596.
Download the Custom Team Training Brochure
---
Three Styles of Training for Groups and Teams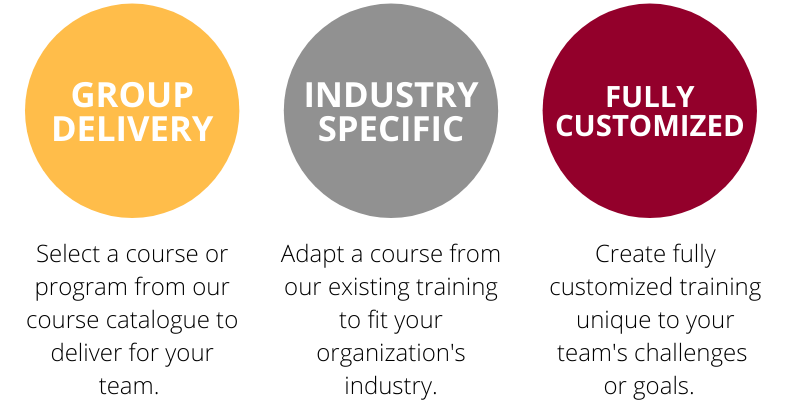 Did you know?
Your organization may be eligible for tuition support for professional development training. Assess your eligibility by visiting The Canada – Newfoundland and Labrador Job Grant Program website. The program provides financial assistance to private and non-profit employers to offset the cost of providing training to new or current employees. Employers can access up to $15,000 per trainee!