Certificate Program Info
Canadian Risk Management (CRM) Program
Scheduled Date(s)
See Details Below
---
Register for each course separately by clicking on the course link below.
Funding Options Available
The Canadian Risk Management (CRM) Program is designed for individuals whose jobs involve the management of risk and the implementation of strategies to mitigate risk.  
The Canadian Risk Management (CRM) designation is a widely recognized qualification that provides risk managers a foundation of knowledge and skills needed to identify, assess, monitor and limit risks. The CRM is recognized by the Risk and Insurance Management Society (RIMS) and awarded by the Global Risk Management Institute (GRMI). GRMI sets policy for the CRM designation and maintains the records of its credentialed members.
Attaining the CRM designation demonstrates a level of professional commitment, knowledge and skills that employers in both public and private sectors recognize. 
The CRM program is offered at Gardiner Centre in cooperation with the Risk and Insurance Management Society (RIMS). Courses are focused on the identification and assessment of exposures to loss, strategies for controlling identified losses, and a review of techniques for financing the payment of those losses which do occur.
Why earn the CRM Designation?
Competitiveness: Formal training gives CRM holders a competitive advantage that employers seek.
Credentials: Demonstrates that CRM holders have achieved the knowledge and skills necessary to identify, assess, monitor and limit risks.
Recognition: CRM holders stand out among others in a competitive marketplace.
Advancement: Improves the ability of CRM holders to achieve their organization's risk management objectives and their career goals.
---
Who Should Attend
The program will be of benefit to risk managers, insurance professionals, project managers, and individuals from a variety of industries who are interested in earning the CRM designation. Participants in this program come from areas such as oil and gas, insurance companies, and small to large enterprises in the public and private sectors.
---
Details
The Canadian Risk Management (CRM) Program requires the completion of 3 courses: 
CRM 54 Risk Management Principles and Practices  

CRM 55 Risk Assessment and Treatment  
Courses are five days scheduled in two, 2.5 day blocks.  Friday evenings from 6:30 pm - 9:30 pm, Saturday 9:00 am - 5:00 pm, Sunday 9:00 am - 5:00pm. Lunch is included on Saturday and Sundays.
Cost of each five day course is $925 + HST. Text books are extra and can be purchased from the MUN bookstore http://mun.bookware3000.ca
Register for each course separately by clicking on the course link above.
Once you successfully complete your courses at Gardiner Centre, a separate testing and credentialing process takes place directly with the Global Risk Management Institute(GRMI). 
 Register with GRMI, Access Prometric Testing Center Site, and Select an Exam Date
Create an online profile with RIMS
Enroll in each course required CRM courses listed below:
Access CRM registration page, select an exam, and pay the $130 (USD) testing and processing fee by credit card.
GRMI will issue Prometric testing center location options and access instructions via email.
Candidate enters the access code sent by email from GRMI into the Prometric site, selects an exam date, time, and location. Candidate needs to carefully review the information contained in the Prometric Confirmation Notice. If any of the information is incorrect or if the information has changed, they need to contact GRMI at: GRMI@RIMS.org. Testing center schedule changes need to be completed on the Prometric site. NOTE: Please allow two weeks to receive the Prometric access code.
Once the candidate receives a passing score of 70% on all three exams, they need to mail a transcript grade report from the university or institution to GRMI at 5 Bryant Park, 13th Floor, New York, NY, 10018, USA.  
GRMI will issue a CRM designation completion certificate within four weeks.
For information on Prometric Testing Center visit www.prometric.com 
Click here to visit the Canadian Risk Management Program Site. 
---
Instructors

Justin Crickard
Justin is the Quality Assurance and Risk Officer for the Newfoundland and Labrador Housing Corporation (NLHC). He joined NLHC in October of 2007, he spent three years as a Housing Officer, and two years as the Corporate Assistant to the Chairman and Executive, before moving on to Quality Assurance and Risk (QAR).
Justin completed the Certified Risk Management Designation (CRM) in February 2015 at Gardiner Centre. In addition to a Bachelor of Commerce degree from Memorial University, he completed a certificate in Occupational Health and Safety at the College of the North Atlantic and holds a Masters in Employment Relations from Memorial.
Justin also serves as Vice President of the Newfoundland and Labrador Risk Insurance Management Society (NALRIMS).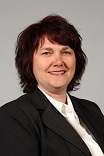 Ruby Noseworthy
Ruby Noseworthy is a Commercial Account Executive at Aon Risk Solutions, St. John's.  She joined the company in 2013 and worked previously for various insurance brokers including Cal LeGrow, Baine Johnston, Munn Insurance, and T.P Hickey Insurance (now Wedgwood Insurance.)
Ruby has over 20 years of experience in sales, service, account management, risk management, and brokerage services for clients in the public sector; construction and surety; transportation; retail; and wholesale.  Ruby has considerable experience handling a wide range of mid-market and large commercial accounts and in preparing comprehensive risk evaluations and proposals. She completes reviews on coverage proposals and loss experience, and analyses risks to determine the product or services requirements that will meet client needs.
Ruby's educational background includes the following designations: Associate of Canadian Surety Bonding (ACSB); Fellow Chartered Insurance Professional (FCIP); Canadian Accredited Insurance Broker (CAIB); and Canadian Risk Management (CRM).  She has also recently completed the Business Management Certification through the University of Toronto. Ruby is licensed to transact business in Newfoundland and Labrador and in Alberta and has clients in the US and the UK. She has achieved past and present sales awards and was presented with The Gary Bourne Memorial Award for top graduate in the CRM program. 
Ruby holds memberships with the Construction Association of Newfoundland and Labrador; the Heavy Civil Association of Newfoundland and Labrador; the Canadian Risk Managers Association; Insurance Institute of Newfoundland and Labrador; and the Canadian Brokers Association.
---
Scheduled Date(s)
See Details Below
---
Register for each course separately by clicking on the course link below.
Funding Options Available
Want More Information?