Canadian Parents for French Teacher Graduate of the Year Award 2018
Canadian Parents for French-Newfoundland and Labrador, award winners and invited guests enjoyed a warm welcome at Government House on Thursday, June 7th. Those present celebrated some very deserving French teachers and students who received Student of the Year and Teacher of the Year Awards.
Congratulations to Kieran Roach, a recent graduate of the Faculty of Education Intermediate/Secondary Program, the winner in the category of Teacher Graduate of the Year!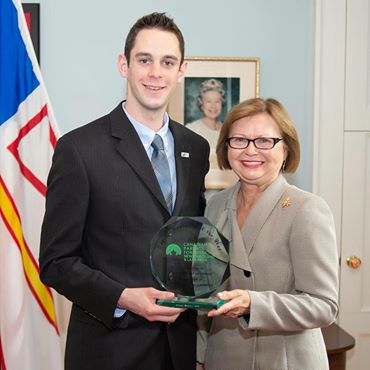 Her Honour Judy Foote congratulated Kieran on his accomplishments thus far, on his dedication to his studies and on a great beginning to his teaching career.
Kieran is a Core French Teacher at Queen of Peace Middle School in Happy Valley – Goose Bay.

Kieran was a student in the Intermediate Secondary Bachelor of Education Program during the 2016-17 academic year. He graduated with his Bachelor of Arts with a major in French in April 2016 and in October 2017 graduated with a Bachelor of Education.

During his studies in the Faculty of Education, Kieran was dedicated to his program and he actively participated in Professional Learning sessions to better prepare him to become a French teacher. He completed the Frecker program where he worked diligently on his French proficiency. The Frecker Program is a one-semester immersion program in Saint-Pierre-et-Miquelon. During the semester, students take a full university program of 5 courses in French and live with a French family.

Kieran is a proficient and talented French teacher who goes above and beyond his classroom duties and contribution to the school community. He has a passion for French and a unique ability to engage his students and his positive energy and enthusiasm are felt by both students and staff. Mr. Roach has an innate, grounded, common sense approach to classroom management that allows students to thrive in his class.

Kieran has introduced several cross curricular fun activities into the program such as scavenger hunts, charades, card games, magnetic dart tournaments, hand hockey tournaments, historical cultural lessons, twister games, and in-gym classes to facilitate the learning of vocabulary and grammar in an experiential way. He even threw a giant French birthday party for over 100 Grade 4 students in his school – there were cakes and games such as musical chairs, guessing the number of jelly beans in a jar and passing the parcel, all of course en français. Mr. Roach's involvement goes beyond his position as a French teacher in his school.
He coached one of the Holy Trinity High School Senior boys basketball teams. In Happy Valley – Goose Bay, he initiated a basketball program for older students, led both a junior and a senior Irish and Folk music group at lunch time, taught some students new instruments and accompanied other groups in the concert, assisted with the new after school science program and has helped with the various drama productions.

At Queen of Peace Middle School, Kieran has instilled an appreciation of the French language and culture in his students. Monsieur Roach helped create a school environment where the French language and culture are appreciated and alive! Without a doubt, Kieran played a huge role in changing the culture surrounding French at his school.
For his efforts and achievements in revitalizing almost single-handedly the interest and enthusiasm for the French language in his school, Kieran Roach is presented with the 2018 Provincial Award for Teacher-Graduate of the Year. Congratulations to Kieran from the Faculty of Education, Memorial University of Newfoundland.