Research Interests
1. Acoustic communication in shorebirds
I am interested in structure, variation, repertoire organization, geographic variation, phylogeny, and evolutionary trends in bird sounds, especially shorebirds. Some current work is on geographic variation and differentiation in Scolopacidae (sandpipers, snipe, etc.) and Charadriidae (plovers, lapwings, etc.).
Current projects on scolopacids include analyses of (a) vocalizations in the Great Knot-Surfbird-Red Knot clade, and (b) geographic variation in breeding calls of Dunlin. Collaborators for these projects are Pavel Tomkovich (Zoological Museum, M.V. Lomonosov Moscow State University) and Vladimir Arkhipov (Experimental Biophysics, Russian Academy of Sciences).
We recently published an analysis of sound displays that suggest that the South American snipe (Gallinago paraguaiae) be split into two species (see publication list). I am continuing related research on acoustic displays: (a) a phylogenetic study of the World's snipe with Nacho Areta (Instituto de Bio y Geociencias del Noroeste Argentino) and Colin Miskelly (Museum of New Zealand Te Papa Tongarewa) and (b) a comparison of the closely related Common Snipe and Wilson's Snipe (collaborators Dave Wilson, Memorial University; Tiago Rodrigues and David Gonçalves (both at Departamento de Biologia, Universidade do Porto).
Finally, I am involved in several projects on plover vocalizations. In one (a), we are investigating the relationship of the structure of vocalizations to phylogeny of the banded plovers (Charadrius, etc.), similar to one of the snipe projects (collaborators: Ha-Cheol Sung, Department of Biology, Chonnam National University; Julissa Roncal, Memorial University); in another (b) we are analyzing development, and sexual and species differences, in vocalizations of chicks of the red-capped plover and wattled lapwing (with Kristal Kostoglou and Mike Weston, Deakin University); and finally, we are describing the vocal repertoire of the poorly known long-billed plover (collaborators Ha-Cheol Sung and I.-C. Kim, Department of Biology, Chonnam National University).
2. Vocal-tract anatomy of non-passerine birds
Vocal-tract anatomy in non-passerine groups has been pretty well described but only at a general level. Some current projects concern sexual dimorphism and allometry of vocal-tract size in raptors and phylogenetic patterns of morphology in sandpipers.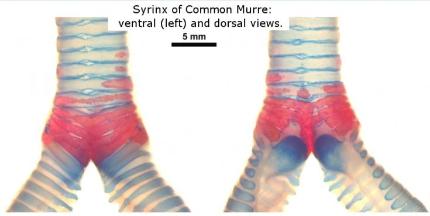 3. Dentition and cranial morphology of Carnivora
Skulls and dentition of Carnivora have been studied extensively but many microevolutionary questions remain. Two current projects are on cranial distinctiveness and sexual dimorphism in endemic Carnivora of insular Newfoundland and tooth variation and allometry in pinnipeds.