Memorial University templates
Web Content Services offers several different templates for faculties, associations and administrative units that are consistent with the standard Memorial look and feel.
Departments should please consult the Web Editor to discuss your needs and what we can currently offer and the timeframes associated with creating a website.
A "standard" template project is considered a medium size project and typically takes abut 3-8 weeks while an "advanced" template is a major project can take anywhere between 6 and 18 months, given existing resources.
The definition of a major versus minor project and the unit needs for which type of template is required is determined once we have met with the unit and discussed their individual needs and timeframes.
Faculty profile template
Profiles are available to faculty members only.
As per the Collective Agreement between Memorial University of Newfoundland and Memorial University Of Newfoundland Faculty Association (February 26, 2010 - August 31, 2013) Faculty Members are defined as:
"Faculty Member" shall be an ASM appointed to the rank of Lecturer, Assistant Professor, Assistant Professor (Research), Associate Professor, Associate Professor (Research), Professor or Professor (Research)."
Contact the Web Editor with a list of faculty members who wish to have their own profile. C&C will create the blank profile and the Web Editor will schedule Site Builder training with the faculty member or person designated to maintain the profile.
When the profile is populated with content, contact the Web Editor. Computing & Communications will make the profile live (may take five to seven days).
Associations template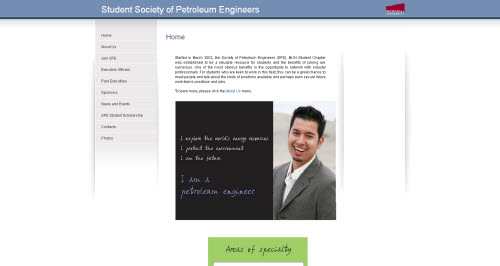 This template will be used for any groups associated or affiliated with Memorial.

If you have any questions contact the Web Editor.