CRM 56: Risk Financing
Risk Financing includes the selection, implementation, and monitoring of risk financing techniques. Subjects include insurance as a risk financing technique; financing property; risk retention including use of captives; risk cost allocation; finite and integrated risk plans and capital market products for risk financing.

Topics covered:
• Introduction to risk financing
• Estimating hazard risk
• Transferring hazard risk through insurance
• Self-insurance plans
• Retrospective rating plans
• Reinsurance
• Captive insurance
• Contractual risk transfer
• Transferring financial risk
• Transferring hazard risk to the capital markets
• Allocating costs of managing hazard risk
*Note: Participants are responsible for purchasing the textbook.
Text books can be purchased from the MUN bookstore http://mun.bookware3000.ca
Text:  Risk Financing 6th edition Publisher: Published by The Institutes.  ISBN# 9780894636202.Risk Financing 
Risk Financing is a course in the Canadian Risk Management (CRM) Program.
---
Who Should Attend
Risk Managers, Human Resource Managers, Purchasing Professionals, Safety and Loss Prevention Professionals, Environmental Managers, Insurance Underwriters, Insurance Claims Adjusters and Examiners, Insurance Buyers, Finance Professionals, Managers in the, Public Sector, Legal Professionals.
---
Details
The Canadian Risk Management (CRM) Program includes learning in three areas:
 Cost of each 5 day course is $925 + HST. Text books are extra and can be purchased from the MUN bookstore http://mun.bookware3000.ca
Courses are five days scheduled in two, 2.5 day blocks.  Friday evenings from 6:30 pm - 9:30 pm, Saturday 9:00 am - 5:00 pm, Sunday 9:00 am - 5:00pm. Lunch is included on Saturday and Sundays.
Click here to visit the Canadian Risk Management Program Site. 
---
---
Instructors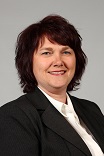 Ruby Noseworthy
Ruby Noseworthy is a Commercial Account Executive at Aon Risk Solutions, St. John's.  She joined the company in 2013 and worked previously for various insurance brokers including Cal LeGrow, Baine Johnston, Munn Insurance, and T.P Hickey Insurance (now Wedgwood Insurance.)
Ruby has over 20 years of experience in sales, service, account management, risk management, and brokerage services for clients in the public sector; construction and surety; transportation; retail; and wholesale.  Ruby has considerable experience handling a wide range of mid-market and large commercial accounts and in preparing comprehensive risk evaluations and proposals. She completes reviews on coverage proposals and loss experience, and analyses risks to determine the product or services requirements that will meet client needs.
Ruby's educational background includes the following designations: Associate of Canadian Surety Bonding (ACSB); Fellow Chartered Insurance Professional (FCIP); Canadian Accredited Insurance Broker (CAIB); and Canadian Risk Management (CRM).  She has also recently completed the Business Management Certification through the University of Toronto. Ruby is licensed to transact business in Newfoundland and Labrador and in Alberta and has clients in the US and the UK. She has achieved past and present sales awards and was presented with The Gary Bourne Memorial Award for top graduate in the CRM program. 
Ruby holds memberships with the Construction Association of Newfoundland and Labrador; the Heavy Civil Association of Newfoundland and Labrador; the Canadian Risk Managers Association; Insurance Institute of Newfoundland and Labrador; and the Canadian Brokers Association.
---