Publications
Faculty Bookshelf
Faculty in the Department of English actively write and disseminate original research and creative writing. We list some of our recent publications below.
Bradley Clissold. "Loser Wins: The Rhetoric of High Modernism in The Apprenticeship of Duddy Kravitz." Double-Takes: Intersections between Canadian Literature and Film. U of Ottawa P, 2013.
-- . "No Two Ways about It: William Empson's Enabling Modernist Ambiguities." Rereading the New Criticism. Ohio State UP, 2012.
-- . "'Fuck it, let's go bowling': The Cultural Connotations of Bowling in The Big Lebowski." The Year's Work in Lebowski Studies. Indiana UP, 2009.
-- . "Lacanian Shopaholics and Conspicuous Consumption in Madame Bovary: The Mirror (Stage), a Beaver Hat, and the Desire for Desire." Co-authored with Lacey Decker (M.A. Oxford). Postscript: A Journal of Graduate Criticism and Theory (Fall 2009).
-- . "Heredity and Disinheritance in Joyce's Portrait." Troubled Legacies: Narrative and Inheritance. U of Toronto P, 2007.
-- . "A Sense of Proportion: Mrs. Dalloway as an Allegory of Modernist Writing." Illuminations: New Readings of Virginia Woolf. Macmillan, 2004.
-- . "Candid Camera and the Origins of Reality TV: Contextualising a Historical Precedent." Understanding Reality TV. Routledge, 2004.
Mary Dalton. Hooking. Vehicule P, 2013.
-- . "Freedom; Merrymeeting Road." Dublin Poetry Review. September 2010.
-- . "Scrap of a Story;" "After a Hard Day;" "Or That's What They Say;" "The Swallowing." Maisonneuve 36 (Summer 2010).
-- . "Flirrup;" "Jesus and His Gashes;" "Burn;" "Fairy-Struck;" "Dolce Stil Novo." Modern Canadian Poets : An Anthology of Poems in English. Carcanet P, 2010.
-- . "Fairy-Struck." The Financial Times (London). November 20/21, 2010. [Editor's choice of excerpt from Modern Canadian Poets.]
-- . "After Basho;" "The Swallowing;" "Vertical Panel;" "What Came." Pith and Wry: Canadian Poetry. Scrivener P, 2010.
-- . "Three Centos." The Best Canadian Poetry in English 2010. Tightrope Books, 2010.
-- . "Flirrup." The Art of the Sonnet. The Belknap Press of Harvard UP, 2010.
-- . "Michael Coady, John Murphy, A Notebook." Papers of the Bibliographical Society of Canada 48.1 (Spring 2010). Special issue: Book Culture in Newfoundland and Labrador.
-- . "Pitcher Plant;" "Stingers." Open Wide a Wilderness: Canadian Nature Poems. Sir Wilfred Laurier P, 2009.
-- ."Cloth;" "Little Sentences;" "Numbers;" "Ram." Bird Construction Co.: Poetry from the Banff Writing Studio MMVIII. Littlefishcart P, 2009.
-- . "Three Centos." Riddle Fence: A Journal of Arts and Culture 4 (Winter 2009/2010).
-- . "Diner;" "Kitchen Lessons;" "Pomegranates Under Glass." Newfoundland Quarterly 102.2 (Fall 2009).
-- . "All the Clubs from Holyrood to Brigus: fictions, ruminations and riddles." Scott Walden: All the Clubs from Holyrood to Brigus. Sir Wilfred Grenfell College Art Gallery, 2009. A twelve-poem series in response to Scott Walden's photography exhibition, "All the Clubs from Holyrood to Brigus."
Danine Farquharson. "Love/Hate: A 'Lethal Cocktail' for Post Celtic Tiger Consumption." Canadian Journal of Irish Studies 37.1/2 (2013): 138-155.
---. "The Anxiety of Influence and the Fiction of Roddy Doyle." A Companion to Irish Literature, Vol 2. Wiley-Blackwell, 2010.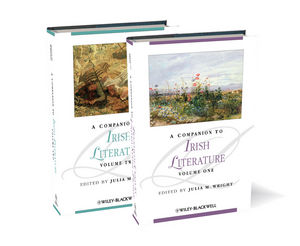 -- . "Pity vs. Fear: Performing Violence in Aeschylus's Oresteia and Contemporary Irish Drama." Performing Violence in Contemporary Ireland. Carysfort P, 2010.
Rob Finley. "Marlene Creates' Boreal Poetry Garden." The Good Gardener? Nature, Humanity, and the Garden. Eds. Annette Giesecke and Naomi Jacobs. London: Artifice Books on Architecture, 2014.
-- . K.L. Reich, a Translation and Scholarly Edition from the Catalan of Joaquim Amat-Piniella's Testimonial Novel of the Nazi Camps at Mauthausen. With Dr. Marta Marín-Dòmine. Waterloo: Wilfred Laurier UP, 2014.
-- . "The Approaches." Best Canadian Essays, 2013. ed. Stephen Marché. Toronto: Tightrope Books, 2013. (From The Malahat Review Essential East Coast Writing Special Edition 180 (2012).)
-- . "Light Rapid Transit." Calgary Distinguished Writers Program 20th Anniversary Chapbook. Calgary: University of Calgary, 2013.
-- . "Le verger des oiseaux." Temporary Public Art Installation (video), main gates of Halifax Public Gardens, at Spring Garden Rd. and South Park St., Halifax, with François Gaudet. For Halifax Nocturne Festival, October 2012.
-- . "My Life is the Gardener of My Body." Catalogue essay for Witness, Heather Reeves, Po Chun Lau. Craft Council of Newfoundland and Labrador Gallery, January to March 2011.
-- . "Marlene Creates: Of Words and Woods." Review of Marlene Creates' The Boreal Poetry Garden. Canadian Art, September 2011.
-- . "The Garden in Winter." Temporary Public Art Installation (video), main gates of Halifax Public Gardens, at Spring Garden Rd. and South Park St., Halifax, with François Gaudet. For Halifax Nocturne Festival, October 2011.
-- . "Sackville and Barrington." Temporary Public Art Installation (video), Tramway Building exterior, Halifax. With François Gaudet. For Photopolis/Halifax festival, October, 2010.
-- . A Ragged Pen: Essays on Poetry and Memory. (Robert Finley, Patrick Friesen, Aislinn Hunter, Anne Simpson, Jan Zwicky.) Kentville: Gaspereau Press, 2006.
-- . The Accidental Indies. Montreal and Kingston: McGill-Queen's UP, 2000.
Agnes Juhasz-Ormsby. "The Marriage and Coronation of Anne Boleyn [29 May-4 June 1533]." In John Nichols's The Progresses and Public Processions of Queen Elizabeth I: A New Edition of the Early Modern Sources, 5 vols. Eds. Elizabeth Goldring, Faith Eales, Elizabeth Clarke, and Jayne Elisabeth Archer. Oxford: Oxford University Press, 2014.
-- . "Humanist Networks and Drama in Pre-Reformation Central Europe: The Plays of Bartholomeus Frankfordinus Pannonius." Renaissance and Reformation/Renaissance et Réforme 35.2 (2012).
-- . "Leonard Cox and the Erasmian Circles of Early Sixteenth-Century England." Acta Conventus Neo-Latini Upsaliensis. Proceedings of the Fourteenth International Congress of Neo-Latin Studies (Uppsala 2009) (Leiden and Boston: Brill, 2012).
-- . "Reading Practices of a Tudor Educator. Nicholas Udall's Annotated Copy of Thomas Linacre's De emendata structura Latini Sermonis libri six." Journal of the Early Book Society 12 (2009).
-- . "The Books of Nicholas Udall." Notes and Queries 56.4 (2009).
Valerie Legge. "Heralds of Empire: Liminal Heroes and Visionary Fugitives." Nation-State Discourses of Cultural Identity in Canada. Ed. Miroslawa Buchholtz and Eugenia Sojka. Cracow Universitas, 2010. Previously published in International Journal of Canadian Studies 15 (Spring 1997).

-- . "Sheila Watson's Antigone: Anguished Rituals and Acts of Public Disturbance." Short Story Criticism 128 (2010). Previously published in Studies in Canadian Literature 17.2 (July 1993).

-- . "'Exotic Geographies': Early Twentieth-Century Constructions of Quebec and the American Southwest." From the Foundation of Quebec City to
Present-day Canada (1608-2008): Retrospections, Path of Change, Challenges. U of Silesia, 2009.

Christopher Lockett. "Accidental History: Mass Culture and HBO's Rome." Journal of Popular Film and Television 36.3 (2010).
Jennifer Lokash."These Living Hands: An Introduction to At the Edge." At the Edge 1 (2010).
Andrew Loman. "Editor's Introduction: Botanizing in the Mushroom Cities." At the Edge 2 (2012).
-- . "'More Than a Parchment Three-Pence': Crises of Value in Hawthorne's 'My Kinsman, Major Molineux.'" PMLA 126.2 (March 2011).
-- . "The Sea Cook's Wife: Evocations of Slavery in Treasure Island." Children's Literature 38 (2010).
-- . "'That Mouse's Shadow': The Canonization of Spiegelman's Maus." The Rise of the American Comics Artist: Creators and Contexts. UP of Mississippi, 2010.
Denyse Lynde. The Breakwater Book of Contemporary Newfoundland Plays, Vol. 1. Breakwater Books, 2013.
-- . "Icycle: New Languages: New Languages for Theatre, New Languages for Icebergs." Theatre In Atlantic Canada (Critical Perspectives on Canadian Theatre in English 16).
-- . "Wabana: Place of First Light." Community Engaged Theatre (Critical Perspectives on Canadian Theatre in English 19).
Larry Mathews. The Artificial Newfoundlander. Breakwater Books, 2010.
Don Nichol. "Lost Trousers." The Times Literary Supplement (26 July 2013).
-- , ed. Lumen, vol. XXXI (Montréal: Les Presses de l'Université de Montréal, 2012).
--. "Anthony Burgess, A Clockwork Orange." The Literary Encyclopedia. University of East Anglia, 2012.
--. "'To err is Popean': An Essay on Criticism at 300." Times Literary Supplement (12 May 2011).
-- . "'Scum of the Earth,' 'which nobody can deny' and other verbal felicities from The New Foundling Hospital for Wit." Regional Language Studies 21 (April 2009).

-- . "An Annotated Facsimile of John Wilkes's Notes on the Fragment of a Dedication." Bodleian Library Record 22 (2009).
--. The New Foundling Hospital for Wit. 3 vols. London: Pickering & Chatto, 2006.
--. TransAtlantic Crossings II: Eighteenth-Century Sexuality & Textuality, ed. with Adam Beardsworth and Katrina Thorarinson. St. John's: Memorial University Printing Services, 2006.

Robert Ormsby. -- . Coriolanus. Manchester University Press (Shakespeare in Performance Series). 2014.
-- . "Locating Makbet / Locating the Spectator." Shakespeare Beyond English: A Global Experiment. Eds. Susan Bennett and Christie Carson. Cambridge: Cambridge UP, 2013.
"Valuing Shakespearean Theatre Reviews." Cahiers Élisabéthains 82 (2012).
-- . "'Bold, but seemingly marketable': The 2007 Stratford Ontario Merchant." Shakespeare/Adaptation/Modern Drama (2011).
-- . "Québécois Shakespeare Goes Global: Robert Lepage's Coriolan." Shakespeare Survey 64 (2011).
-- . "richardthesecond: Adapting Shakespeare to the Local in a Culture of Global Celebrity." Modern Drama (Winter 2009).
-- . "This Famous Duke of Milan of Whom So Often I have Heard Renown: William Hutt at The Stratford and New Burbage Festivals." Canadian Theatre Review (Winter 2010).
-- . "Loss, Change, and the Troubling Persistence of Memory." alt.theatre (June 2010).
-- . "Flipping the Coin on Colorblind Casting? Richard Rose on Directing The Merchant of Venice at Stratford, Ontario in 2007." Borrowers and Lenders (Spring 2009).
Nancy Pedri. "Re-visualizing the Map in Guy Delisle's Pyongyang." Le dispositive texte/image. Ed. Julie LeBlanc. Spec. issue of Arborescence: Revue d'études françaises 4 (November 2014).
-- . "Empty Photographic Frames: Punctuating the Narrative." Image and Narrative 15.2 (2014).
-- . "Disenchanted with the Referent: Photography in Emanuele Martino's Cara fotografia: Racconti." Italica 91.2 (Summer 2014).
-- . Picturing the Language of Images. Co-editor: Laurence Petit. Newcastle upon Tyne: Cambridge Scholars Publishing, 2013.
-- . "Rendering the Familiar Unfamiliar: Art Spiegelman's Maus." Picturing the Language of Images. Ed. Nancy Pedri and Laurence Petit. Newcastle upon Tyne: Cambridge Scholars Publishing, 2013.
-- . "Graphic Memoir: Neither Fact Nor Fiction." From Comic Strips to Graphic Novels: Contributions to the Theory and History of Graphic Narrative. Eds. Daniel Stein and Jan-Noël Thon. Narratologia Series. Berlin: DeGruyter, 2013.
-- . "Cartooning Ex-Posing Photography in Graphic Memoir." Literature & Aesthetics 22.2 (December 2012).
-- . "When Photographs Aren't Quite Enough: Reflections on
Photography and Cartooning in Le Photographe." ImageText: Interdisciplinary Comics Studies 6.1 (Fall 2011).
-- and Silke Horstkotte. "Focalization in Graphic Narrative." Narrative 19.3 (October 2011).
-- . "Failing the Feminine: Photographed Words in Lincoln Clarkes' Heroines." Debating the Difference: Gender, Representation and Self Representation. Duncan of Jordanstone, U of Dundee, 2010.
-- . "The Forbidden Narratives of Looking: Photography and the Anxiety of
Self-Representation." Rewriting Texts, Remaking Images: Interdisciplinary
Perspectives. Peter Lang, 2010.
-- . "Snapshots and Other Forms of Dailiness in Three Newfoundland Memoirs." Review article. Newfoundland and Labrador Studies 25.2 (Fall 2010).
Fiona Polack. "Reading Shanawdithit's Drawings: Transcultural Texts in the North American Colonial World." Journal of Colonialism and Colonial History 14.3 (2013).
"Art in the Bush: Romanticist Painting for Indigenous Audiences in Tasmania and Newfoundland." Nineteenth-Century Contexts 33.4 (2011).
-- . Rev. of Tasmanian Visions: Landscapes in Writing, Art and Photography, by Roslynn D. Haynes. Australian Literary Studies 25.1 (2010).
-- . "Memory Against History: Figuring the Past in Cloud of Bone." English Studies in Canada 35.4 (2009).
Bill Schipper. "Bede's Commentary on the Apocalypse and the Carolingians" in Das spätkarolingische Fragment eines illustrierten Apokalypse-Kommentars in der Mainzer Stadtbibliothek: Bilanz einer interdisciplinären Annäherung. Ed. Annelen Ottermann, Veröffentlichen der Bibliotheken der Stadt Mainz 60 (Mainz: Landeshauptstadt Mainz, 2014).
-- . "The Mainz Martinus Bibliothek Bifolium (D/378) of Hrabanus's de rerum naturis and its Relatives," in Bibliotheca S. Martini Moguntina: Alte Bücher – Neue Funde. Ed. Helmut Hinkel, Publikationen Bistum Mainz (Mainz: Zeidler, 2012).
-- . "All Talk: Robert Zemeckis's Beowulf, Wealtheow, and Grendel's Mother." Literature Compass 8/7 (2011).
-- . "Hrabanus Maurus and Anglo-Saxon England: In honorem sanctae crucis." Early Medieval Studies in Memory of Patrick Wormald. Ashgate, 2008.
Bernice Schrank. "Brendan Behan's 'Borstal Boy': Politics in the Vernaculars." Irish University Review Special Issue on Brendan Behan 44.1 (2014).
-- . "Telling It Like It Is (and Isn't): Recreating the Self in Brendan Behan's 'Borstal Boy.'" Brno Studies in English 37.2 (2011).
-- . "Legends of the Fall: John McGahern's 'Christmas' and 'The Creamery Manager.'" The Journal of the Short Story in English 53 (Autumn 2009).
Jamie Skidmore. Set Design. NLAC Awards Show (dir. Berni Stapleton), 2011.
-- . Set Design. Eli and the Death Curse (dir. Nicole Rousseau), 2011.
-- . Set and Light Design Team. Momentum (dir. Brad Hodder and Nicole Rousseau), 2010.
-- . Set Design. Easy Down Easy (dir. Mary Walsh), 2010.
-- . Puppet and Set Design. The Magic Kingdom (dir. Pat Dempsey), 2010.
-- . Set Design. Until June (dir. Sherri White), 2010.
-- . Set and Lighting Design. Seven Stories (dir. Brad Hodder), 2009.
Graduate Student Publications
Graduate students in the Department, the emerging generation of scholars and artists, also publish critical and creative work. Some of their recent publications appear below.
Stephanie Dohey. "Untitled." Paragon. Memorial University, 2008.
Alexandra Gilbert. John Steffler Interview. Wolfville, NS. 2010.
Tom Halford. Cookies in Utopia. River Valley News. New Brunswick 2010-.
Meaghan Malone. "'You Have Bewitched Me Body and Soul': Masculinity and the Female Gaze in Jane Austen's Pride and Prejudice." At the Edge 1 (2010).
Samuel Martin. "Creosote Madonna." Riddle Fence 10 (2011).
-- . "Do You Hear Me?" Cuffer Anthology III. Creative Book Publishing, 2011.
-- . "No Easy Way Out." Cuffer Anthology III. Creative Book Publishing, 2011.
-- . "A Conversation With David Adams Richards." Image: Art, Mystery, Faith 70 (2011).
-- . "Like A Spread-Eagled Cat Suspended." Relief: A Christian Literary Expression 5.1 (2011).
-- . "Salt and Light: A Letter to Young Writers." Comment Magazine (Spring 2011).
-- . "Keeping Covenant in Refashioning Icons of Christ: Understanding Catholic and Orthodox Traditions and the Making of Postmodern Icons." Refashioning Myth: Poetic Transformations and Metamorphoses. Eds. Jessica L. Wilkinson et al. Cambridge Scholar Publishing, 2011.
-- . This Ramshackle Tabernacle. Breakwater Books, 2010.
-- . "Do you hear me?" The Telegram [St. John's] (4 Dec. 2010).
-- ."Writing about God and using the F-Word." Christian Courier [St. Catherine's] (13 Jun. 2010).
-- . "Resettlement." QWERTY (Fall 2009).
Heather Gogacz O'Brien. "Colonial-National Identity and Women's Literature in Late Nineteenth-Century Newfoundland." Irish Journal of Newfoundland and Labrador Research 1 (2009).
Pratt Lectures
The annual Pratt Lectures are published in pamphlet form and are available from the Department office. An order form for the 2010 Pratt Lecture, J. Edward Chamberlin's The Snarl Around Our Dory: The Long Line of Island Traditions, can be found here.
English Language Research Centre
The Department's English Language Research Centre, formed in 1986, is responsible for the research and publication of materials related to Newfoundland language.
Journals
At the Edge is a peer-reviewed, open access online journal that showcases the work of emerging scholars, particularly in the fields of eighteenth- and nineteenth-century literature and culture, or on Romanticism very broadly defined. At the Edge welcomes submissions from a wide variety of critical, theoretical, and interdisciplinary perspectives. In addition to essays that take more traditional approaches to literary and cultural research and writing, we strongly encourage innovative and creative forms of scholarly engagement that expand the genre of academic writing to reflect the changes and possibilities of publishing in a digital environment. View Online
Web Publications
Members of the department and students are producing publications for the web: William Schipper is editing the text of Hrabanus Maurus's De rerum naturis, a medieval encyclopedia; students have prepared the 17th-century jestbook Gratiae Ludentes; or Jestes from the University and Alciato's Book of Emblems of 1531 (the site also includes Geffrey Whitney's Choice of Emblemes (1581).