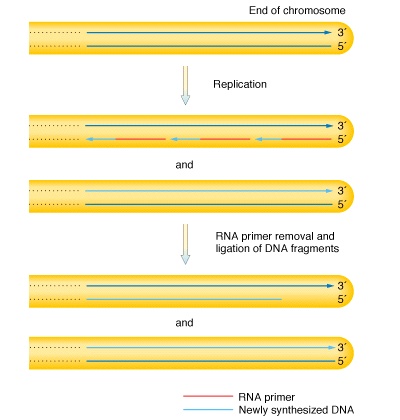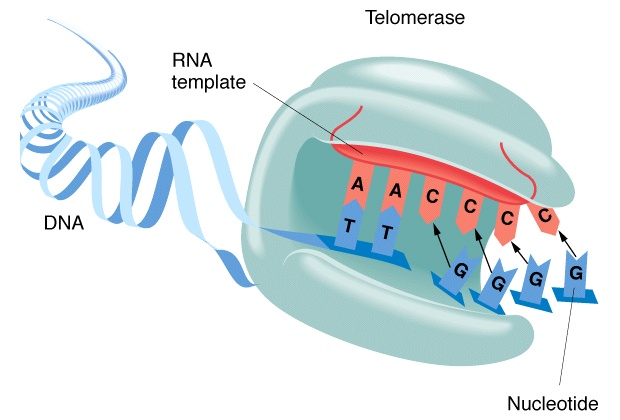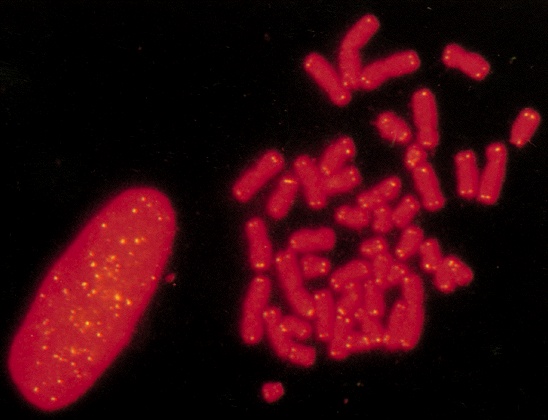 The

Teleomere

problem
Each chromosome consists of a single, very long

dsDNA

molecule. (Left) Removal of lagging strand

RNA

primers (in red) leaves an unpaired region

at the end of the chromosome, which if left single-stranded would be degraded. The enzyme

Telomerase

adds extra

DNA

onto the end of both fragments
(Centre)
. These

Telomere

sequences

are stained fluorescently in the photograph at right.

Telomeric DNA

may be lost during subsequenct round of chromosome replication, without loss of critical chromosomal

DNA

. Experiments suggest that telomerase function is less efficient as cells age, and the limited lifespan of many cell cultures, and perhaps aging of

in vivo

cells as well, is a function of the loss of critical

DNA

.

For their work on telomeres, Drs

Elizabeth Blackburn

,

Carol Greider

, and

John Szostak

were awarded the

Nobel Prize in Physiology or Medicine

for

2009

.
---
---