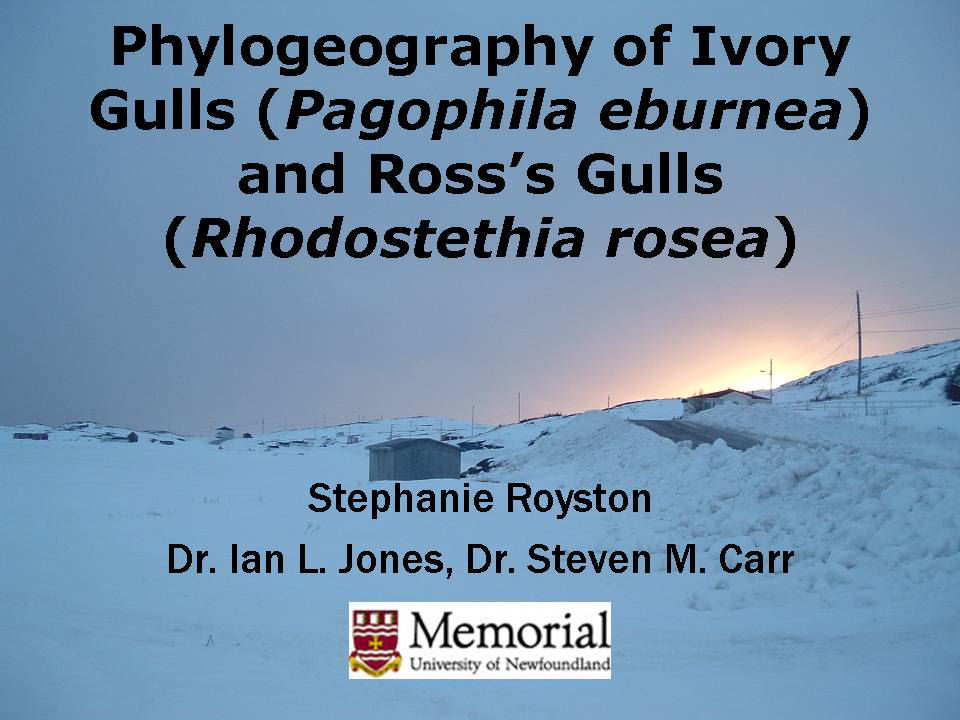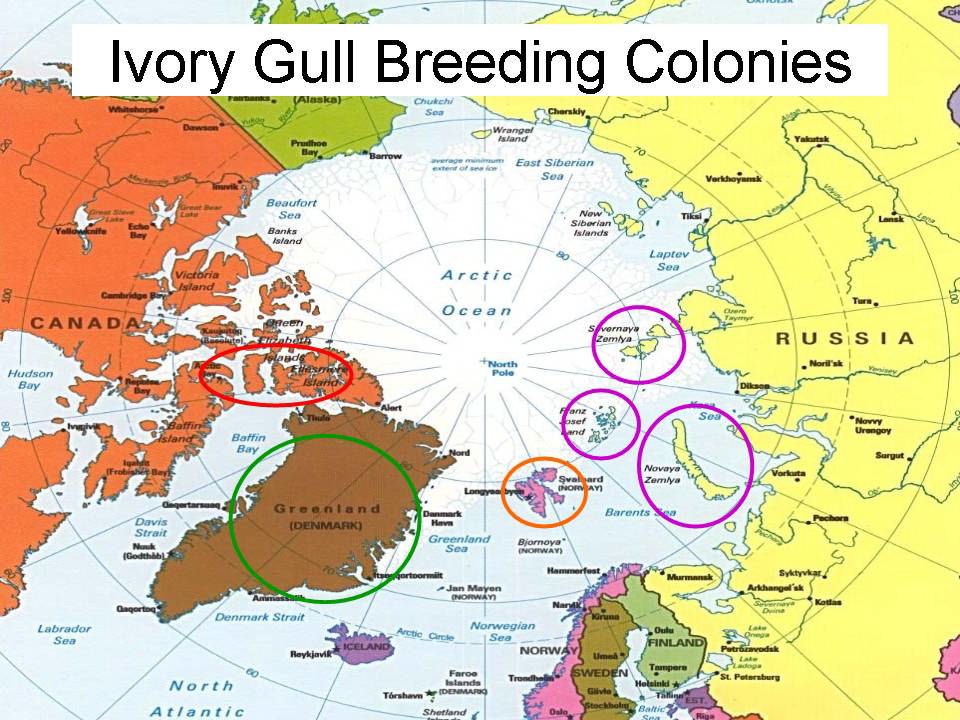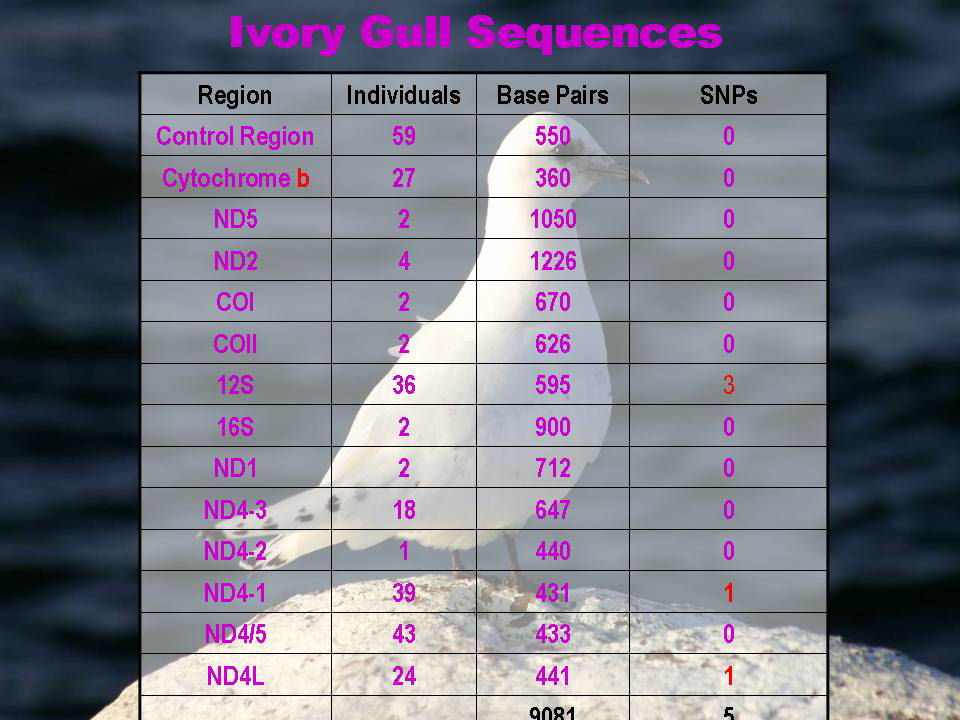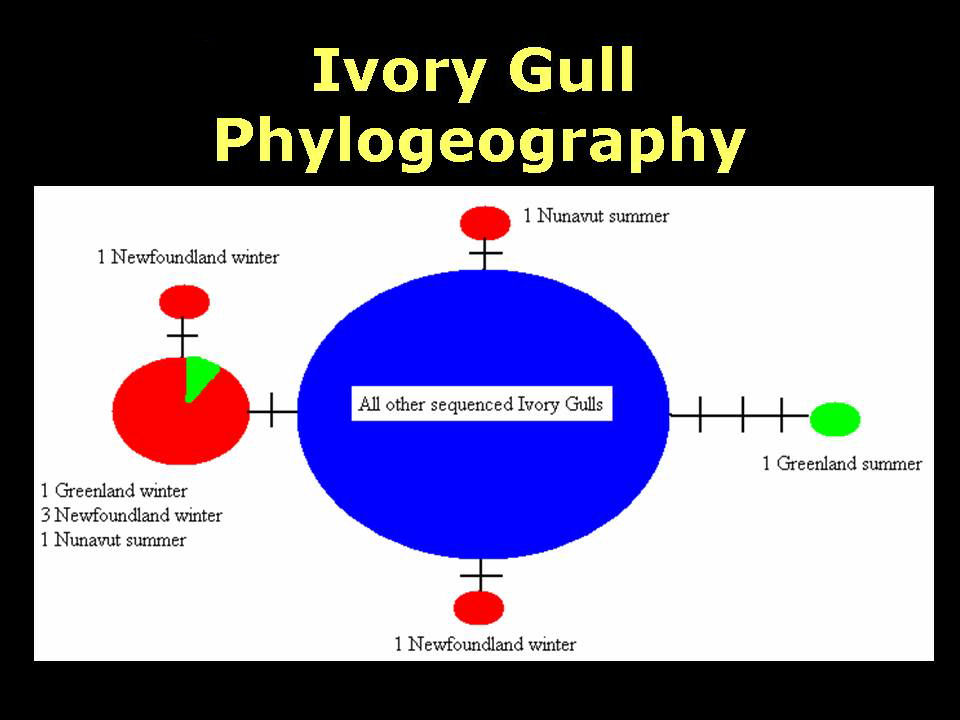 COMPARATIVE ANALYSIS OF GENETIC STRUCTURE IN TWO RARE ARCTIC GULL SPECIES:
IVORY GULL (PAGOPHILA EBURNEA) AND ROSS'S GULL (RHODOSTETHIA ROSEA)
Stephanie Royston*, Ian L. Jones, Steven. M. Carr
Department of Biology, Memorial University of Newfoundland, St. John's, NL A1B 3X9, sroyston@mun.ca
Ivory Gulls (Pagophila eburnea) and Ross's Gulls (Rhodostethia rosea) are both high-arctic gulls that are listed by COSEWIC (Committee on the Status of Endangered Wildlife in Canada) as in danger of extinction. Ivory Gulls have a circumpolar distribution and have recently experienced significant declines in Canadian breeding populations. It is not known if similar declines are occurring in other breeding areas. Ross's Gulls mainly breed in Siberia but a very small population breeds in Canada. It is therefore important to determine the extent of gene flow amongst colonies, and to understand their wintering migration. Since a large percentage of Ivory Gulls winter in Canadian waters off Labrador, it is important to understand which colonies these birds represent. Ross's Gulls migrate over Point Barrow, Alaska every fall before wintering in an as yet unknown area. We have examined DNA sequence variation in a 9,081bp portion of the mitochondrial genome. Preliminary genetic evidence suggests that Ivory Gulls have extremely low genetic diversity (5 single nucleotide polymorphisms [SNPs] total), indicating a population bottleneck in the recent past. Ross's Gull genetic diversity appears to be higher, reflecting its more stable global population.
---