By Dr. Karen Ewing, B.Sc.'87, B.Ed.'88, B.Med.Sci.'90, MD'92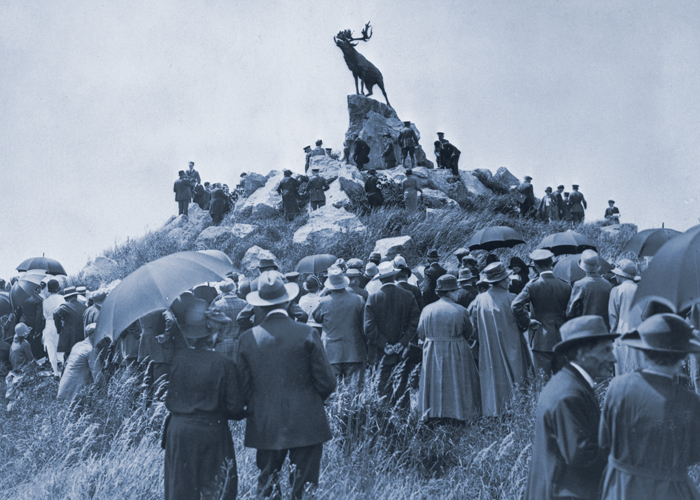 "Tread softly here! Go reverently and slow! Yea, let your heart go down upon its knees. And with bowed head, and heart abased, strive hard to grasp the future gain in this sore loss! For not one foot of this dank sod but drank its surfeit of the blood of gallant men . . . "
These words by John Oxenham mark the entrance to Newfoundland Memorial Park in Beaumont-Hamel. Few verses have seared themselves into my memory as these have.
In the spring of 2000, my cousin Valerie and I travelled to the Western Front to visit war graves of Newfoundlanders and Canadians. It was a wrenching experience. I knew what we were there to see, but upon entering the first cemetery at the base of Vimy, on the very first stone, a Caribou. For that, somehow, I was not prepared. It was there, looking out from that cemetery, in every direction, and seeing more cemeteries, more Caribou and Maple Leaf, that I began to understand the enormity of the sacrifices of The Great War.
It is an unusual feeling when tears come unbidden for the loss of innocents, for heartfelt epitaphs, for the selfless sacrifice.
The visit to the Western Front inspired the creation of a "living memorial" in Bass River, N.S. With government funding, a willing committee and the support of the surrounding communities, The Cobequid Veterans Memorial Park was created. The park includes three gardens in the shape of a Celtic flower. The Garden of Sorrows, a stylized First World War trench; The Garden of Remembrance, a heritage garden; and The Garden of Hope, a colourful international garden, help fulfil our mission of education, remembrance and peace. The poem Tread Softly Here, from Beaumont-Hamel, is set at the entrance to the park.
On July 1, 2016, my partner, Carol, my step-daughter, Marlee, and I returned to Beaumont-Hamel for the centenary. At a reception prior to the ceremony, I presented Department of Veterans Affairs Minister Kent Hehr with a remarkable commemorative plaque titled "Ours." It features a poppy, the red petals made up of the names of Newfoundland Regiment soldiers who went over the top on July 1, 1916, and who were later counted as missing, wounded, or dead. At its centre, in black, are the names of those who answered roll call the next day.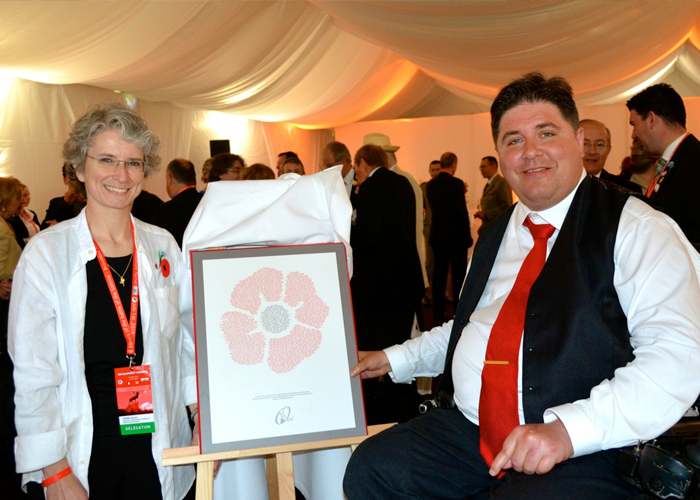 Hundreds of fellow Newfoundlanders and Labradorians attended the ceremony. Many made their pilgrimage to remember a loved one. For me, it was my great-uncle Arthur Stanley Thomas who went over the top 100 years ago.
It was a kind of mournful pride as once again the Newfoundlanders, over the hallowed ground of Beaumont-Hamel, tread softly.
With hope for enduring peace in our time.
---
Dr. Karen Ewing is a family physician and the founder of Veterans Memorial Park in Bass River, N.S. All are welcome to visit the park in person or online at www.veteranmemorialpark.com. Karen is originally from St. John's, N.L.