By Greg O'Brien, B.Comm.(Co-op.)'11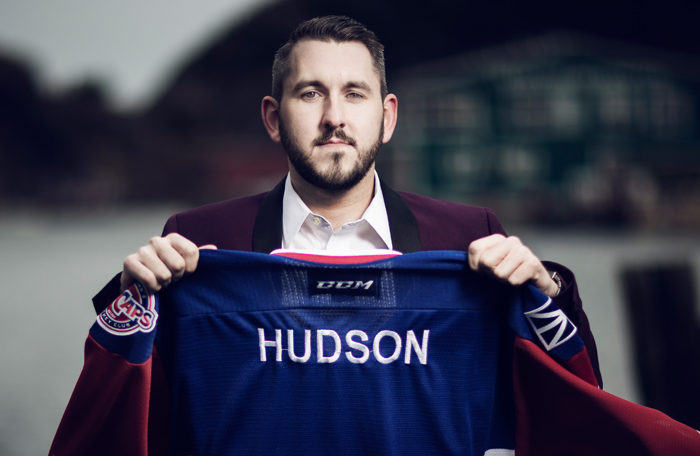 This year, the IceCaps, the American Hockey League team based in St. John's, created a Royal Newfoundland Regiment tribute jersey. I thought it was a pretty unique and thoughtful way to commemorate the 100th anniversary of the Battle of the Somme at Beaumont-Hamel.
This jersey is very special to me. It was a gift from my parents and it honours the memory of my great-uncle, Pte. Peter J. Hudson, a member of the Newfoundland Regiment. He was born and raised in St. John's, on Mullock Street, just around the corner from the CLB Armoury on Harvey Road. That was the central recruitment station and regimental headquarters back then. In those early days, the neighbourhood must have been full of excitement with the sights and sounds of eager young men going off to fight, proud to represent Newfoundland. I'm sure Peter joined them in their optimism that they'd be home soon.
He celebrated his 17th birthday not long before he was killed. The number on my jersey marks his youth.
As we all know, the reality of war was laid bare at Beaumont-Hamel. It was there Peter was fatally wounded on July 1, 1916. He died three days later and was buried at Gezaincourt Cemetery, just south of Doullens, France. The 100th anniversary has motivated me to reflect on his life and to piece together this important part of our family history. I'm struck by how little information we have — a few stories passed down over the years and some official records in the provincial archives. Cameras were scarce in those days, and I suspect very few pictures of him ever existed. Our family has never been able to locate a photograph. You don't think about how quickly history can become lost, and as the days and years go by, the telling of these stories becomes more and more difficult.
I do know that Peter lied about his age. His enlistment papers say 19, but in fact he was only 16 when he signed up. By today's standards he was just a young kid. Though I'm sure his mom and dad must have thought the same thing back then. He celebrated his 17th birthday not long before he was killed. The number on my jersey marks his youth. It was a life barely started.
---
Greg O'Brien is a financial advisor with Dunphy, Molloy and Associates Ltd. Originally from Calvert on the Southern Shore, he currently lives in St. John's.